Every man keeps a certain number of tools, equipment, and gear to repair a house or apartment. These tools include screwdrivers, hammers, pliers, etc. You see, buying tools is not that difficult. It is much more difficult to organize the tool storage properly. Hand tools are always necessary for small daily tasks: metalwork, carpentry, repairs, etc.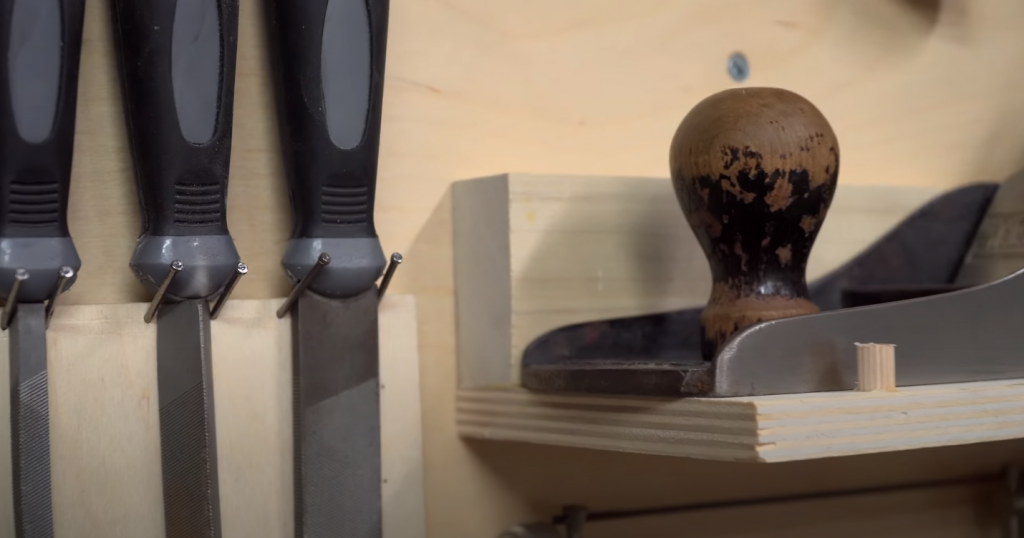 If a few screwdrivers can be stored anywhere in a house, then the storage of bulky tools requires a different approach. But you may also need to use a power tool daily, so it has to be stored somewhere nearby but without any risk of disrupting the house's comfort. That is why I offer you to check a few sophisticated tool storage options to keep small and large instruments organized. 
Things a handyman needs for tool storage options
A variety of accessories will help you keep your tools in order, including:
cases

shelves

perforated panels
Toolboxes and cases are usually made of metal or plastic. Metal toolboxes are great storage options because they are durable and reliable. However, they are not budget-friendly at all. Plastic cases provide a lot of space inside and they are lightweight. The price is also nice but forget about the durability or transportation of heavy tools.
When picking the shelves for the tool storage, pay attention to the metal ones. They are expensive but extremely durable and can keep many heavy and lightweight tools organized in one place – for instance, in a garage or basement. IKEA metal shelves are extremely easy to install and upgrade according to your needs.
Sometimes it is reasonable to use perforated panels (sheets made of metal or wood with stiffeners along the edges and perforations on the working surface). They can handle the storage of small-to-medium tools and different bolts, screws and cogs.
Tool storage ideas at a small apartment
How to store tools in the apartment if you live in a big city and do not have access to a garage or basement? In this case, the storage area can be a small balcony, hallway or an in-built closet. You can purchase or build all the shelves, racks or a whole cabinet for storing tools, without even buying them. If you store the tools outside, make sure to cover all the instruments or put them in metal/plastic boxes or cases.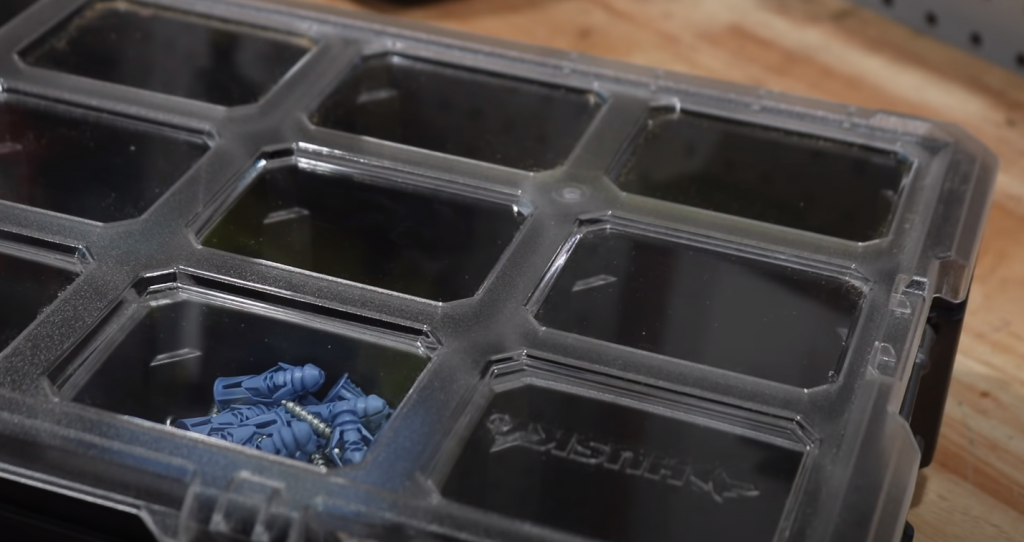 Also, I'd like to share a few awesome DIY tool storage ideas:
Organizers made of tin cans. Make a habit of not throwing out tin cans. Give them a second life: attach to the wall to store the tools like pliers, scissors, pruners, shears. You can decorate them whenever you like. Such a storage system allows increasing space in your apartment and keeping the tools nearby.
Crease screwdriver holders. Screwdrivers are an irreplaceable thing in the household, but so small and inconspicuous! To ensure that all screwdrivers of the correct size are always in place, build a holder for them. Or make such holders on your own – take a wooden block or panel, drill the holes for dowel hooks and attach it to the wall.
Install the shelves with pre-cut holes. Screwdrivers, jigsaws, and drills must be stored on a shelf with pre-cut holes.
Place the drawers under the ceiling. Use the available space wisely. If the ceiling height allows, organize a drawer system under the ceiling. It is best to use plastic containers for these purposes. I do not recommend storing heavy, piercing and cutting objects under the ceiling. It may be dangerous!
Tool storage options in a garage: making a perfect workshop
To organize a comfortable storage area in a garage, you need to do accurate calculations by using a measuring tape or bench scale. Also, the carpenter's level can be helpful at this point. 
There are some simple tool storage options in a garage: 
carefully plan the placement of shelves, cabinets, panels or racks, determine their size;

markup the walls and floors where all these shelves and cabinets will be standing or hanging;

prepare the necessary materials;

make holes in the wall and install dowel hooks for better fixation;

fix the products using the carpenter's level;
To attach metal suspensions pick standard nails or self-tapping screws. 
There are many opportunities for placing cabinets, shelves, panels in large rooms. Many craftsmen install a magnet on their desktop, holders or magnetic tape to which the metal tools can simply be attached after use.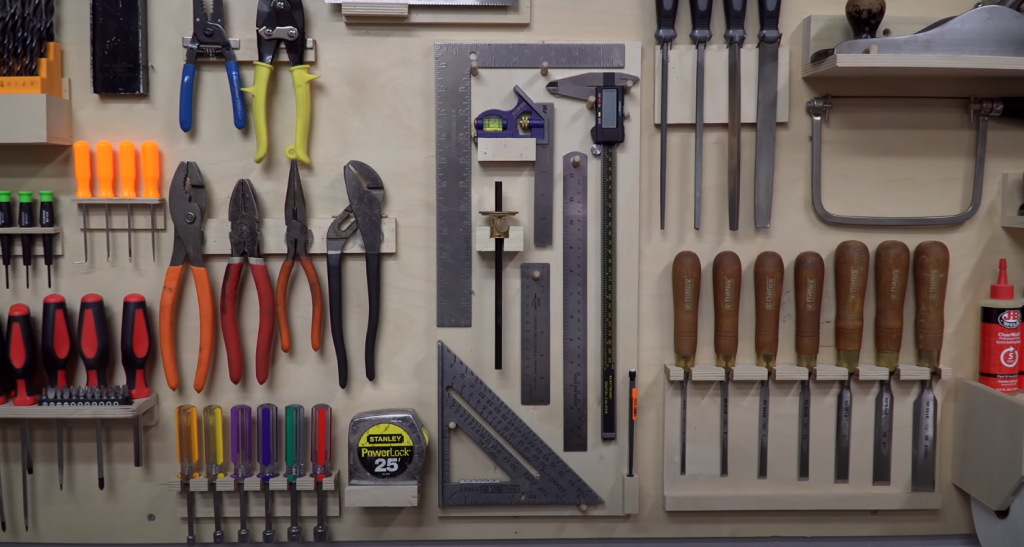 Never rush to throw out unnecessary things. Old trimmed PVC pipes can serve as an excellent reservoir for storing both small hand instruments and large garden tools.
Also, plastic jars or bottles can be conveniently attached to your desktop for keeping some supplies organized. They are great for storing nails, screws, nuts and other supplies.
Another interesting solution is a DIY toolbox with an improvised metal strip distributor. In such a way, you will always tear off the right amount of duct tape.
Great DIY tool storage ideas
Only a few of us can boast of a large, spacious garage or utility room that can place a tool cabinet with many shelves and desks. If your working space is relatively small, you should save it by using such DIY tool storage ideas: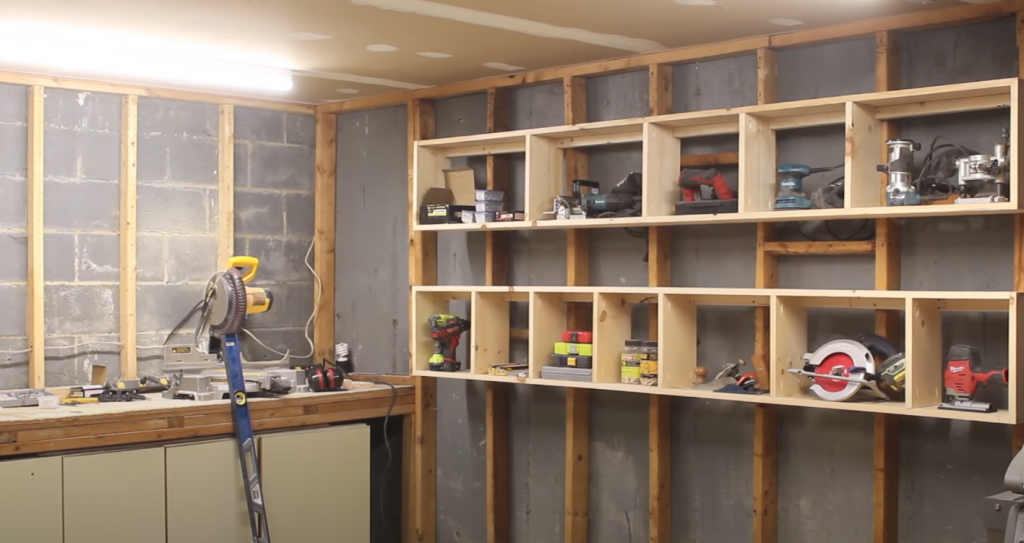 Holders for garden tools. In order not to step on the same rake every day, it would be wise to remove them from the aisle and securely attach to the wall. Use old PVC pipes to create awesome holders for garden tools attached to the workshop's wall;
Holders for fishing rods. Insert fishing rods into mounts made from a metal mesh or bar with drilled holes;
Rack of shelves with containers. Make a rack to place the containers with useful little things on it. A great idea is to use pallets that remained after the construction of the house. You may even attach the wheels to the rack;
Bandsaw clamps. It is dangerous to keep the bandsaw blades twisted into a ring: by turning them on, you risk getting a serious injury. To store a sharp instrument, secure it with office clips during the storage before hanging it on a hook or a shelf;
A plastic grillwork screwed into the corner of a garage or basement under the ceiling will be great to store PVC pipes, baseboards, profiles and other long metal or plastic things. Such a storage system will help to significantly save space and prevent the possible breakdowns of fragile building materials;
Magnetic holders can help a lot. To prevent drills and keys from being lost and to keep them in order, attach these tools on the magnetic tape to a door, shelf or wall. It is extremely easy to do – just try it! 
Adhesive tape dispensers will be useful if you have a lot of duct tape and scotch tape. With such a DIY dispenser, tearing the right amount of tape will be much easier;
Storage of hand and power tools in one place
If you mostly own hand tools, then you may follow such tips to store all these small-to-medium instruments in one place. This space or room must meet such conditions: 
The working surfaces and parts should not touch one another (cover all tools in plastic bags);

Temperature and humidity levels must be stable and preferably regulated;

No direct sunlight;
When you store power tools, in addition to the above-mentioned conditions, you need to provide  quick access in case of an emergency. Also, do not forget to check the batteries in tools – turn the instruments on for a few minutes at least once in a month.
A shed is one the best places to hang and store different small-to-medium tools because sometimes garages do not have enough space to safely cover and organize tool boxes and cases for drills, saws, drawers for sets of pliers or scissors. In addition, the microclimate of a garage or basement is not always ideal – it can be humid and warm, meaning that corrosion of metals and failure of batteries may happen a few times faster. 
Final thoughts
Storing tools at home, garage, shed or balcony is manageable if you use every square foot rationally. Save the space around you by hanging the shelves and using the space under the ceiling. Just take all precautionary measures and provide a dry, dark place where you can keep the power and hand tools organized. Be creative – use different DIY tool storage ideas!