---
Olympia Tools 85-188 Pack-N-Roll Folding Collapsible Service Cart, Black, 50 Lb. Load Capacity per Shelf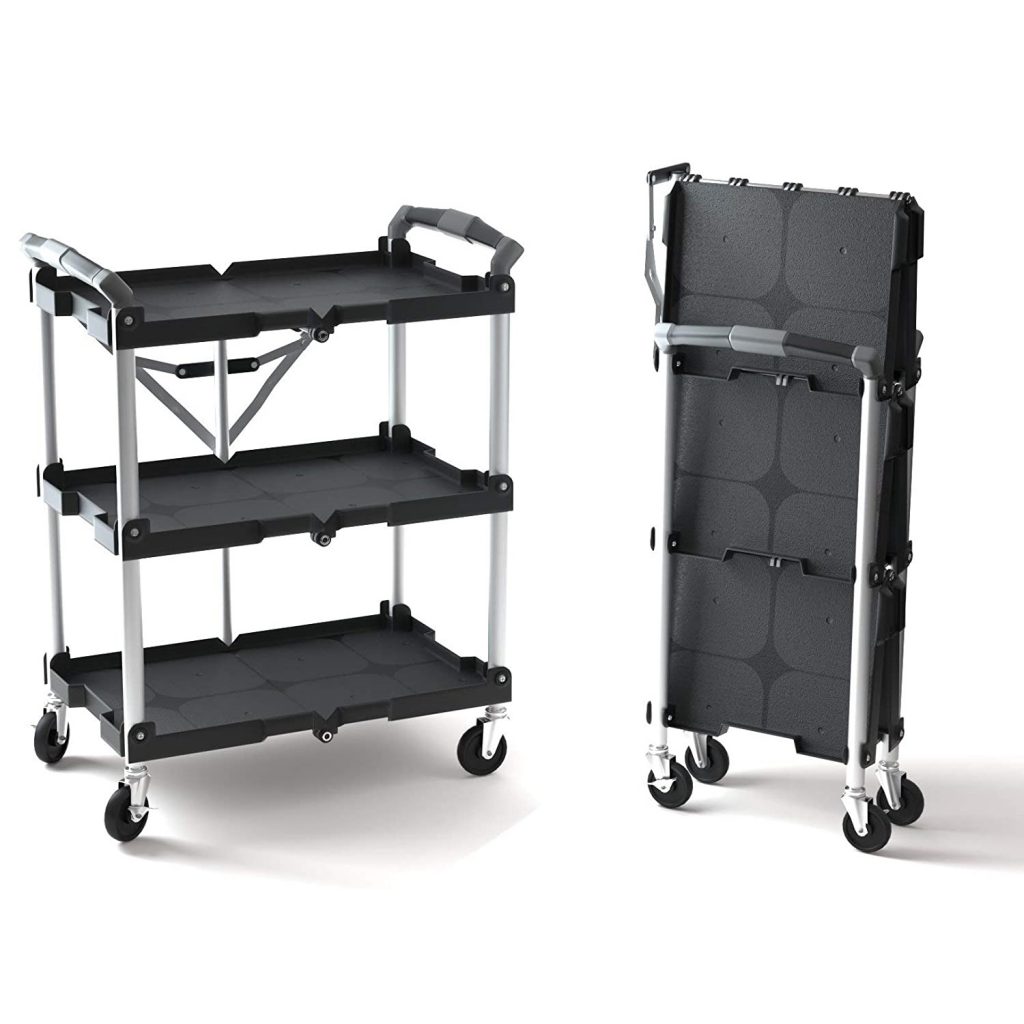 3-Inch Rubber Swivel Wheels
Lightweight aluminum frame
Comfort Grip Handles
Luxor 32″ x 18″ Tub Storage Cart 2 Shelves – Black, (EC11-B)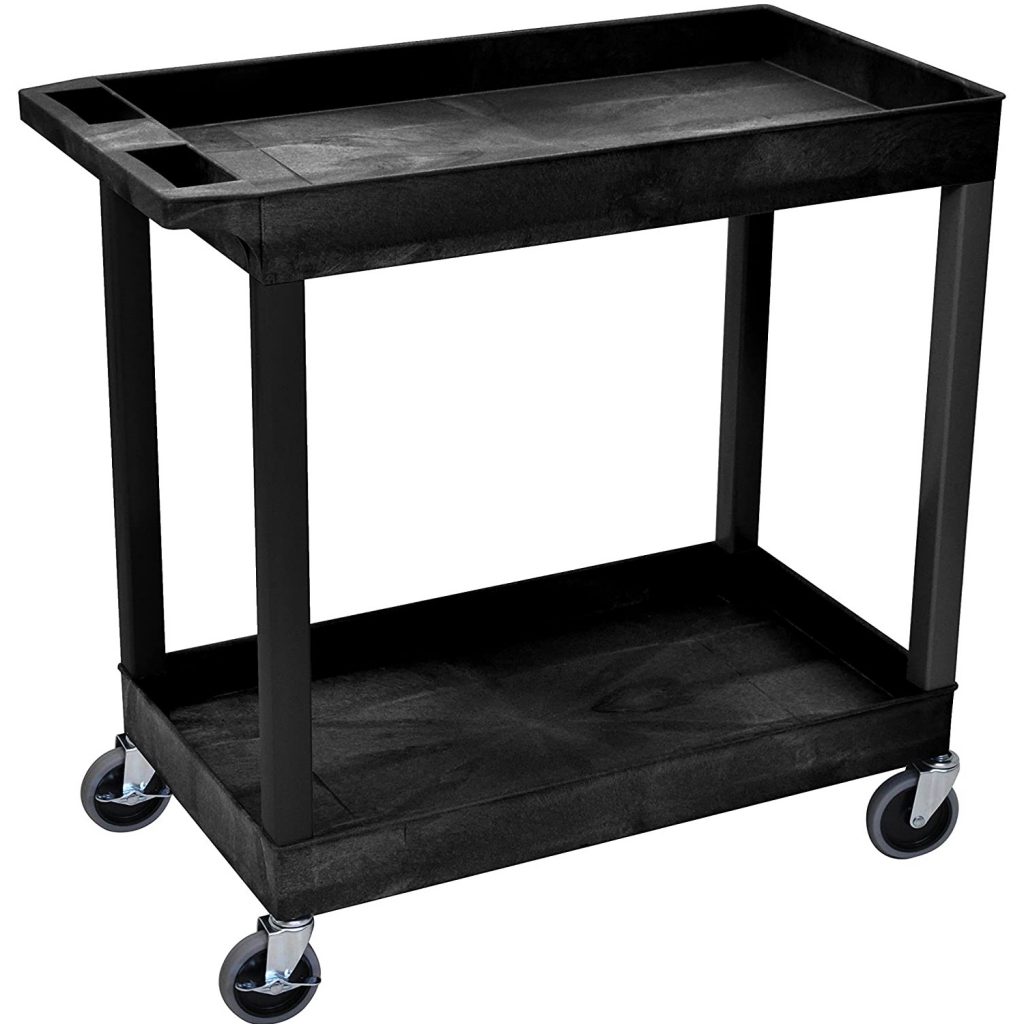 400 lb, weight capacity
Four 4 Full swivel casters
Ergonomic push handle
WEN 73004 500-Pound Capacity 36 by 24-Inch Extra Large Service Utility Cart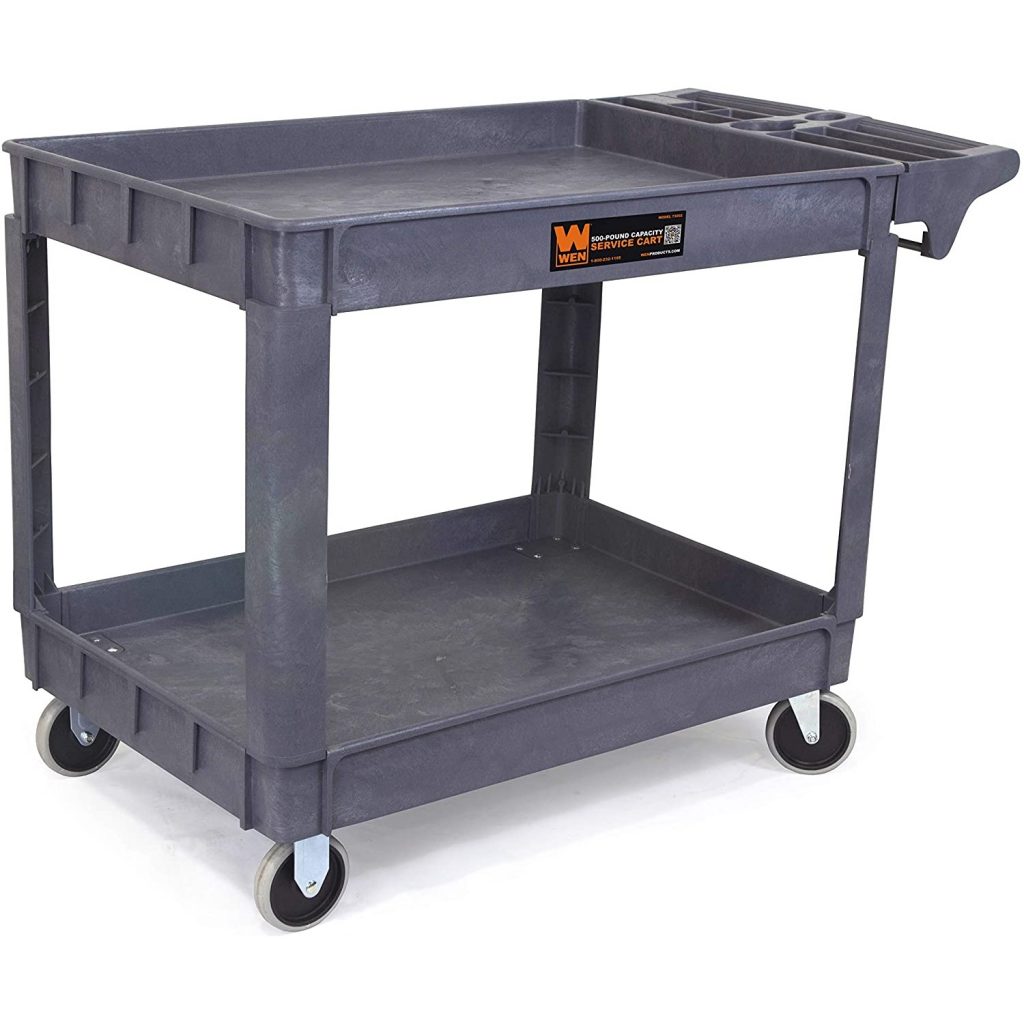 Hold up to 500 pounds
Durable
5-inch casters
Rubbermaid Commercial Service/Utility Cart, Two-Shelf, 300 lb capactiy, Black (FG9T6600BLA)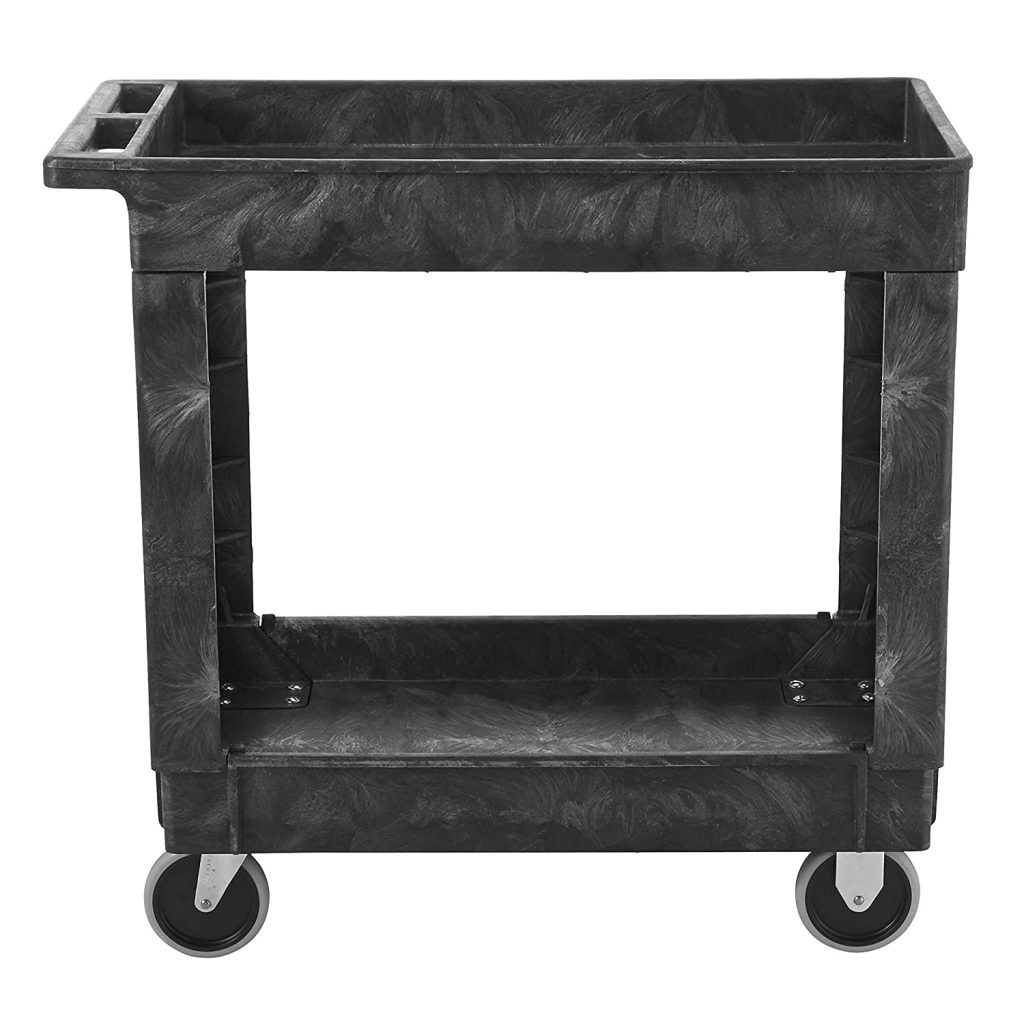 Capacity 500 pounds
Perfect For Any Use Space
V-Notch Capability
MaxWorks 80384 Black and Gray Two-Tray Service/Utility Cart With Aluminum Legs And 4″ Diameter Swivel Castors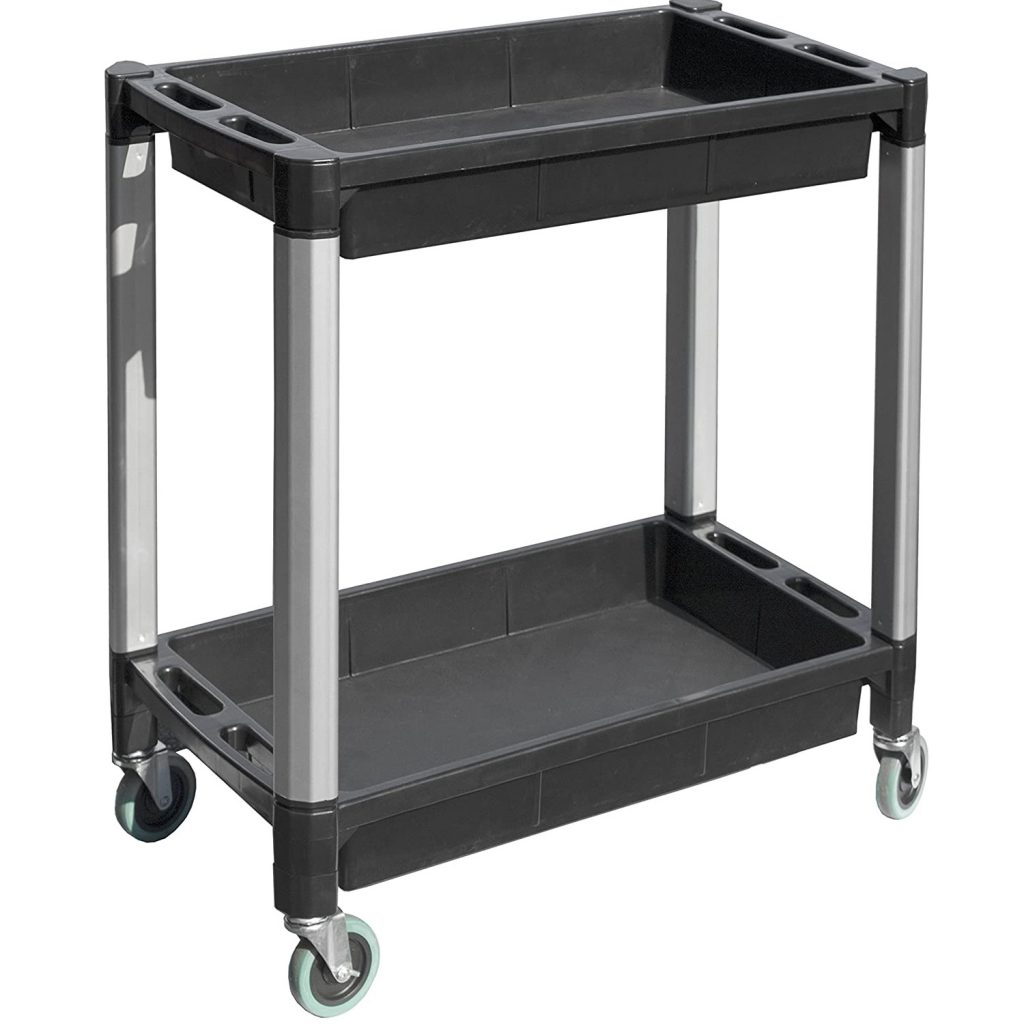 300-lb Capacity
Polypropylene construction
Aluminum Legs
---
Choose the Best Tool Cart
Customer's Choice: the Best Rated Tool Carts
27 users answered this survey. Please help us improve this review!

70.37% of users selected Olympia Tools 85-188, 3.7% selected Luxor EC11-B, 7.41% selected WEN 73004, 11.11% selected Rubbermaid and 7.41% selected MaxWorks 80384. Every month we analyze your answers and change our rating.
---
A messy workplace is a true disaster for any craftsman, hobbyist, or technician. When you work on a certain project or just take care of your household and garden, you need all your tools handy. It is always a problem to interrupt in the middle of the working process and ramble around in search of some tool or screw.
The solution is very simple – you need a good versatile tool cart to keep your workplace well-organized and your working process creative and enjoyable. A tool cart can be made of any material, up to your preferences and budget. It can be static or mobile. Though, mobile tool carts are always better when you need to move around. It should also be reliable and durable, lightweight and sturdy, have many convenient compartments and a big storage capacity. There are some other factors we will discuss later in this Buyer's Guide.
Here, we have compiled the reviews of the 5 best tool carts available on the market today and the most frequently asked questions for those who are going to acquire a great tool cart for their household or manufacturing and repair needs.
Olympia Tools 85-189 Pack N Roll Collapsible Service Cart – A Reliable Appliance for Many Purposes
The cart has three levels of shelves with 13 ¼ inches height between them. It features a stainless steel bracket, a secure locking bar, and 4-inch diameter rubber pu swivel wheels.
The item has comfortable dual-material handles. Its locks open and close securely. The frame is made of durable lightweight aluminum. The shelf dimensions are 27.5 x 16 ¼ inches. The loading capacity is 300 lbs.
Functionality
The service cart is portable and collapsible. You can keep your equipment, tools, and appliances in one place for more convenience and use them any time you need. The secure locking mechanism is quite reliable and does not allow the cart to collapse.
The shelves are collapsible, instead, so the cart does not occupy much space and it allows for moving all the tools or garden supplies from one place to another without much effort. When folded down, the cart has only 8 inches in length and can be stored easily. The design is very sleek and modern so it fits perfectly well in any space.
The cart is meant and designed for using in gardens, garages, homes, job sites, schools, libraries, offices, or restaurants, and in many more places.

This cart from Olympia Tools is quite reliable and well-recommended because the company has been in the industry since 1973 and always supports high quality, expertise, and novelty.
The item will serve you for a long time. Just fold it smoothly with free hands and do not overload it while using. Follow all the instructions thoroughly.
---
Norwood Commercial Furniture 2-Tier Plastic Rolling Cart – A Convenient Appliance for Easy Use
This EC-series cart features two tub shelves of 2.5 inches deep. The distance between the shelves is 22.5 inches. The item is very durable and made of the high-density polyethylene (HDPE) which is famous for its strength. The material is highly resistant to scratches, dents, and stains.
The push handle is ergonomic and convenient. The full-swivel casters are 4 inches in diameter. The legs are made of PVC. The casters are equipped with two locking breakers for more security.
The loading capacity is about 400 lbs but when equipped with more heavy-duty casters, the cart can load 500 lbs.
Functionality
The cart can be used for industrial and household needs. It can glide smoothly across the outdoor and indoor surfaces. The two locking breakers can stop the cart quickly when you want to keep it stable and stationary.
The cart is multipurpose. It is the perfect option for garages, warehouses, shops, restaurants, offices, or schools.

The product is sturdy, convenient, and worth buying. Though, keep in mind that it may need some care and maintenance. Be especially careful while assembling it. Follow the instructions thoroughly and be sure to fit all the parts and details correctly to their required places.
You can use the cart both inside and outside for a wide range of purposes and tasks but remember not to overload it.
---
WEN 73004 Extra Large Service Utility Cart – A Perfect Multipurpose Mobile Storage Station
The item is lightweight with a smooth surface for easy cleaning. It is equipped with four 5-inch casters for perfect and effortless mobility without any damage to flooring surfaces. Two of them swivel 360 degrees and the other two are static.
The push handle includes some smaller compartments and a cup holder for more convenience. There is also a metal bar under the handle for hanging towels and rags that is very convenient while working.
Every shelf has a loading capacity of 250 pounds and boxes of different sizes and shapes can be carried on them. It also has 5 small storage compartments for different bolts and screws.
Functionality
The cart is very functional for using in gardens because all the supplies are kept well-organized and handy there. It is also perfect for IT departments for moving any computer equipment around. Any office can as well use this cart as a service appliance for cleaning and carrying large objects. Warehouses can utilize the cart because of its large loading capacity and reliability.

The cart performs as a lightweight storage station that is mobile and convenient. You can lift and move it without much effort. However, remember not to overload it because loading the cart with more than 500 pounds may result in wheels' damage and lack of maneuverability.
---
Rubbermaid Commercial Service and Utility Cart- A Product That Changes Your Working Style by Its Versatility and Maneuverability
The cart is made of structural foam. This material has a high density and that makes the item lightweight, maneuverable, and sturdy. It is also very durable, does not dent, rust, or peel. The material is capable of carrying large loads of 500 pounds.
The ergonomic design allows for more pushing control, working safety, and easy hand placement.
The 5-inch wheels are made of special thermoplastic rubber and the swivel casters provide surface protection, quietness, and absorption of shocks.
The cart is equipped with various storage compartments, hooks, holsters, and notches that are easily customizable for more space for different tools and equipment. The built-in V-notch allows for holding pipes securely.
The corners of the cart are rounded that helps protect furniture and walls while moving around.
Functionality
The cart is quite versatile in its utilization. It can be easily navigated in loading docks, warehouses, stock rooms, workshops, or classrooms. The wheels are perfect for smooth concrete, carpets, tiles, linoleum, hardwood floors, and terrazzos.
The special fittings allow for adding rods or piper, wire spools, or any other roll-type objects for their safe carrying and cutting off when needed.

The Rubbermaid Company manufactures great products with a 1-year warranty. They are mostly free of defects in materials and workmanship.
Just remember to maintain it properly, clean the dirt and debris on time, and never overload it with extra weights. The cart will serve you for long.
---
MaxWorks 80384 Two-Tray Service and Utility Cart- A Great product for maximum Storage and Convenient Transportation
This cart is made of high-quality materials for its durability and stability. The aluminum legs provide protection against rust and corrosion for a longer lifespan.
The item is equipped with four swivel castors and the front ones have brakes. It allows for more security and maximum maneuverability.
The two trays are 3 ¾ inches deep for more security of items that are carried in them. The push handles are located on both sides of the cart for more convenient transportation.
Functionality
The cart is perfect for utilizing in garages, gardens, kitchens, or offices. The trays and swivel castors make it a perfect use for moving tools around the garage. The restaurants can also use it for transporting bowls, plates, and other table wares. You will make a good use of it in your garden because its capacity of 300 pounds will allow you to hold and carry all pots, vases, gardening tools, and plants easily. The item is also very convenient for the storage of pantry goods, such as vegetables, fruits, condiments, or any kind of kitchen appliances.

The MaxStore manufacturing company provides a great product for maximum storage and convenient transportation. The cart is quite versatile in use, secure, reliable, and durable.
Remember to watch the video before starting the assembly of the cart. In fact, the process of installation can take up to 10 minutes if everything is done correctly. Do not use any other tools for the assembly apart from a rubber hammer. No other hardware is needed because everything is provided within the kit.
---
Buyer's Guide
Tool carts are appliances meant for people who work with many different tools and items both in their offices or at home. Sometimes, these items are too heavy to carry them around. So, you can use a tool cart to transport these numerous tools and boxes from one place to another. One more reason to get a tool cart is to keep your things well-organized and at hand.
Here are some tips on what to pay attention to when looking for the best tool cart for your needs.
Design and Distribution
Consider the type of things you need to carry and store. Then, look at the models offered on the modern market. The design of your cart should be convenient for meeting your specific needs. That can be a cart with two or more shelves to carry heavier items on a lower shelf and lighter ones on the upper trails. If you need to move around boxes of different size and shape, think about the space between the shelves that will allow for convenient placement of such big items. If you need a  lot of small things and details in your work, consider carts with many compartments for screws, nails, knobs, nuts, and other tiny parts  and pieces.
You also need to understand whether you will be able to adapt the distribution features and design to your personal preferences for more comfort of using the cart.
Capacity
This characteristic is closely connected with the design, of course, and it is very important if you need to use many different things, some of which are too heavy to carry around by hand.
To choose a cart with the capacity that suits you, consider your budget. The carts with larger capacity usually cost more. Very simple carts that look like just as toolboxes with a handle and wheels have a limited capacity. Though, they are lightweight and not too expensive.
If you need more space, opt for models with some shelves, compartments, and drawers. Such carts with the medium capacity will be the best options for households.
However, if you need as much capacity as possible, choose the sturdy and durable models which are higher and can contain and carry more and heavier things. Some of them can even have folding doors for some drawers for more convenience. Such models are more expensive though they are reliable and usable.
Mobility
The first idea about any tool cart is that it should help to carry things around with ease and effortlessly. So, remember that, if your aim is mobility, some models, especially, those that cost less, are restricted in their mobile characteristics.
The mobility relates to the weight of the cart and the type of wheels it uses. Lightweight carts made of high-quality durable materials are more mobile. The wheels' design depends on the number of shelves and drawers of the cart. The carts with a lot of drawers and more loading capacity are equipped with the wheels of a bigger draft and some of them even have brakes and stoppers for more security. If you want to use your cart outside your house, office, or workshop, for example, in the garden, look for a model with the wheels that are specially designed for the purpose of climbing steps or moving over bumps and rough surfaces.
FAQs
Why do I need a tool cart?
You need a tool cart if you are engaged in some mechanical repair work or DIY projects. It helps keep all the tools at hand and move heavy items from palace to place easily. It also helps store the things in one place when not needed.
What is the best material for a tool cart?
Hardened industrial plastic and metal are probably the two types of the best material for tool carts. However, make sure that metal parts of your cart are rust-roof and corrosion-protected.
Are tool carts sturdy enough?
Yes, tool carts made of high-quality materials and equipped with wheels and stoppers are sturdy enough if you do not overload them.
Do all the wheels in a tool cart have breakers?
It usually depends on the model and design. There are some tool carts with wheels without breakers. Or there may be breakers on two wheels. You can also opt for a cart with breakers on all the wheels though such models are a bit more expensive.
What is the difference between a tool cart and tool chest?
A tool chest is made to store all your tools in a closet statically. Though it is large enough to house all your things, it is not meant to be frequently moved or dragged around where you need it. The cart is designed to store your most commonly used tools and work with them on the site where you need them. Most carts have four wheels so you can easily move them from place to place.
What is the benefit of a tool cart?
There are some benefits. One of the most essential things is the cart's lightweight and moveability. You can roll the cart around and use your tools stored in one place wherever you need them.
Video Tutorial: Milwaukee Steel Work Cart
Conclusion
If you are working with many tools and details or need to move many boxes and pieces around, a tool cart is a great help. Among the variety of models and designs available on the market nowadays, you need to choose the best option that suits completely all your needs and preferences.
This Buyer's Guide is meant to help you make the best choice. Consider your requirements and budget first. Pay attention to the design, convenience, durability, weight, security, moveability, and some other criteria while purchasing a tool cart. The right choice will help organize things in the most convenient way and be more effective at work.
---