Are you looking for a tool chest that is both durable and reliable? If so, then the Gladiator Tool Chest might be just what you're looking for. This rugged storage solution offers plenty of space to store your tools and other items, while also providing ample protection from wear and tear. In this review, we'll take a closer look at the features of the Gladiator Tool Chest to help you decide if it's right for your needs.
Why Gladiator?
The Gladiator Tool Chest is made from heavy-duty steel and features a powder coat paint finish to resist rusting and corrosion. It also has an ergonomic design that makes it easy to store your tools, with four adjustable shelves for maximum organization. Thanks to the secure lock system, you can be sure that your tools are safe at all times. Additionally, the large size of the chest ensures plenty of storage space for larger items like power tools or gardening equipment.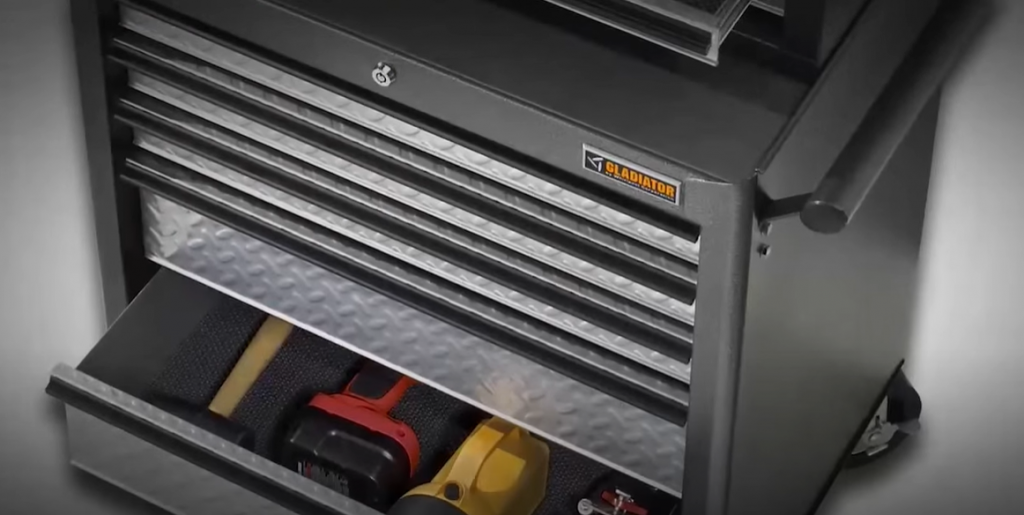 How Much Does A Gladiator Tool Chest Cost?
The price of Gladiator Tool Chest varies, depending on the size and features you choose. Generally, Gladiator's Tool Chest is priced between $149.99 to $599.99. You can get a variety of sizes, including a 26-inch rolling tool cabinet, 51-inch tall chest/cart combo or even an 81-inch mega storage cabinet that can store up to 1800 pounds!
Overall, if you're looking for a high quality storage solution that is built to last, Gladiator Tool Chests are definitely worth considering. With their variety of sizes and features, they're sure to meet all your needs without breaking the bank! [1]
Cool Features Of Gladiator Tool Chest
The Gladiator Tool Chest offers a number of great features that make it an ideal storage solution for your workshop.
To start with, the main unit is made out of durable steel and comes in two parts – the top shelf and bottom tray. This allows you to customize how much space you need without having to purchase multiple pieces of furniture. The shelves are adjustable so that they can accommodate any size tool or item you may have.
The drawers come equipped with secure locks to keep your tools safe while they're being stored away. This also helps keep curious hands from getting into them when not supervised! Plus, each drawer also has a removable divider so that small items such as screws and nails don't roll around.
The Gladiator Tool Chest also has a removable top shelf and bottom tray that can be moved to different heights or taken off entirely. This allows you to make the most out of your space while still making sure that all of your tools are easily accessible.
Finally, it has two side handles which makes it easy to transport when needed. The Gladiator Tool Chest is an excellent storage solution for any workshop! It's highly durable, customizable, and secure – perfect for keeping all of your tools safe and sound! [2]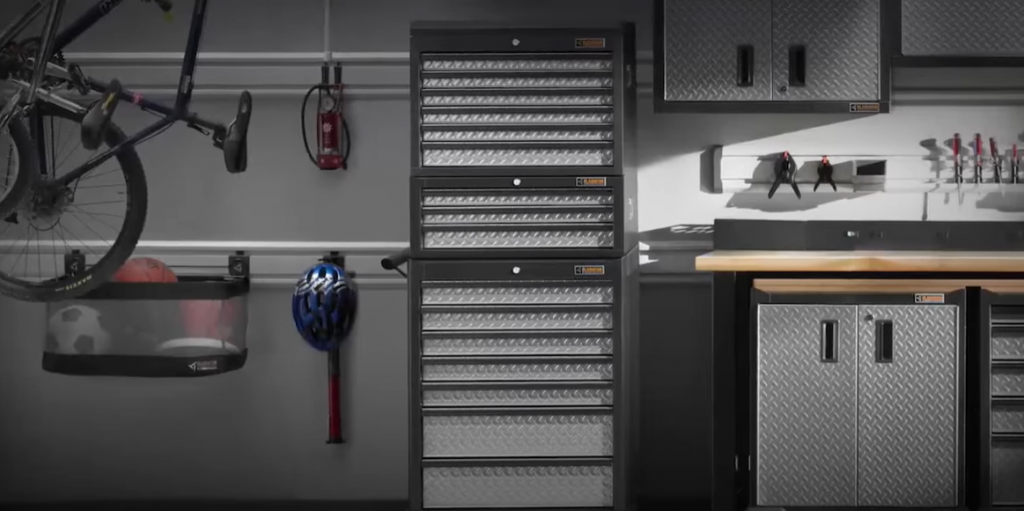 Pros And Cons Of A Gladiator Tool Chest
A Gladiator Tool Chest is an attractive storage solution for all of your gear. It features a unique design that can fit most any shop or garage, and its robust construction ensures durability and long-term use. Below are the pros and cons associated with the Gladiator Tool Chest:
Pros:
Easy to assemble – The Gladiator Tool Chest is designed to be easy to put together with minimal effort. All you need is a screwdriver, and it's ready in no time.
 Easily customizable – This tool chest has slots on either side that let you customize it according to your needs. You can easily add bins, shelves, drawers, or anything else you may need to store your tools.
 Durable – The Gladiator Tool Chest is made from heavy-duty steel, making it strong and durable enough to handle whatever you throw at it. It also features a locking system that will help keep your tools secure when not in use.
Cons:
Price – At around $200, the Gladiator Tool Chest can be expensive for some people. However, its robust construction ensures durability and long-term use so you'll be able to get your money's worth.
Lack of mobility – This tool chest does not come with wheels which means it must remain stationary once assembled. If you need to move your tool chest frequently, this may not be the best option for you.
Heavy – The Gladiator Tool Chest is quite heavy, weighing in at about 80 lbs. If you need to move it frequently, you may want to reconsider your options as this tool chest can be difficult to move around. [3]
Helpful Tips For Using The Gladiator Toolbox
The Gladiator Toolbox is a great way to store and organize your tools and other items. Whether you are a professional or an amateur DIYer, the Gladiator Toolbox can help make all of your projects easier and more organized. Here are some helpful tips for using the Gladiator Toolbox:
Choose the right size for your needs – The Gladiator Toolbox comes in several sizes, so make sure you choose one that's big enough to hold all of your tools, but not too big that it's cumbersome or hard to move around.
Take advantage of all the compartments – With its spacious top compartment, side bins, and various drawers, there's plenty of room to keep your tools organized and within easy reach.
Be sure to use the lock – The Gladiator Toolbox comes with a convenient locking mechanism, so make sure you use it to keep your tools safe and secure.
Store heavier items on the bottom – It's a good idea to store heavier items on the bottom shelf of the toolbox so that they don't tip over when you move it around.
Keep track of small parts – Use one of the drawers or side bins for organizing small items like screws, nuts, bolts, nails, tape measures and other essential accessories.
Label each drawer – Labeling each drawer and compartment is an easy way to help yourself remember where everything goes and to reduce the risk of losing things. [4]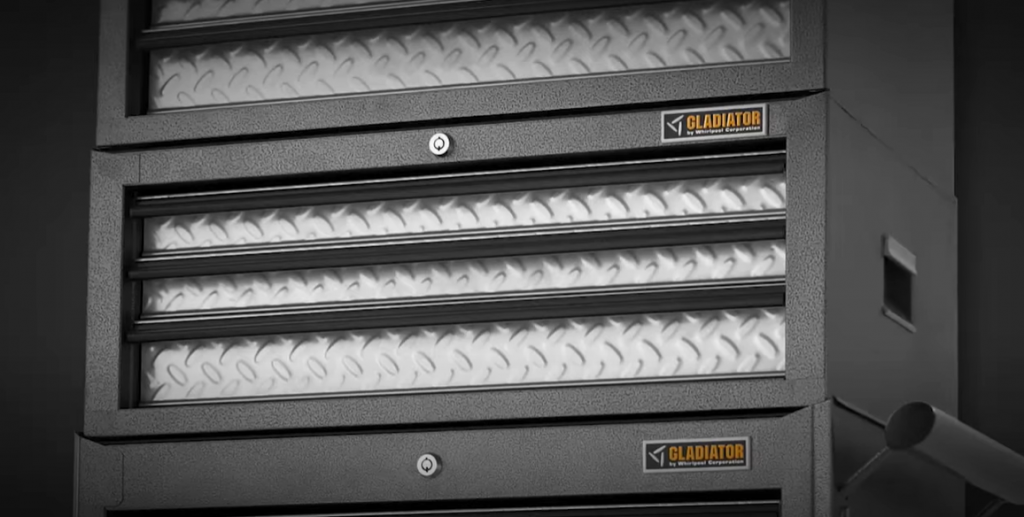 What Do We Think Could Be Improved?
The Gladiator Tool Chest is a great product, but there are some areas where it could be improved. First and foremost, the chest is not as spacious as some other tool chests on the market. The storage space in the Gladiator Tool Chest is limited to five drawers, which may not be enough for people with larger collections of tools. Additionally, while the chest is well-built and durable, it does have a slightly flimsy lid that can easily come off if you're not careful when opening or closing it. Finally, despite its large size and weight capacity, there are no wheels included with the chest. This means that moving it around can be difficult and inconvenient if you don't have help or a strong enough vehicle to transport it safely.
FAQ
Is a Tool Chest necessary?
A tool chest is a great way to organize, store, and protect your tools and supplies. It helps you find the tools you need quickly and efficiently, reduces clutter in your workspace, and keeps everything tidy. Investing in a quality storage solution can help keep your garage or workspace organized for years to come.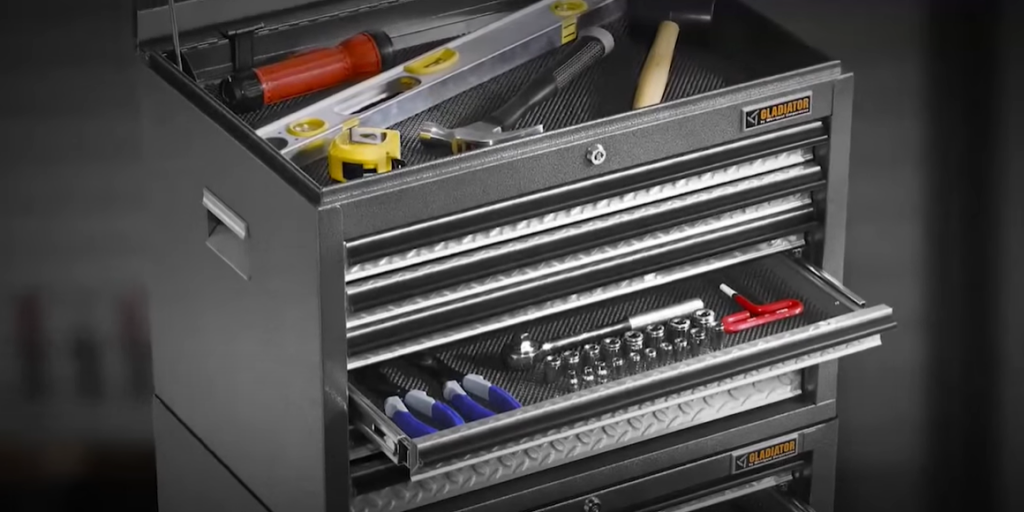 What's the difference between a toolbox and a tool chest?
When it comes to keeping your tools organized and secure, there are a few different options available. A toolbox is the most basic option, designed to hold a limited amount of tools and be easy to move from place to place. A tool chest, on the other hand, offers much more storage than a traditional toolbox as well as added security with its locking mechanism. The Gladiator Tool Chest is one such example of an excellent tool chest for anyone looking for an efficient way to store their tools.
Who owns US General Tool Boxes?
US General Tool Boxes are owned by the Harbor Freight Tools company. Founded in 1977, Harbor Freight Tools has grown to become one of the largest tool and equipment retailers in the United States. With stores located nationwide, customers can always find a great selection of tools at competitive prices. Their focus is on providing high-quality products for both professional and home use.
Where are Husky tool boxes made?
Husky is a line of toolboxes and storage solutions manufactured by The Home Depot. Their products are made in the United States, Canada, China, and Mexico.
The Gladiator Tool Chest is one of their most popular models and is made with heavy-duty steel construction to provide superior strength and durability. The Gladiator Tool Chest features a powder-coated finish that resists corrosion and provides increased protection against damage. With Husky's patented no-jam drawers system, users can quickly access their tools with ease and convenience. The chest also features an integrated power strip for powering up electronic devices while storing them away safely. Additionally, it comes with two adjustable shelves so you can customize your organization needs.
For added security, the Gladiator Tool Chest features a lockable lid and is backed by Husky's lifetime warranty for peace of mind. This chest is perfect for both professional contractors and DIYers alike.
What are the disadvantages of toolboxes?
Toolboxes can be expensive and often take up a large amount of space. Toolboxes also lack the organization of larger tool chests, making it difficult to find specific tools when needed. Additionally, many toolboxes are made from flimsy materials that aren't built to last. The weight capacity is also limited by the size of the box, meaning heavier items may not fit inside. Finally, toolboxes don't offer as much protection for your tools since they are generally open on all sides. All these considerations should be taken into account before investing in a new toolbox.
What are the disadvantages of a toolbox?
One of the main disadvantages of a toolbox is its limited capacity. Many tool boxes lack enough space to fit all of your tools, meaning you will need multiple boxes or an alternative storage option. Additionally, depending on the material used for construction, some toolboxes may be quite heavy and difficult to move around. Lastly, it can be difficult to customize the layout and organization of tools within a toolbox. This makes it harder to find specific items when needed.
Overall, while a basic toolbox may provide adequate storage options for those with smaller collections of tools or less complicated projects, many people find that their needs go beyond what a basic toolbox can provide. This is where the Gladiator Tool Chest comes in — offering superior features and customizability compared to traditional toolboxes.
Is a big toolbox better than a small toolbox?
The answer to this question depends on your needs and preferences. Generally, bigger tool boxes are more versatile since they can hold a variety of tools and supplies. They offer the convenience of having all of your supplies in one central location. Bigger tool boxes also provide greater protection for your tools from dust, moisture, rust, and other environmental elements. On the downside, bigger toolboxes take up more space and can be difficult to move around or transport from one job site to another.
Smaller toolboxes are typically cheaper than larger ones and easier to transport between worksites or home projects. However, they may not fit as many tools as a larger box and often lack extra features like lockable drawers or expandable capabilities.
Does Stanley own Mac Tools?
No, Stanley does not own Mac Tools. Mac Tools is a separate company that produces its own tools and products. The two companies are competitors in the tool industry, but they do not have any affiliation with each other.
Stanley's Gladiator Tool Chest is a unique product meant for home garages or commercial workshops. It features heavy-duty steel construction, ball bearing slides for smooth operation, three drawers with removable dividers, and an optional power strip add-on for easy access to electrical outlets. The chest also includes a lifetime warranty on all parts and labor.
The Gladiator Tool Chest provides versatile storage options for DIYers and professionals alike. It offers extra protection from dust, dirt, and water due to its specialized drawer seals and weather resistant construction. The tool chest also has an ergonomic handlebar for easy transport and comes with pre-drilled mounting holes for securing it to a wall or workbench.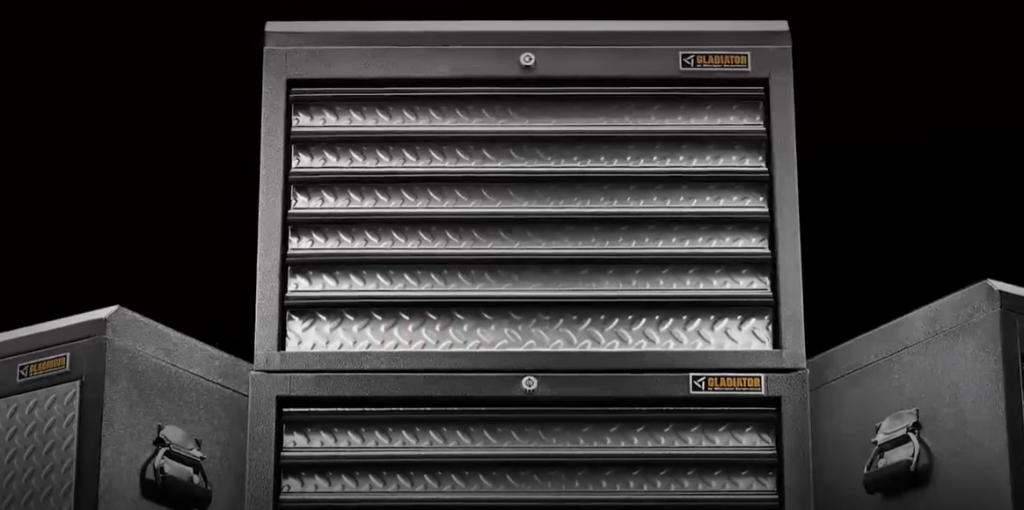 Can you get big from the chest machine?
The Gladiator Tool Chest is designed for bigger jobs, and it's definitely up to the task. The large storage capacity means you can manage big projects with ease. It also features an oversized caster wheel base, so you can easily move it around your workspace or garage as needed. Plus, its reinforced steel frame keeps all of your tools safe from accidental drops or bumps. With its durable construction and robust design, you can be sure that this chest will last through many tough jobs—and look good doing it. Whether you're a professional technician or a DIY-er tackling weekend home improvement projects, the Gladiator Tool Chest has everything you need to get the job done right. Its ample storage space makes organizing tools a breeze, and its heavy-duty build ensures it will stand up to any rigors of the job. Get your Gladiator Tool Chest today and make sure you have all the tools you need for even the biggest projects.
What happens if you only train your chest?
Having a strong chest is important in many sports, such as weightlifting and rugby. It helps with stabilizing the body and aids in pushing movements. However, training only the chest can lead to imbalances in other muscles and cause issues such as shoulder pain or poor posture. To prevent this from happening, it's important to make sure you are also training your upper back, shoulders and triceps when focusing on your chest.
The Gladiator Tool Chest is an ideal way to do this safely and effectively. With its adjustable height bench press and ergonomic design, it allows for more variation in your exercises and ensures that you maintain proper form while working out. Additionally, the sturdy construction of the tool chest makes it safe to use for both lighter and heavier weights. This way, you can strengthen your chest without putting yourself at risk of injury.
Useful Video: Gladiator® Tool Chests & Storage
Conclusion
The Gladiator Tool Chest is an ideal choice for any DIYer or professional looking for a rugged and reliable tool storage solution. Its heavy-gauge steel construction, large capacity, and easy-to-use features make this tool chest perfect for both workshop and garage use. The integrated lock system adds to the security of stored tools, while the sleek design and powder coated finish provide a stylish addition to any work area. With its competitive price point and impressive features, it's no wonder that the Gladiator Tool Chest is quickly becoming a popular choice among seasoned woodworkers and home mechanics alike.
References:
https://www.amazon.com/Gladiator-GarageWorks-GATC26V9WG-Classic-9-Drawer/product-reviews/B0046ZSXEU
https://www.oneprojectcloser.com/gladiator-tool-storage-review/
https://www.bestbuy.com/site/reviews/gladiator-premier-series-modular-geardrawer-white/5947212
https://www.garagejournal.com/forum/threads/gladiator-tool-chests-diamond-plate-anyone-have-any-experience.299544/