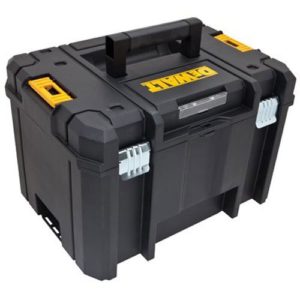 Weight capacity of 44 lbs
Removable interior tray
Heavy-duty metal latches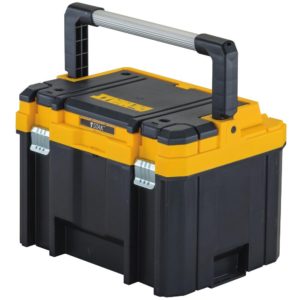 Organization of Drills & Bits
Extra large volume
Durable side latches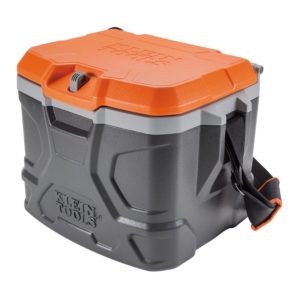 Keeps cool up to 30 hours
Supports up to 300 pounds
Lid stays open at 90-degrees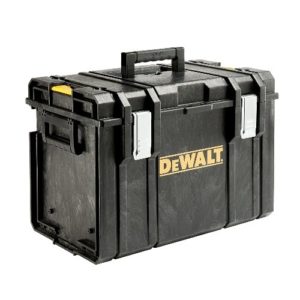 Weight capacity of 110 lbs
Durable structural foam walls
Integrated Water Seal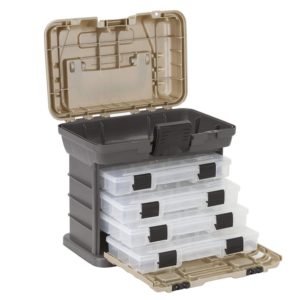 Impact resistant
Convenient size
Handle Included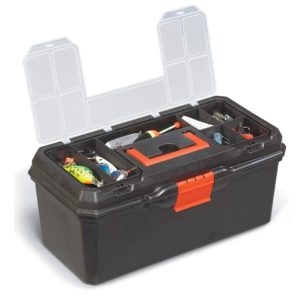 Plastic
From Recycled Material
Latch with geometric lock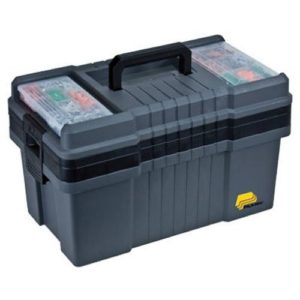 Two lift-out trays
Extra deep constructions
Reinforced handle and latches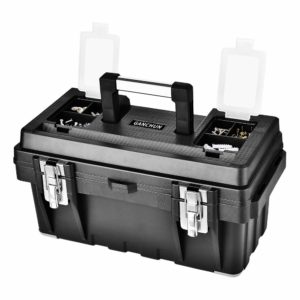 Three Free Parts Boxes
Removable Partisions
Unique Cover Design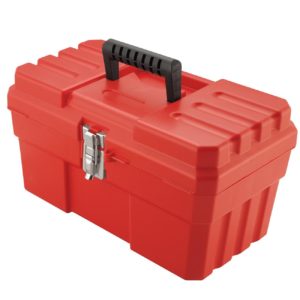 Extra large tray
Chemical resistant
Removable tray (14" box)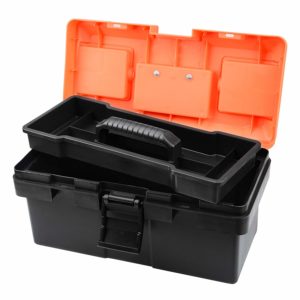 High quality PP plastic
Separate accessory storage box
Non-Slip Handle
Getting organized doesn't need to be a pain in the neck. You have all of the space you need to properly store your equipment. It's just a matter of putting everything in its rightful place. One of the best things you can do to get fully organized is to buy yourself a handy and efficient new tool box.
Of course, you can't just settle for any old tool box. It's never a good idea to simply buy the first one you see listed in the Google search results. On this list, we'll give you all of our favorite new tool boxes. We'll also explain to you why we rate these as the best tool boxes currently available on the market.
DeWalt DWST17806 TSTAK VI – Best Tool Box for Hand Tools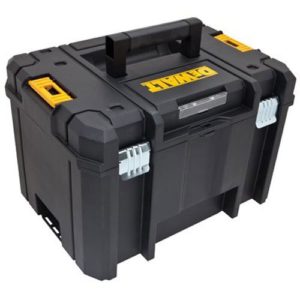 The new T-stak tool box from DeWalt is a new model for 2020. It has been specially designed to be lightweight, portable, and roomy. It comes complete with durable side latches that will enable easy carrying and safe stacking.
It also has compartments that allow you to organize and store all of your hand tools in one easy location.
With a total weight of 4.69 pounds and dimensions of 17.3 x 11.9 x 13 inches, this is one of the easiest to handle tool boxes on the market. Its special T-grip handle allows it to be quickly transported for use and then easily stored after the job is complete.
Pros
Pros
Unique design allows boxes to be stacked on top of each other
Includes a specially designed removable interior tray
Designed to be extremely lightweight and portable
Backed with a full warranty from the maker
Cons
Cons
May be a bit pricy for buyers on a limited budget
Stores up to 44 pounds worth of tools. If you need larger capacity, you may wish to buy a larger model
---
DeWalt T-stak Tool Box, Deep, Long Handle – Best Tool Box for Handyman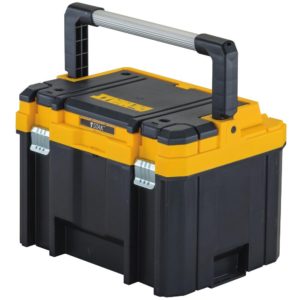 The new tool box model from DeWalt features a very unique and innovative design. This tool box has been designed with extra roominess in order to store larger tools. It comes with a special top organizer feature.
This has been designed to include fixed dividers for quick and easy organization and storage of drills and bits.
One of the most distinctive features of this new tool box is a pair of very durable side latches. These allow you to store the tool box by stacking it on top of the other T-stak modules. This unique new modular design is a feature of all of the latest tool boxes available from the DeWalt corporation.
Pros
Pros
Modular design allows several units to be stacked on top of each other
Lightweight design for easy portability
Made with special heavy dutyrust resistant metal latches
Backed with a full warranty of guaranteed quality direct from the manufacturer
Cons
Cons
Modular feature is very handy but may not work well with tool boxes from other makers
Model is meant to store large sized, rather than small or medium, tools
---
Klein Tools 55600 Lunch Box / Cooler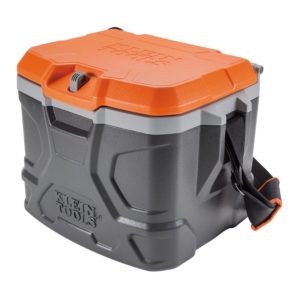 Every hard worker needs to take a break now and again. This is where the new Klein Tools 55600 Lunch Box / Cooler unit comes to the rescue. This handy lunch box and cooler combo is designed to store your lunch and drinks in easy, portable style.
It's a handy, compact, and lightweight model that you can easily rely on.
This specially designed lunch box keeps your food cool for up to 30 hours. Its handy main compartment has a 17 quart, 18 can capacity. It also doubles as a handy stool to sit on. However, it is meant as a cooler and lunch box combo. It is not designed to store hand tools, nor should it be used in this fashion.
Pros
Pros
Designed with a lid that will stay open at a 90 degree angle. This allows easy access at all times
Rustproofed stainless steel hinged lid
17 quart, 18 can capacity
Keeps your food cool and fresh for a period of up to 30 hours
Cons
Cons
Unit is designed as a lunch box and cooler. It is not meant to store tools in
Unit is designed to be as portable as possible. However, it may be a bit heavy for some buyers to transport without caster wheels
---
DeWalt Tool Box, Tough System, Extra Large – Best Tool Box for Hand Carry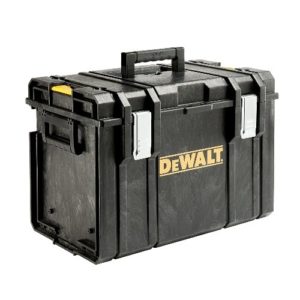 The new DeWalt model is a durable and very handy tool box that is designed to handle extra large tools. It comes with a weight capacity of up to 110 pounds. The tool box is constructed of durable structural foam walls. It also features an IP65 rated fully integrated water seal.
It can be easily lifted due to rust resistant metal latches.
It should be noted that this new tool box is part of the DeWalt family of modular models. This means that it can be stacked with other DeWalt model tool boxes on top of each other. It's a handy, portable model that, despite being designed to house larger and heavier tools, is still very easy to access and transport.
Pros
Pros
This model is very portable despite its larger size and weight capacity
Designed as one of the DeWalt modular tool box models
Weight capacity of up to 110 pounds
This tool box has been backed with a full warranty direct from the maker
Cons
Cons
Although designed to be as portable as possible, it may be hard for some buyers to lift unaided
Designed with larger, rather than small or medium-sized, tools in mind
---
Plano Molding Stow N' Go Pro Rack – Best Tool Box with Removable Trays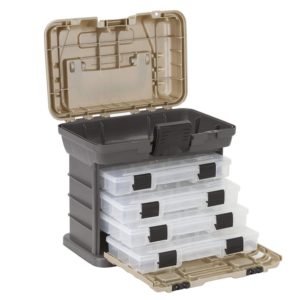 The new Plano Molding Stow N' Go Pro Rack has been specially redesigned to provide maximum ease of use along with instant portability. It comes with a special fold down handle that allows the user to take it with them wherever they go.
Buyers should also note that its heavy duty construction is designed to stand up to tough wear and tear.
The unit comes with special partitions that will allow you to store different kinds of handyman tools in different areas. The construction is reinforced to be fully impact resistant. The model has been designed with top quality materials and subjected to a wide battery of tests in order to ensure long term durability.
Pros
Pros
Designed to reduce impact from falls
Lightweight and portable design
Backed with a full warranty of quality from the maker
High quality clear compartments to house different types of tools
Cons
Cons
Unit has been designed to be portable but may be hard for some buyers to lift unaided
A very worth long term investment but a bit pricy as compared to some of the other models on this list
---
Best Tool Boxes – Buyer's Guide
When buying a tool box, there are several very important factors to keep in mind. The first should be durability. All of the models on this present list have been designed to give many years of service. They are impact resistant, meaning that they are able to resist the negative effects of drops, scuffs, and other everyday hazards.
Affordability Should Always Be an Area of Special Concern
Cost effectiveness should naturally play a part in your buying process. It is true that some of the models on this list may be a bit pricier than others. However, they were added to the list because they represent the current state of the art as far as the manufacturing of tool boxes is presently concerned.
With that being said, the idea is to think ahead in the long term. All of the models on this list have been selected because they will provide many years of use. The money you spend on a new tool box should be an area of consideration. However, you should also keep in mind that you desire your investment to yield long term results.
Lightweight, Portable Models are the Best Buy
Another important factor to keep in mind is portability. You need to be able to lug your tool box with you wherever you go. You may prefer working on projects in your garage. However, you may also need to bring your tool box with you to work on projects in your back yard or at your job. For this reason, a lightweight model is preferred.
All of the models on this present list have been chosen because of their relatively lightweight nature. Some of them will be heavier than others. They may require a bit of assistance to carry or transport. However, all of them are designed to be as easily portable as possible so that they will not present a problem for most buyers.
Easy Organization is the Key to Successful Tool Storage
Finally, you should also keep in mind that all of the tool boxes on this list have been chosen for a very singular reason. All of them represent the current top of the line when it comes to quick and easy tool storage. The modular units on this list can be quickly and easily stacked in order to be accessed whenever you need to use them.
Other features of the various tool boxes on this list include clear plastic drawers. This feature makes it easy for you to store and then retrieve the exact kind of tool that you are looking for. Even if you can't remember where exactly you stored them last time, the clear design makes it easy to spot and then access them.
FAQ
A high-quality and reliable toolbox significantly saves space in your workshop — sometimes, a lot of space is required to store tools. Many tools used in the household are very bulky, and the additional body kit takes up more than one shelf in the garage or workshop room. 
To store tools and move them conveniently, you need to purchase a quality toolbox. Many of the models available on the market are large enough for drills, grinders, and other bulky tools.
A good toolbox helps keep your tools organized. The best models are equipped with additional compartments, a removable organizer for storing small items. They are made of plastic or metal, come in different sizes, and are equipped with convenient carrying handles. Metal models are rarely used due to their heavyweight — carrying a heavy box filled with tools is not an easy task. Therefore, durable plastic is considered a better option. The choice of models in stores is large, but our rating will introduce you only to the best toolboxes.
Who makes the best toolboxes?
There are many manufacturers of toolboxes. They all try to follow certain trends to present their products to customers as the best available — exampling, earlier, most of the boxes were metal, then manufacturers massively switched to plastic. Among the most popular manufacturers, the following should be noted:
Sturm;

Stanley;

Bosch;

Fit;

Blocker;

Sturm;

JetTools;

DeWalt.
Are Harbor Freight toolboxes good?
For over 40 years, Harbor Freight Tools has been making high-quality toolboxes. Taking into account the company's experience in the manufacture of power tools, pneumatic tools, shop equipment, and automotive tools, the production of toolboxes is fine-tuned to the smallest detail. 
More than 40 million satisfied customers around the world will not let you lie — the quality of the company's products sometimes exceeds the most daring assumptions. Many professional publications write that the company's toolboxes are just another line of emphasis in the company's production facilities, but thanks to their shared experience in the vastness of toolmaking, it is the toolboxes that are distinguished by their unique quality and attention to detail.
Why are toolboxes so expensive?
A quality toolbox must have certain aspects — in particular, it must be durable and reliable in order to serve you faithfully and right for many years. Additionally, while making toolboxes, manufacturers plan in advance which tools a particular box will contain. That is why they differ in a certain specialization, on which the interior decoration, the number of shelves, and the volume of the drawer depend.
The material from which the box is made also has key importance. Metal boxes are a rarity in the modern market, plastic options are more common. Based on this, it is enough to assume the amount of alloying elements in ordinary PVC and their share to create a truly high-quality product, in order to calculate how much a strong and reliable plastic box can cost in retail.
Are snap-on boxes worth the money?
This model of toolboxes is perfect for garages or garages that require a large number of different tools to be stored in one place for timely access to them during repairs.
The snap-on tool boxes feature increased capacity, guaranteeing the ability to store a large number of tools that are regularly required for car repairs. 
Due to the attention of manufacturers not only to the capacity of such boxes but also to the ergonomics of use, such boxes are characterized by a large number of shelves designed to store a large number of tools and their convenient rotation, thanks to the presence of drawers.
Many drawers of this model can be expanded with additional panels and flexibility in the future. Most often they are made of metal, which guarantees their long-term use.
Are Extreme Tools tool boxes any good?
Extreme Tools has specially created a line of toolboxes with the expectation of their long-term use by enthusiastic handicraftsmen. With many years of experience in the automotive industry, the manufacturer knows exactly what it means to have the right tools on hand for the job.
Each drawer model from the assortment provided by the manufacturer provides sufficient capacity and protection of your tools from moisture and aggressive chemical environments. The price of these toolboxes is relatively low, so Extreme Tools toolboxes are very popular among customers. They are great for a wide variety of needs — both for garages and small home workshops. 
The manufacturer's assortment includes boxes for use in retail, industry, and the automotive industry, so each customer can easily find a model just for their needs. The products are of very high quality and ergonomic, they are characterized by increased functionality and excellent durability, which makes them an excellent choice for long-term use as the main storage of tools.
Are Weatherguard toolboxes worth it?
Weatherguard is one of the leading manufacturers of high-quality toolboxes. Thanks to a long-term reputation, the manufacturer's products are of excellent quality, durability, and reliability, due to which many happy owners of the manufacturer's products have been using toolboxes for many years.
The main advantages of the manufacturer's products:
Durability and reliability

. Using the most advanced technology, 4-piece welded structures, gas shock bushings and full protection against moisture and aggressive chemical environments ensure long-term use.

Excellent security level

. With full burglary protection, C-channel reinforced push-button combination locks provide a unique level of security for owners' valuables and tools;

Extended capabilities

. Using the included plastic storage trays and mounting kits, made without drilling, the manufacturer's truck crates are a functional and ergonomic addition to any vehicle;

Built-in welded connections

. Thanks to the use of welded airfoils, the wind is deflected. Because of this, even the bulkiest, at first glance, models of toolboxes have outstanding aerodynamic properties without burdening your car;

Built-in high quality handles

. On the back of the truck boxes there are special handles to significantly facilitate loading and unloading the box from the vehicle;

High quality LED lighting

. All models of toolboxes from the manufacturer are distinguished by the presence of high-quality LED lighting, which greatly facilitates the comfort of using the boxes in daily work;

Easy to install

. Thanks to their ergonomic and functional design, the manufacturer's drawers guarantee a minimum installation time and allow the drawer to be assembled without specialized profile skills.
How do you install a Weatherguard toolbox?
Installation of toolboxes from the Weatherguard company takes place in several main stages:
If the truck frame is made of aluminum, use a zinc-based primer to cover the drilled holes;

If your pickup is equipped with special plastic slots for installing equipment, you need to drill or cut additional holes to install the toolbox;

The box must be additionally secured with fixing bolts;

Based on the different configurations of the toolboxes, you may need additional fixing tools for a secure fit;

When mounting the box, periodically check the tightness of the tightening to more securely fix the toolbox;

Use high-quality paint to cover the drilled holes to prevent oxidation;

Place the box on the truck on level ground;

Attach the box to the truck with pre-drilled holes and hardware.
How do I organize a toolbox?
For the correct organization of the storage space of instruments, it is strongly recommended to determine the location of each instrument in advance. Modern models of toolboxes are characterized by an ergonomic distribution of space, which increases the capacity. But that doesn't mean that tools should be kept in a mess — arrange shelves wisely.
After work, always put tools back in place. A certain place should be fixed for each tool. Store tools separately from fasteners. If you use compact tool boxes, then be sure to make sure that lubricants and flammable mixtures do not fall on the surface of the tools – this can damage the coating. Lifehack — to fix a certain place in the box for the instrument, use colored tape or mark the device and its place with a colored marker.
How do I remove Craftsman toolbox drawers?
To demontage the toolboxes, use the same tools as for installing them. However, if you firmly secured the toolbox, then be sure to make sure that the fasteners are not ripped off when dismantling. Use drills and screwdrivers for high-quality removal of fasteners, carefully clean the surface on which the box was fixed from traces of previous installation.
In any case, when disassembling, the main thing is not to scratch or damage the toolbox itself. Lay out its contents before.
Video Tutorial: DEWALT Tough Case+ Craftsman case Backwards compatible
Conclusion
Buying a tool box should never be a long and drawn-out process. This is not the kind of shopping trip that should result in a huge dent in your day to day budget. All of the tool boxes on this list have been carefully scrutinized. They have been selected because they represent the state of the art tech at the most affordable prices.
Some will naturally cost more than others. However, all of them represent an excellent long term investment. We have gone out of our way to choose the models that stand up to a battery of tests that have been conducted by experts in the industry. The tool boxes on this list are the highest quality models currently available on the market.
Due to my profession, I come across multiple daily tasks that require the use of various mechanical and electrical tools, as well as accessories like nuts, screws, nails, etc. I couldn't do without a few tool boxes that literally save my life when I am working on one of my business or leisure projects.
ToolBoxWiki was created because I wanted to share my 10-year experience with colleagues, professional mechanics, artisans, and enthusiasts who need a reliable, durable, and preferably affordable box for instruments.
This website's pages already contain a few unbiased reviews based on the results of my tests – rolling, mechanic, garage truck, Tacoma, cavalier, and other popular types of toolkits for any emergency and daily tasks. I always write in my reviews on how I pick the top 3 models and why I changed my mind if there are any updates.
I've noticed recently that the home page looks kind of empty and decided to add the ultimate review to it – 10 best tool boxes ever. The initial idea was to pick the top models from other reviews and just gather them in one place. But eventually, I went another way and picked the most durable, multi-task, and affordable kits you can order online in the U.S. market.
I pick a certain parameter for each review: portability and weight, price and quality ratio, certain features for specific tasks. I just named a few bulletproof choices that I personally use daily and several models recommended by my colleagues, unbiased experts, and ratings on popular websites. I gathered all these 10 products made by Dewalt, Work Cooler, Plano, Amazing Organizer, Ganchun, Akro-Mills, and tested them for 4 months.
The results are gathered in the chart you immediately see on the home page. I also shared the details in a full description of each item from the list. Also, I always try to add a detailed video tutorial to all my guides so you could understand how this or that kit works. I hope you enjoy reading this website and find it useful – I will wait for your feedback in the comments. Let's make ToolBoxWiki the best expert resource dedicated to tool boxes!
---