---
Keter 197283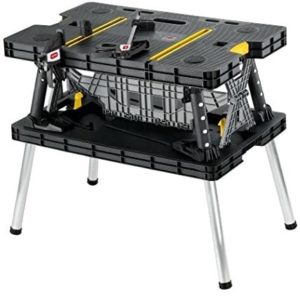 Holds up to 1000 lbs
Includes two 12 inch Clamps
Never rusts
WORX WX051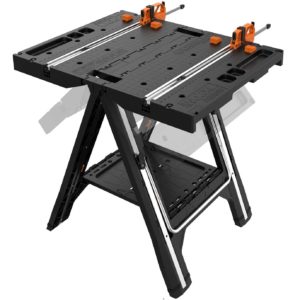 Supports up to 1,000 lbs
Includes six Clamps
No assembly required
BLACK+DECKER WM125
Holds up to 350 pounds
Durable steel frame
Non skid feet prevent sliding
Keter 217679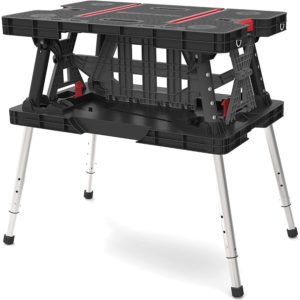 Holds up to 700 lbs
Includes 2 adjustable clamps
Sturdy carrying handle
BLACK+DECKER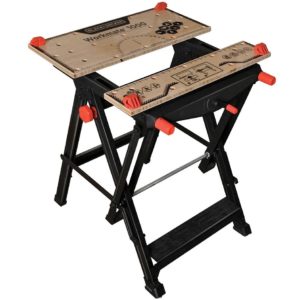 Up to 550 lbs workload
High Quality
Free standing
---
Choose the Best Portable Workbench
Customer's Choice: the Best Rated Portable Workbenches
16 users answered this survey. Please help us improve this review!

81.25% of users selected Keter 197283, 12.5% selected WORX WX051, 6.25% selected BLACK+DECKER WM125, 0% selected Keter 217679 and 0% selected BLACK+DECKER. Every month we analyze your answers and change our rating.
---
A portable workbench is a bench with wheels that can be carried and stored easily. It's the best choice for contractors, DIYers on the go, or just anyone who wants to do some woodworking from home!Workbenches are essential for any type of carpentry project because they provide support for your tools and material as you're working. When it comes time to move your workshop at the end of a project, having a portable workbench makes moving much easier! A good one should have casters so you don't need help pushing it around when necessary.
With so many different workbenches on the market, it can be difficult to know which ones are worth your time and money. You may check the list of the 5 best portable workbenches on the market today. A few experts have reviewed each one in detail, as well as included some tips about how you might use them for your particular needs. You will also find links to where you can buy these products for yourself!
Keter 197283 Folding Table Workbench – the Editor's choice!
The Keter 197283 Folding Table Workbench is available in a variety of colors and sturdy resin design, it's sure to please. This table has 1000 pounds of weight capacity so you don't have to worry about stability. The thick-legged tabletop can take anything you throw at her, giving you the freedom to be more creative with your projects while enjoying increased safety too.
Between its low weight, quick set up time (less than 30 seconds), folding design for easy storage that only takes up 4 inches of space when not in use, and accessorized clamps.

This durable workbench is made of weather-resistant polypropylene and aluminum, making it great for outdoor activities when sturdiness and stability are important.
Worx WX051 Pegasus Folding Work Table – the best for the sawhorse tasks!
With the WX051 Pegasus work table, you can enjoy DIY projects or crafts all the time. The Worx Pegasus is perfect life with a foldable design that makes it easy to store and lightweight for convenient transportation when needed. You can even link more than one of these together in order to create a whole workspace.
The Pegasus Folding Work Table holds up to 300 lbs. as an adjustable work table and supports 1,000 lbs. as a sawhorse (perfect for heavy-duty jobs!). Two quick clamps are integrated and stay attached even when you fold the table into a sawhorse.

The WORX WX051 Pegasus Folding Worktable is the perfect portable table for your workstation or project site. The heavy-duty design lets you use it as a standalone worktable, and a sawhorse with clamps that stay attached even when you fold it up to move around.
BLACK+DECKER WM125 Workmate Portable Workbench – the best for slip-resistant feet!
The BLACK+DECKER Workmate Portable Work Bench has a durable steel frame and wooden vise jaws to hold anything from door panels to chair legs securely. It can hold up to 350 pounds, folds compactly for easy storage, and has adjustable swivel pegs so it will clamp any irregular shape with ease!
The jaw is resistant to warping and the angle can be modified for uniquely shaped materials- while slip resistant feet help your work surface stay put at all times.

The durable steel frame of this workbench is held up to 350 lbs of weight while swiveling pegs with slip-resistant feet help keep all your tools in place during use. Fit for any garage or workshop space, this shelving unit can be packed down for easy storage time after time.
Keter Folding Compact Adjustable Workbench – the best for the weight capacity!
The Keter Folding Compact Adjustable Workbench has the light aluminum legs that take up minimal space and extend to your height requirements with a strap-knob combination lock keeping them in place. When it's time to head out, retract the legs and fold down this workbench within seconds with its quick opening design.
Two adjustable holding clamps keep your tools safe while you do your job without having to worry ever about crushing weight on top of it. With durable resin construction that can hold up to 700 lbs, this workbench will be one of life's most useful practical investments for years!

Lightweight and durable, the Keter Folding Compact Adjustable Workbench is perfect for any project with its easy setting up system and great weight capacity.
BLACK+DECKER BDST11000 Workmate Portable Workbench – the best for quick folding!
The BLACK+DECKER BDST11000 Workmate Portable Workbench is an innovative, compact tool for your garage. The steel frame securely supports up to 550 lbs while providing you with a quick folding design and large working surface complete with 4 swivel pegs for clamping irregularly shaped objects.
The new features on this portable workbench have been specifically designed for the most convenience and operating simplicity possible. With one-handed quick folding mechanisms and flexible clamps, it's easier than ever before to find the perfect position from which to create or work on projects.

The large working surface, adjustable jaws, one-hand quick folding, four adjustable swivel pegs for easy clamps of irregularly shaped objects make the Black+Decker a necessary tool for any garage or workshop.
The Buyer's Guide
Types of workbenches
1) Benchtop workbench
A small, very light bench that can be taken anywhere. It offers the same convenience and portability as other benches, but it has no legs so you'll need to place it on a flat surface or use your own body weight for support. Some models have handles at the top in order to help with transport before assembly. 
These are usually only good for tasks like assembling jewelry or paperwork because they don't offer any storage space. They're also not strong enough for heavy-duty tasks such as cutting wood or working on engines (though some specialized high-end units come equipped with sturdy shelves). Benchtops typically cost less than $100 new, which is great if you want something inexpensive that's always at your side.
2) Portable workbench
These usually fold up in a way that makes them easy to store and transport, but they're light enough so you can easily move them around the house or take them with you on camping trips. Like benchtops, portable units offer convenience without sacrificing much of anything from more expensive benches. They often have storage space underneath which is great for small tools like hammers or screwdrivers, as well as screws and nails when doing carpentry work. 
Some models come equipped with adjustable shelves while others may include electrical outlets too – making it possible to use some larger power tools like drills and saws right out of the box (but not all). These typically cost between $100 new up to $400 new, which is more expensive than a benchtop but less expensive than the average full-size workbench.
3) Semi-portable workbench
These heavy-duty benches typically come in three pieces and have to be assembled prior to use. They take up more space both when being stored and during use because they're too bulky to transport easily. Assembling them can require some knowledge about how to do carpentry or DIY projects so it's often better if you know what you need before buying one of these models (though there are higher end versions with high quality fasteners). 
Semi-portable units offer good stability for cutting wood panels on large sheets, as well as heavier tasks like assembling electronics circuits or doing welding work. They also come with a wide range of storage space – usually offering drawers and shelves that are easy to access when the bench is in use (or for storing tools) but won't block your workspace like other designs tend to do. These typically cost $400 new up to $1000 new, which is more expensive than portable models or Benchtops but much cheaper than full-size benches.
Features of the Portable Workbench
Low weight.

The lighter and smaller a workbench is, the easier it will be to carry around. This makes them great for woodworkers on the go;

Easy to set up.

A portable workbench should take virtually no time at all to assemble (a fraction of what most full size benches would);

Size.

A portable workbench should be small enough to fit in the trunk of a car. Most full size benches would not be able to do this, and some even require being broken down if you want them in your vehicle at all;

Foldable design.

The portable workbench should be able to fold down for storage in a closet or garage. This will make it easier to transport around, as well as more versatile when working at home and on the go;

Weight limit.

A good rule of thumb when buying a portable workbench is that they should have no less than 50lbs weight capacity (or else you might find yourself frustrated with your bench constantly collapsing);

Versatile.

A portable workbench should be able to do more than just one task. One of the best features a portable workbench can have is that it can function as both a saw horse and sawhorse, for instance;

Sturdy and strong.

You want your bench to be tough enough so you never worry about whether or not it will easily break when in use. They come with many different materials designed specifically for various tasks (such as woodworking benches made out of steel);
Portable Workbench Materials
There are many different types of materials in portable workbenches. Some popular ones include aluminum, steel, and polyethylene. 
A portable workbench is a bench that can be folded up for transport. These benches are usually lightweight and easy to carry from one job site to another, which makes them perfect for contractors on the go! The material used in making these types of workbenches varies widely depending on what type you choose. Some use metal frames while others may have composite wood or even recycled plastic panels. 
Let's compare popular materials: steel and aluminum.
Steel has been around since the 1800s, so it comes as no surprise that there are many different grades of steel all with their own pros and cons – like corrosion resistance or weight capacity. If you're buying new, make sure to ask for an aluminum top. But don't worry about the weight of a steel workbench because not all steel is heavy.
Aluminum is lightweight and durable – perfect qualities for a portable bench that needs to withstand some wear and tear while being carried around on occasion. Aluminum has also been used in everything from bridges to planes so it comes as no surprise that this material would be great for your outdoor construction site's needs too. 
Make sure when purchasing an aluminum workbench, though, that there are at least two locking positions – one where the legs are tucked under (this allows it to be stored more compactly) and another with them extended outwards (this is the way you would use it).
Aluminum has a good weight to strength ratio but it is also susceptible to corrosion so if this material works best for you make sure that the surface will be covered by paint or varnish. Steel can last forever when treated correctly while polyethylene is lightweight and inexpensive with similar strengths as steel.
Wooden benches provide durability but usually require some maintenance to keep them in good shape. The nature of wood also means that they're not usually as stable as metal benches when working on larger projects such as a kitchen cabinet or the decking for your porch. Such workbench models offer the traditional woodworking experience with a classic look that's aesthetically pleasing but doesn't provide some of the more modern conveniences such as built-in electric plugs or mobile bases
Plastic has many people concerned about durability – but this material actually provides long-lasting solutions for workbenches and assembly tables. The versatility of plastic benches really shines through as you can find them in many shapes, sizes, colors, and styles. Some are made to be used indoors or outdoors while others have specialized features like power outlets.
Size
There are many portable workbenches for different job sites, but each has its own pros and cons. For example, a shorter height like 26 inches is perfect for those working on cars or motorcycles because it will allow them to get close enough with the car's engine without having to go down in an uncomfortable position. 
A taller height of 34 inches can be used when welding as this will give clearance from any sparks that fly up. 
Some benches give you the option between two heights making them versatile depending on what your task may be at hand!
If you have limited space in your workshop or garage, get the portable workbench with a foldable design so it will store easily when not in use. If you have more room to spare but want something still reasonably sized, go for a larger size like 36-inch wide portable workbenches. This way they offer plenty of workspaces while being lightweight enough to move around without too much hassle. 
For those who don't feel constrained by their space limitations but are worried about weight issues instead (such as someone living in an apartment), there are 30-pound aluminum portable workbenches on the market that are still sturdy enough to be a stable surface for all your woodworking needs.
Construction
The construction of portable workbenches can vary a lot. Some are made out of high-quality materials while others might be thin and flimsy. The reviews below will provide information on how well each product is constructed, so you know what to look for when selecting one for your needs.
A good workbench should be durable enough to withstand items falling on top of it, as well as years of hard wear and tear from heavy tools. The best portable workbenches out there are made with high-quality materials that can handle whatever you throw at them without wearing them down.
It is important to note that a good workbench should be easy to assemble and disassemble. Ideally, the bench will not require any tools for assembly or use-it can easily break down into its individual parts with nothing more than your hands. Lightweight portable benches are usually easier to take apart due to their smaller size, which makes them better suited for transport.
Assembly difficulty
The portable workbench can be assembled in under an hour. Assembly instructions are easy to understand and assembly should take a total of about 45 minutes with two people working together.
When assembling the workbench, please make sure you have discarded all plastic bags that come with it before commencing construction as these will not aid your work but may rather hinder or obstruct it instead!
In general, there are 2 types of portable workbench assembly:
three-leg design;

four-legged workstation;
The former is easier to assemble but the latter offers more stability.
To make sure that the legs are fitted snugly into their respective holes, we recommend using an Allen key or similar item to gently tap them in with alternating hands until they lock firmly in place (keep tapping at regular intervals while doing so). This will prevent any slippage later on as well as ensure that all parts have been securely attached for optimal functionality.
Ease of installation
One of the most important features that you want to look for in a portable workbench is how easy it will be to assemble. There are some models available on the market that require at least two people and about an hour or so just to get started, while others can literally be assembled by one person in less than ten minutes with little effort. This is really helpful if you happen to live alone and need a bench out of necessity but don't have anyone around willing to lend a hand with heavy lifting or difficult assembly tasks. 
If you plan on using your bench sporadically, this may not matter as much because long set-up times might discourage usage altogether, but if you intend to find yourself putting it together often when working from home then it's worth considering a model that will be quicker and easier to set up.
Benchtop area and space
Portable workbenches usually have a benchtop space of 24 to 48 inches, with the most common being 32-36 inches. This can be either fixed or adjustable (with extensions). The advantage is that it allows for more storage underneath such as power tools and other items. A disadvantage would be that if you don't need all this extra space, then it will go unused.
Portable Workbench Care
Portable workbenches are a convenient way to have a strong and versatile workspace for your workshop. With proper care, you can enjoy the benefits of this tool for many years. Here is the guide on how to clean and maintain your portable workbench so that it lasts as long as possible: 
Use paint thinner from time to time

if there is any chipping of finish (with caution);

Do not leave hot objects sitting or exposed without protection against damage over an extended period of time – such items may cause cracking;

Do not use an abrasive cleaner on the top surface

– this may dull or damage the finish;

Cleaning/maintenance is recommended every time before storage, but can also be done as needed throughout its lifetime (although wash and dry thoroughly after each cleaning);

The surface of portable workbenches

should not come into contact with corrosive substances like paint thinner and epoxy cement because they can damage the plastic that may cause discoloration or cracking over time. To avoid these issues make sure only safe chemicals touch your workspace by using a separate cutting board or surface to work with projects containing these substances;

You may notice that your portable workbench becomes sticky over time, especially in hot climates. Avoid this by wiping down the bench before and after use, as well as keeping it out of direct sunlight when not in use. This will also help keep ants away from the bench if you live near an ant colony;
It is important to clean your workbench thoroughly with soap and water after each use. This will help keep it in good condition, as well as prevent any unwanted bacteria from building up on the bench or surfaces. If you have used a cutting board for food preparation, be sure to scrub it down before using it again for any other project – this is especially important if you are working with potentially hazardous materials such as paints, adhesives, or solvents.
FAQ
Who makes the best mobile workbench?
The best portable workbench is the one that suits your needs. There are many brands of mobile workbenches on the market and they all have their pros and cons, so choosing a good product may be challenging.
A few brands make really great portable workbenches:
Worx;

Black & Decker;

Keter;

Kreg;

Finether;
What is the best size for a workbench?
The best size for a workbench is something that will fit into the space available. A standard desk height with an overall length of between 24 and 36 inches is good, but other lengths are just as useful in certain circumstances.
What is a comfortable bench height?
A comfortable bench height is recommended for most people to be seated comfortably while keeping their feet flat on the ground. On most portable workbenches, the working surface is close to 33 inches and 36 inches high. 
If you are using a shorter workbench, then it's best to keep your knees bent at around ninety degrees and maintain good posture. For taller benches or an adjustable-height bench, make sure that your thighs are parallel with the floor when standing up straight with arms relaxed by one's side.
The best ergonomic height for a workbench is one that you can easily adjust to suit your needs.  The most popular heights are adjustable from 30 inches up to 38-40 inches, and they usually come with an easy pull lever or button on the side of the legs for adjusting it without bending over. This type of setup will allow you to maintain your natural standing position, though you can always adjust it to sit on a stool if need be.
What depth should a workbench be?
You should make sure that your workbench is deep enough to accommodate the largest bench top tools, such as a ten-inch wide planer. A good rule of thumb is around 70 inches in depth for most situations and you can always add more space later by adding another shelf or two. 
Most people find this sufficient even if they have large pieces of equipment like table saws or band sanders. If not, it might be time to consider building an outbuilding with dedicated workshop space.
Should a workbench have an overhang?
Yes, a workbench should have an overhang to protect the surface below. Some benches also offer storage for tools under and in front of the benchtop which will prevent workers from having to reach for them while working on their project.
An overhang is a good addition to any workbench because it helps prevent materials from falling off the back of the bench. It also provides more room for clamping material and can be used as an anti-slip surface on less stable benches. However, without an overhang, you do not have this potential hazard which may make your work much easier. The best way to decide how big or small your overhangs should be is by asking yourself how delicate the projects are that will go on top of them.
Is MDF a good workbench top?
MDF is not at all a good workbench top. MDF does have the advantage of being lighter than other types of wood, but it's also less durable and more prone to cracking. If you want your benchtop to be as strong as possible, look for one that has thicker plywood pieces like marine-grade mahogany or birch that can support greater weight loads.
In terms of durability, experts recommend looking for an option made out of solid hardwoods such as black walnut with its incredible strength and longevity or steel (though these are difficult to transport). Steel benches should come with rubber feet so they don't scratch any surfaces when in use on a public surface.
Is MDF stronger than plywood?
Yes, MDF is stronger than plywood. It's also lighter and more stable to work on. Some people prefer plywood because it has a nicer surface quality but that can be remedied with painting or staining the surface of your workbench. 
The surface of the MDF isn't as nice, but it can be sanded down and stained to suit your needs. The surface is also more durable than plywood because there are no knots or nails in an MDF workbench that could cause problems for you with use over time.
How thick should workbench legs be?
This is a common question. The thickness of the workbench legs can vary depending on what you need to do with your bench. For instance, if you are looking for a portable option that will be used outdoors or in other areas where there may not be any flooring available, then it would probably be best to look for an outdoor-specific model. It has thicker legs (usually about two inches) than one designed primarily for use indoors and out of doors which might only have half-inch thick legs. 
It's also worth considering how easy it will be to transport the bench whether by using wheels or carrying it yourself so think about this too before making your purchase decision as well. 
Finally, consider weight because many benches already come pre-assembled but others are more difficult to assemble and so will require much more time. If the bench is too heavy, you'll need a friend or an extra hand when it comes to carrying it around which might be inconvenient for some people.
Do all workbenches have adjustable height features?
Yes, most of them do. This is not a given with the cheaper models but more expensive ones usually have it included in their features list. If you're in need of one with this capability, then make sure to review the specifications before purchase so you can ensure it will meet your needs and preferences. The inclusion of such features is usually something buyers find valuable, as they don't have to worry about purchasing them separately or saving space for both types.
Why do workbenches have holes?
The holes are for clamping. The clamps will go through the hole and attach to a surface, providing support so that you can drill things without it slipping around on your workbench. The holes in a workbench are designed to fit various tools, such as drills or screwdrivers. Chisels and hammers can also be stored on the bench when not in use.
Should you varnish a workbench?
A workbench is a versatile piece of furniture. In addition to being functional, it can also be decorative and provide extra storage space for your tools or other items that you might need while working in the garage. A lot of people like adding a coat of varnish to their woodwork so that the surface will remain more durable and resist marking from hand oils. However, this process takes time with some precision required as well as patience – one small mistake could ruin an entire project! 
Varnishing isn't something you want to undertake on an impulse basis if at all possible but rather when you have plenty of time set aside before tackling another job. If there are areas where paint has chipped off due to wear and tear over the years, varnishing can cover up these issues and make your workbench look better.
Do you need a sawhorse in a portable workbench
?
A sawhorse-type of workbench has one long leg and a shorter leg on the opposite end. The short leg is usually meant to be placed under a table for support or it can act as additional support when you need something higher up off the ground. It's often used in conjunction with benches that are already built into other free surfaces, like kitchen counters or floors because they function well as either extra surface space or as mobile scaffolding.
What do you cover a workbench with?
A workbench is a perfect place to store tools, so it's important that you cover your bench with something durable and easily cleaned. You can use a cloth or paint-roller pad for this purpose. They're both inexpensive and lightweight, but they do need regular replacement. If these options aren't practical for you, find a plastic drop cloth from the hardware store instead; just be sure to tape down all of its edges securely before moving on.
What plywood is best for the workbench top?
As you will be carrying the workbench around, it is important to ensure that the material can withstand a lot of pressure without snapping or breaking. Plywood has an even surface meaning no sudden drops in height which would put undue strain on screws and joints. It also has rigid properties so it can support heavy loads well; plus, as long as you don't let your saw blade run at too slow a speed while cutting sheets like plywood – there should not be any problems with warping over time either.
For general-purpose use, plywood with a thickness of at least 18mm is recommended. It can support heavy loads and will not warp or buckle under pressure. When cutting sheet materials like plywood – always ensure your saw blade has plenty of teeth (preferably 80-100).
---
If you are making a new shelf for the living room or a bed for your child, a portable workbench is an excellent choice. Whether you are a hobby builder or a professional carpenter, a good bench for working is a must. First of all, it makes work more fun because you can hold the boards in place with a screw holder. Secondly, unlike a regular table, the workbench is much more stable and robust, which means that you can work in peace and quiet without worrying about the boards going and escaping during screwing or sanding.
On the other hand, the reach is enormous, as there are portable workbenches that are foldable or have many drawers and sections. Consequently, it can often be difficult to choose the best one. For this reason, we have created this review. Besides, we have written a buying guide that explains what to think about before buying, the advantages and disadvantages of benches made of sheet metal and wood, and why you should eventually buy a collapsible workbench. Read our guide below!
How To Choose a Portable Workbench
When you buy a workbench, there are some special factors you should consider. For example, how many screw holders you need. You should also think about how big it should be or whether it should be foldable or not. In addition to these criteria, we have summarized below how you choose the bench that best suits you.
Screw Mount
Everyone knows how annoying it is to cut something together without being able to attach the material to something that will hold it in place. Therefore, it is an excellent advantage that portable workbenches are equipped with a series of screw clamps. In this way, the wood does not move when screwing, sanding or painting. Also, safety is increased because workpieces do not fly around, and there is a risk of hitting something valuable. Therefore, you must first make sure that the bench is equipped with a sufficient number of screw clamps or that some additional ones can be purchased.
Portable Workbench Height
It is strongly recommended to buy a workbench whose height can be adjusted, to ensure that the body works as ergonomically and healthily as possible. In this way, you can lift and lower from the outside when you stand or sit and work. It is also possible to lower the bench so that a child can also work next to the bench. Therefore, the height of the bench is an important factor to consider.
Drawers
Although a workbench is usually attached to the garage, where there are usually many drawers, it is still practical to integrate drawers into the bench. Because who can pick up new nails every time you need to hammer? Moreover, you can have all the most frequently used tools in the drawers to work as efficiently as possible. But buying a bench with drawers costs a few dollars more. So consider whether this is a requirement for you.
Foldable or Fixed
When buying a portable workbench, you usually have two options. You can either buy a collapsible model, which you can fold up to save space, or take it to another workshop. Or you can invest in a fixed bench that is static, which is often the choice for professional contractors. We have written more about these two options below.
Folding Portable Workbench
A folding workbench has recently gained popularity. The reason is that you both save space and have the possibility to move it to another workshop or construction site. However, they are usually smaller than the fixed models, but this need not always be the case. However, if you choose a folding model, make sure that it is equipped with a carrying handle. The reason is that the bench should be easy to transport to the storage room or the tailgate of the car. The overall summary is as follows:
Easy transport from the garage to the workplace
Saves space when not in use
Weighs less and is therefore easy to handle
Fixed Portable Workbench
If you are a professional craftsman or want to buy portable workbenches for companies, you should choose a permanent workbench. Because it's heavier, you also get the greater stability that is required when working with rugged, heavy and cumbersome parts. In addition, they are usually equipped with shelves and drawers, so you can easily store your favorite tools. You also get a larger work area, so you can work with more people on the same bench. The drawback, however, is that it takes up a lot of space because you can't fold it and store it on the floor.
A Workbench Made of Sheet Metal or Wood
A wooden workbench is a mostly aesthetic option. However, make sure that the surface is coated to prevent water damage and the like. Also, a bench made of sheet metal is also good, as the material is incredibly durable, especially sheet steel. Therefore, you should spend some time thinking about which material you think is best for you, since in the end, it is mainly a matter of very individual taste.
Video Tutorial: Foldable workbench – Massive space, minimal footprint
Final thoughts 
We hope that this list of the best portable workbenches on the market today has helped you find a solution for your workspace needs. If not, don't worry! There are many other options to choose from out there. In the end, it all comes down to your own needs and preferences – so what are yours?
---