---
Keter 197283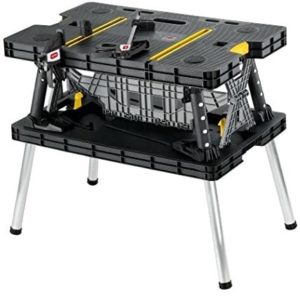 Holds up to 1000 lbs
Includes two 12 inch Clamps
Never rusts
WORX WX051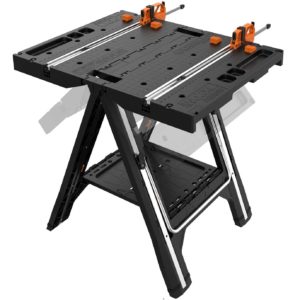 Supports up to 1,000 lbs
Includes six Clamps
No assembly required
BLACK+DECKER WM125
Holds up to 350 pounds
Durable steel frame
Non skid feet prevent sliding
Keter 217679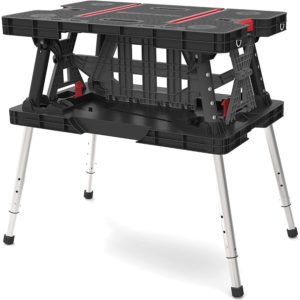 Holds up to 700 lbs
Includes 2 adjustable clamps
Sturdy carrying handle
BLACK+DECKER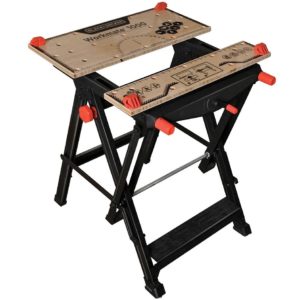 Up to 550 lbs workload
High Quality
Free standing
---
Choose the Best Portable Workbench
Customer's Choice: the Best Rated Portable Workbenches
15 users answered this survey. Please help us improve this review!

80% of users selected Keter 197283, 13.33% selected WORX WX051, 6.67% selected BLACK+DECKER WM125, 0% selected Keter 217679 and 0% selected BLACK+DECKER. Every month we analyze your answers and change our rating.
---
A portable workbench is a bench with wheels that can be carried and stored easily. It's the best choice for contractors, DIYers on the go, or just anyone who wants to do some woodworking from home!
Workbenches are essential for any type of carpentry project because they provide support for your tools and material as you're working. When it comes time to move your workshop at the end of a project, having a portable workbench makes moving much easier! A good one should have casters so you don't need help pushing it around when necessary.
With so many different workbenches on the market, it can be difficult to know which ones are worth your time and money. You may check the list of the 5 best portable workbenches on the market today. A few experts have reviewed each one in detail, as well as included some tips about how you might use them for your particular needs. You will also find links to where you can buy these products for yourself!
Keter 197283 Folding Table Workbench – the Editor's choice!
The Keter 197283 Folding Table Workbench is available in a variety of colors and sturdy resin design, it's sure to please. This table has 1000 pounds of weight capacity so you don't have to worry about stability. The thick-legged tabletop can take anything you throw at her, giving you the freedom to be more creative with your projects while enjoying increased safety too.
Between its low weight, quick set up time (less than 30 seconds), folding design for easy storage that only takes up 4 inches of space when not in use, and accessorized clamps.

This durable workbench is made of weather-resistant polypropylene and aluminum, making it great for outdoor activities when sturdiness and stability are important.
Worx WX051 Pegasus Folding Work Table – the best for the sawhorse tasks!
With the WX051 Pegasus work table, you can enjoy DIY projects or crafts all the time. The Worx Pegasus is perfect life with a foldable design that makes it easy to store and lightweight for convenient transportation when needed. You can even link more than one of these together in order to create a whole workspace.
The Pegasus Folding Work Table holds up to 300 lbs. as an adjustable work table and supports 1,000 lbs. as a sawhorse (perfect for heavy-duty jobs!). Two quick clamps are integrated and stay attached even when you fold the table into a sawhorse.

The WORX WX051 Pegasus Folding Worktable is the perfect portable table for your workstation or project site. The heavy-duty design lets you use it as a standalone worktable, and a sawhorse with clamps that stay attached even when you fold it up to move around.
BLACK+DECKER WM125 Workmate Portable Workbench – the best for slip-resistant feet!
The BLACK+DECKER Workmate Portable Work Bench has a durable steel frame and wooden vise jaws to hold anything from door panels to chair legs securely. It can hold up to 350 pounds, folds compactly for easy storage, and has adjustable swivel pegs so it will clamp any irregular shape with ease!
The jaw is resistant to warping and the angle can be modified for uniquely shaped materials- while slip resistant feet help your work surface stay put at all times.

The durable steel frame of this workbench is held up to 350 lbs of weight while swiveling pegs with slip-resistant feet help keep all your tools in place during use. Fit for any garage or workshop space, this shelving unit can be packed down for easy storage time after time.
Keter Folding Compact Adjustable Workbench – the best for the weight capacity!
The Keter Folding Compact Adjustable Workbench has the light aluminum legs that take up minimal space and extend to your height requirements with a strap-knob combination lock keeping them in place. When it's time to head out, retract the legs and fold down this workbench within seconds with its quick opening design.
Two adjustable holding clamps keep your tools safe while you do your job without having to worry ever about crushing weight on top of it. With durable resin construction that can hold up to 700 lbs, this workbench will be one of life's most useful practical investments for years!

Lightweight and durable, the Keter Folding Compact Adjustable Workbench is perfect for any project with its easy setting up system and great weight capacity.
BLACK+DECKER BDST11000 Workmate Portable Workbench – the best for quick folding!
The BLACK+DECKER BDST11000 Workmate Portable Workbench is an innovative, compact tool for your garage. The steel frame securely supports up to 550 lbs while providing you with a quick folding design and large working surface complete with 4 swivel pegs for clamping irregularly shaped objects.
The new features on this portable workbench have been specifically designed for the most convenience and operating simplicity possible. With one-handed quick folding mechanisms and flexible clamps, it's easier than ever before to find the perfect position from which to create or work on projects.

The large working surface, adjustable jaws, one-hand quick folding, four adjustable swivel pegs for easy clamps of irregularly shaped objects make the Black+Decker a necessary tool for any garage or workshop.
Best Portable Workbenches – Buyer's Guide
If you are making a new shelf for the living room or a bed for your child, a portable workbench is an excellent choice. Whether you are a hobby builder or a professional carpenter, a good bench for working is a must. First of all, it makes work more fun because you can hold the boards in place with a screw holder. Secondly, unlike a regular table, the workbench is much more stable and robust, which means that you can work in peace and quiet without worrying about the boards going and escaping during screwing or sanding.
On the other hand, the reach is enormous, as there are portable workbenches that are foldable or have many drawers and sections. Consequently, it can often be difficult to choose the best one. For this reason, we have created this review. Besides, we have written a buying guide that explains what to think about before buying, the advantages and disadvantages of benches made of sheet metal and wood, and why you should eventually buy a collapsible workbench. Read our guide below!
How To Choose a Portable Workbench
When you buy a workbench, there are some special factors you should consider. For example, how many screw holders you need. You should also think about how big it should be or whether it should be foldable or not. In addition to these criteria, we have summarized below how you choose the bench that best suits you.
Screw Mount
Everyone knows how annoying it is to cut something together without being able to attach the material to something that will hold it in place. Therefore, it is an excellent advantage that portable workbenches are equipped with a series of screw clamps. In this way, the wood does not move when screwing, sanding or painting. Also, safety is increased because workpieces do not fly around, and there is a risk of hitting something valuable. Therefore, you must first make sure that the bench is equipped with a sufficient number of screw clamps or that some additional ones can be purchased.
Portable Workbench Height
It is strongly recommended to buy a workbench whose height can be adjusted, to ensure that the body works as ergonomically and healthily as possible. In this way, you can lift and lower from the outside when you stand or sit and work. It is also possible to lower the bench so that a child can also work next to the bench. Therefore, the height of the bench is an important factor to consider.
Drawers
Although a workbench is usually attached to the garage, where there are usually many drawers, it is still practical to integrate drawers into the bench. Because who can pick up new nails every time you need to hammer? Moreover, you can have all the most frequently used tools in the drawers to work as efficiently as possible. But buying a bench with drawers costs a few dollars more. So consider whether this is a requirement for you.
Foldable or Fixed
When buying a portable workbench, you usually have two options. You can either buy a collapsible model, which you can fold up to save space, or take it to another workshop. Or you can invest in a fixed bench that is static, which is often the choice for professional contractors. We have written more about these two options below.
Folding Portable Workbench
A folding workbench has recently gained popularity. The reason is that you both save space and have the possibility to move it to another workshop or construction site. However, they are usually smaller than the fixed models, but this need not always be the case. However, if you choose a folding model, make sure that it is equipped with a carrying handle. The reason is that the bench should be easy to transport to the storage room or the tailgate of the car. The overall summary is as follows:
Easy transport from the garage to the workplace
Saves space when not in use
Weighs less and is therefore easy to handle
Fixed Portable Workbench
If you are a professional craftsman or want to buy portable workbenches for companies, you should choose a permanent workbench. Because it's heavier, you also get the greater stability that is required when working with rugged, heavy and cumbersome parts. In addition, they are usually equipped with shelves and drawers, so you can easily store your favorite tools. You also get a larger work area, so you can work with more people on the same bench. The drawback, however, is that it takes up a lot of space because you can't fold it and store it on the floor.
A Workbench Made of Sheet Metal or Wood
A wooden workbench is a mostly aesthetic option. However, make sure that the surface is coated to prevent water damage and the like. Also, a bench made of sheet metal is also good, as the material is incredibly durable, especially sheet steel. Therefore, you should spend some time thinking about which material you think is best for you, since in the end, it is mainly a matter of very individual taste.
Video Tutorial: Foldable workbench – Massive space, minimal footprint
---