---
Keter 241008
Locking Device
Extendable handle
Compartmentalized bins
DEWALT DWST17820
Maximum storage volume
Durable 7″ wheels
Anti-Rust metal latches
DeWalt DWST20800
4 work levels/li>
Telescopic handle/li>
Ball bearing
BOSTITCH BTST19802
Useful volume 10-Gallons
7-Inch Full Rubber Wheels
Load capacity 70-Pound
RIDGID
All terrain wheels
High impact construction
Easy to clean
XtremepowerUS
Large main compartments
Adjustable handle and wheels
All-terrain wheels
Stalwart
3 toolboxes in one
Boxes easily detach
Adjustable handle
Flambeau 6531BK
Cam-over snap tight latch
Lid is grooved
Rust-proof
Stalwart
Plenty of storage
Cable hooks
Rugged design
Stanley Tools
Aluminum telescopic handle
Two drawer unit
Heavy duty 7″ wheels
---
Choose the Best Rolling Tool Box
Customer's Choice: the Best Rated Rolling Tool Boxes
23 users answered this survey. Please help us improve this review!

69.57% of users selected Keter 241008, 21.74% selected DEWALT DWST17820, 0% selected DeWalt DWST20800, 4.35% selected BOSTITCH BTST19802 and 4.35% selected RIDGID. Every month we analyze your answers and change our rating.
---
In most situations, it is enough to have a cabinet for tools in the corner of your garage or workshop. But if you are a traveling repairman and need to take your tools whenever you go, then you may want to use something more portable.
A rolling box looks like a wheeled platform with a set of standard boxes where you can put many different tools. If you want to invest in a high-quality storage unit, check the pros and cons of the best rolling tool boxes. Also, the guide has a few tips for buyers. The comparison table can help to make a final decision.
Keter Masterloader Resin Rolling Tool Box – the best rolling tool box for the storage system!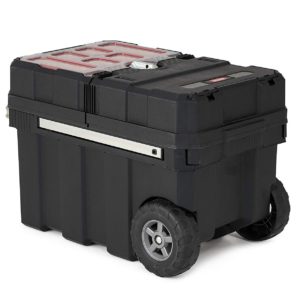 Despite high versatility and a price tag to match, this Keter tool box never fails anybody's demand. It can easily become the right choice for the workers or plumbers, due to its compartment feature. A few drawers make choosing the right instrument very convenient.
When the tools inside are coordinated, you don't need to spend any time looking for these instruments. Any workshop can benefit from using this rolling storage unit.
The central lock mechanism maximizes its safety and steadiness while you roll this tool box with the instruments inside. And interior design is so well-made to take advantage of most of its space inside. The hinge-folded system can be good for tool organization. It also comes with a dual-storage design.
This box's handle is extendable to make the rolling easier. There is a slider with a ball bearing mechanism to use a bottom tray efficiently. The handle and spokes are also quite solid. Though it's made of plastic, it's done well. This box operates something like a modular workshop on the wheels. The interior is designed to optimize the interior space, and there is also a tool divider for easy access to the devices.
DEWALT Tool Box with Wheels – the best rolling tool box for mobility!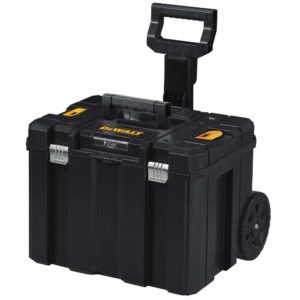 The wheel-driven DEWALT tool box has a metal-plastic telescopic handle that falls backward for easier mobility. It can be also the best compact tool box because it has a push button that will open and shut the top lid. This is why this compact rolling box can be placed in a number of locations without any trouble.
In addition to these advantages, this compact rolling model comes with sturdy wheels that measure 7 inches each. Also, it has steel clamps that have a protective layer to avoid rust and corrosion.
DEWALT Mobile Work Center – the best rolling tool box for the handle!
The DeWalt DWST20800 mobile storage unit offers a conventional and practical style. This rolling system has several storage containers, making the tools easier to arrange. They fit perfectly and during carrying also won't move around.
The weight is well distributed for easier handling, as well. The internal bearing withstands sufficient use. The closing is protected while the smaller pieces help to handle smaller tools safely. This extremely functional box is sure to suit most people, whether they are amateurs or professional mechanics.
With this tool kit, it is easy to carry and to move with the instruments inside. It is suitable for different jobs and tasks. It has a decent load capacity and the dimensions are decent too. The product doesn't take up much room and has a decent telescopic handle. In addition, it has many containers for better organization of tools.
Milwaukee Rolling Modular Tool Box – the best rolling tool box for design!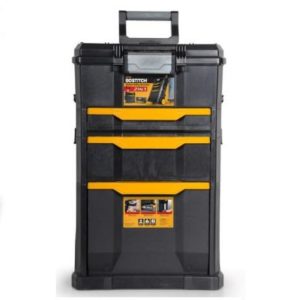 This storage system helps you to comfortably bring your gear around. You can also ensure that all the tools inside are protected from the weather factors. The most important aspect, however, is easy access. Like all modular boxes in the Milwaukee lineup, this product allows you to transport your tools easily from place to place.
The storage unit not only prevents your tools from damage but also keeps them organized.
The hard case provides impressive weather-protection. You can easily find a configuration that suits you with 8 different storage options. The wide and small box can conveniently store a circular saw and similar tools. You can set up the configuration for all of your instruments, nuts, bolts and screws.
RIDGID Professional Tool Storage Cart – the best rolling tool box for heavy-duty jobs!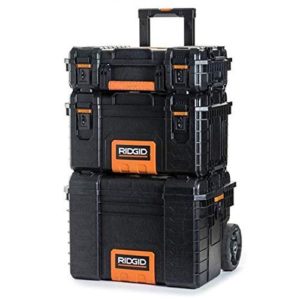 Much like its high quality equipment, this rolling tool box is equally well built. By looking at it you can say that all the tools you have well-secured will be kept in these boxes. You get 3 boxes of different lengths. One can only use the top box as an organizer. The two boxes at the bottom are suitable for throwing big tools into those.
There are no dividers in these compartments, so the devices keep rolling in those compartments which is very irritating. In those compartiments you can use additional organizers to fix this issue.
These boxes have a lock with durable latches. The lock is well-built too. In addition, all the drawers are water- and dust-proof.
The Best Rolling Tool Boxes – Buyer's Guide
My initial idea was to create an unbiased blog that contains only the reviews of the tool boxes that I personally used or at least tested. Since I work as a mounter, my plan was easy to fulfill and follow. In particular, this review is fully dedicated to the best turning tool boxes. I used a few trustworthy criteria after taking a thorough look at the best rolling toolcases presented in the U.S. market right now. Also, I made sure that it is possible to order all of these swinging toolkits online because of my audience's requirements.
My criteria for picking the top rolling toolkits for this guide:
Affordable price – under $100 per case;
Quality (materials, design, and durability);
Online reputation based on unbiased user comments and feedback (Amazon, eBay, ElectricianTalk forum, etc.);
Personal tests (of most models in the list);
My major criterion is price. I am sure that you can save money and at the same time buy a convenient and durable turning toolcase. As you can see, I've made the comparison table so you could quickly check the main features of individual products like the storage volume of compartments, handles, availability of wheels and additional compartments.
Following this comparative chart, I managed to find the overall champion – Keter 241008. I also added a video review of the DeWalt rolling toolkit.
I didn't focus on the brands and their specific lines of products but I have looked at the well-known U.S. and European brands from DeWalt, Keter, Rigid, Stalwart, XtremepowerUS, etc. My motivation is easy to explain – these brands are quite popular among my colleagues and I wanted to check them on my own.
This top of the best rolling tool boxes was written in 2019 but I update it every 2-3 months by checking the new models and reading the reviews of the models that I have already included in my top. Sometimes I change my opinion by adding, changing or deleting certain facts from my guide.
Drawer size
The size of the drawer lets you pre-evaluate the "weight range" and the product's suitability for a device of a certain length. The box measurements are seen in inches, but the length is a measure of the principal scale. To pick the size of the tool box, you need to learn in advance the measurements of the tools that will be placed in it and the total number of them. You should gather all the instruments and make the appropriate calculations to determine the size of the tool box.
Number of compartments (drawers/boxes/levels)
The more drawers, the easier, on the one hand: you can pick out a lot of tiny items. In the other hand, the small size indicates a wide number of compartments. The type of container should be taken into consideration when making a choice on this indicator. Conventional tool boxes typically have up to 20 compartments, medium and small. A 6-drawer modular storage unit is commonly enough to keep all household instruments intact.
Wheels
The transport wheels are intended primarily for trolleys but they can also be equipped with a large box. The inclusion of wheels indicates that there is a large container in front of us, designed to move large tools. It can be one or two pairs of wheels. In the first case, inclined mobility is assumed, in the second – the horizontal position is preferred.
The lock mechanism
The material used to make drawer locks comes to the choice between plastic and metal. The first one is cheaper but less enduring. However, this has little effect on the tool box's total price, and high-quality plastic, although the metal alternative is a more durable material.
Materials
Steel and different forms of plastic are the most common material for the products on wheels. Not so long ago, the industry started producing products from the combination of galvanized metal-plastic-a successful combination of lightness and reliability. Wooden models also took up their place on the wheels among various interchangeable tool boxes.
Steel tool boxes are available in steel and aluminum. It is better to keep large tools in all-steel boxes for transport.
Plastic is the substance that is used the most. Modern products made from plastics are solid, light, and durable. Problems can only occur during a cold winter season-the plastic material becomes fragile and can suffer from mechanical stress.
If you have to work in the regions with low-temperature indicators, you should choose the boxes made of frost-resistant polypropylene.
Video Tutorial: DeWalt Tough System Battery & Tool Storage
Final thoughts
This guide covered the best rolling tool boxes with great features. You may want to check other models and compare the load capacity, design and materials. Do not forget to invest in high-quality cases and boxes with sturdy wheels if you travel a lot.
---