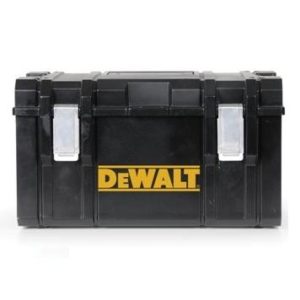 Removable tray
Integrated water seal
Durable 4mm thick walls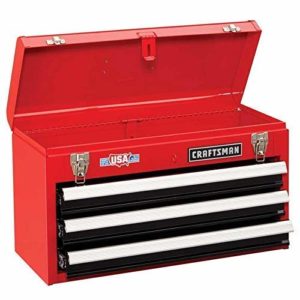 Weight 19.35lbs.
Stainless Steel
Water Capacity 500ml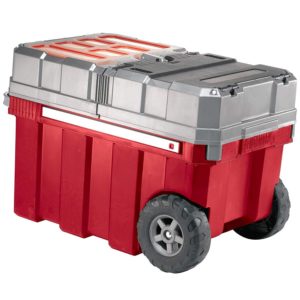 Compartmentalized bins
Extendable handle
Tool divider inside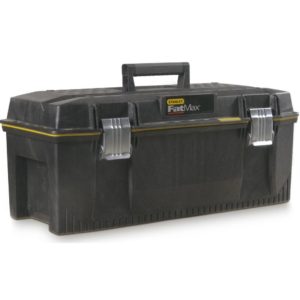 28-Inch
water-tight seal
Portable Half Tray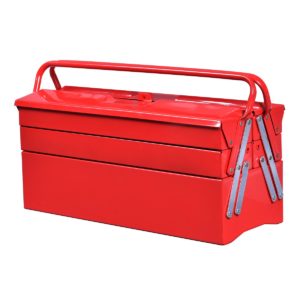 Durable Steel
5 Cabinets
Easy to Clean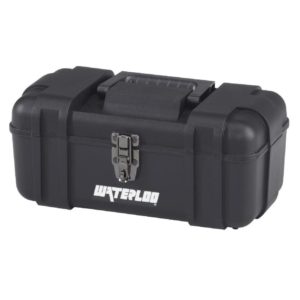 14-Inch
Removable plastic tote tray
Comfort-grip handle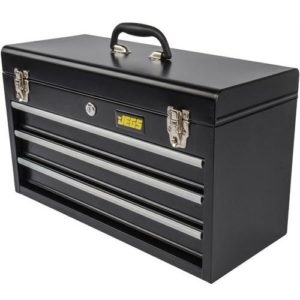 Full Extension Drawers
Ball Bearing Glides
16 Gauge Steel Construction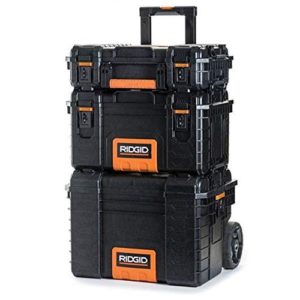 All terrain wheels
High impact construction
Easy to Clean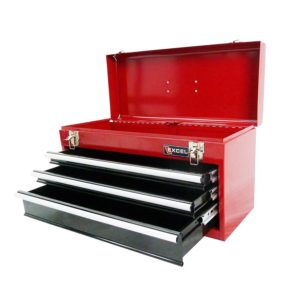 Cold rolled steel
Comfort grip handle
Two latches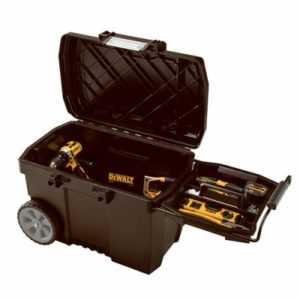 Highly durable
Easy To Use
3 Position Tray
---
Choose the Best Portable Tool Box
Customer's Choice: the Best Rated Portable Tool Boxes
12 users answered this survey. Please help us improve this review!

83.33% of users selected DEWALT DWST08203H, 8.33% selected Craftsman, 0% selected Keter, 0% selected Stanley 028001L and 8.33% selected Goplus. Every month we analyze your answers and change our rating.
---
Are you in desperate need of a new portable toolbox? We scoured the internet in search of the top worksite tool solutions. We looked for toolboxes with durable exteriors and a diverse assortment of internal compartments. These containers made it easier to organize and move a wide range of power and hand tools. Now, we are excited to share five of our favorites with you!
DeWalt Portable Toolbox (DWST08203H) – Best Plastic Organizer – Editor's Choice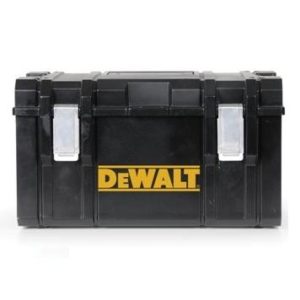 This over-the-top DeWalt toolbox features lots of storage space. The large interior compartment is split up by a removable hand tool tray. A robust structural foam surface gives this toolbox exceptional durability without attaching extra weight.
Each box weighs approximately 9.5 pounds. The walls are several millimeters thick and impervious to water.
The toolbox also features a waterproof seal. You can be sure that the contents are always protected from the elements. This toolbox is also compatible with ToughSystem metal trolleys. You can lock the DeWalt toolboxes onto these unique transportation systems. In doing so, you'll save yourself a whole lot of back pain. If you are looking for a solid worksite storage solution, DeWalt is an excellent option.
Pros
Pros
Dimensions: 21.3 x 11.4 x 11.8 inches
Has a removable tray for hand tools
Weighs just 9.5 pounds
Made from 4-millimeter thick structural foam
Features a reliable water seal
Compatible with the ToughSystem tool trolley
Cons
Cons
Some of the smaller compartments are sized poorly
---
Craftsman Three-Drawer Metal Toolbox – Best Metal Toolbox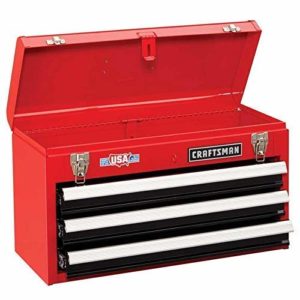 This three-drawer metal Craftsman toolbox is one of our favorite portable storage solutions. The metal drawer slides extend fully, offering 25 pounds of support at all angles. The deep under-the-lid storage area is also designed to hold bulky tools.
What's more, the box's steel frame can withstand years of abuse. It even comes with a padlock hasp and staple. As such, you'll have no problem safeguarding your precious tool collection. The handle on the lid enables users to comfortably lift the box regardless of the contents. The handle's soft grip make this one of our preferred toolbox options.
Pros
Pros
Made in the U.S.A.
Deep storage tray located directly under the lid
Large ergonomic handle
Dimensions: 20.5 x 8.5 x 12 inches
1,558 cubic inches of storage space
Three metal drawers with fully extendable sliders
Padlock hardware for extra security (padlock not included)
Cons
Cons
---
Keter 241008 Masterloader Plastic Portable Rolling Organizer – Best Rolling Toolbox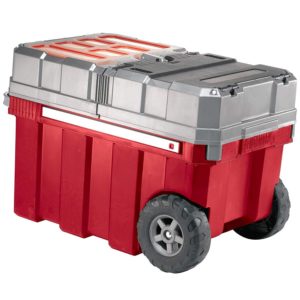 This Keter toolbox will have you working smarter rather than harder. It has a durable two-wheeled base. The chunky wheels are capable of traversing a wide range of surfaces. An extendable handle enables users to push or pull the toolbox from any height.
The box contains several compartmentalized bins. Some of the bins even have clear plastic covers. The covers prevent small parts from spilling out. A central locking mechanism safeguards the contents. Overall, you will have no trouble fitting your large and small tools into this incredible Keter toolbox.
Pros
Pros
Dimensions: 25 x 16.34 x 14.88 inches
Lots of bins and dividers
Two wheels and an extendable handle for less back-breaking transportation
Central locking device helps safeguard precious contents
Resistant to chemical damage and fading
Impressive weight capacity
Cons
Cons
Plastic pieces are somewhat flimsy
---
Stanley 028001L 28-Inch Structural Foam Toolbox – Best Compact Toolbox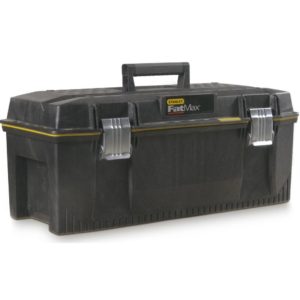 Bigger isn't always better. This compact structural foam toolbox offers ample storage and unmatched durability. Yet, it is only 28 inches long. We love the comfort offered by the soft-touch handle.
What's more, the toolbox's water-tight structural foam and metal latches provide excellent safeguarding. This toolbox is equipped with a very generous lifetime warranty. However, we cannot see users experiencing many issues.
It's an excellent option for job site storage. The removal half tray will help you keep track of your smallest hand tools. Meanwhile, the large basin at the base of the toolbox serves as the perfect spot for bulky items, like handsaws and drills. Overall, the manufacture really covered their bases. We can see this toolbox in the hands of both professionals and DIYers. It is just that reliable!
Pros
Pros
Features a lifetime warranty
Made in the U.S.A.
Soft-grip handle for easier portability
Water-resistant seal protects your equipment in bad weather
Portable half tray provides lots of room for bulky tools
Metal
Cons
Cons
Some alignment issues with the lid
---
Goplus 20-Inch Portable Five-Tray Cantilever Metal Toolbox – Best Upgrade Option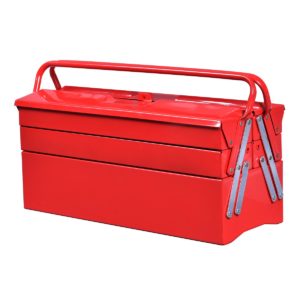 If you are looking for a solid investment piece, check out Goplus's five-tray cantilever metal toolbox. This bright red steel tool container features five internal cabinets. The bottom area also serves as storage for bulky items.
Two full-length steel handles make for more comfortable carrying sessions. The storage trays expand naturally when the lids are peeled back. There's also an option to lock the lids in place.
This is one of the most efficient storage options we tested. It also has a very distinct and enjoyable aesthetic. Not to mention, the powder coating is resistant to scratches and discoloration.
Pros
Pros
Dimensions: 19.5 x 11 x 8.1 inches
Can hold up to 66 pounds of hardware
Red powder coating protects against aesthetic wear and tear
Five large cabinets for keeping tools organized
Easy assembly
Cantilever tray expands naturally to reveal all tools
Two full-length steel handles
Cons
Cons
---
The Ultimate Guide To Portable Toolboxes
Size
Choose a toolbox that provides an ample amount of storage space without being too bulky. A toolbox may be square or rectangular. It may have removable trays, cantilever trays, or layers of drawers. Make sure that the dimensions do not obstruct your ability to move freely at a work site.
Storage Options
Make sure that your toolbox selection is a good fit for its intended contents. In most cases, we preferred toolboxes that offered a mix of small and large compartments. Deep, undivided compartments can hold large tools, such as drills and saws. Meanwhile, large divided compartments provide the perfect space for hand tools and small parts. Check your toolbox's weight capacity to ensure it won't bulk under the weight of your tools.
Portability
Soft-grip handles, rolling bases, and lockable latches all make for safer, more comfortable tool transportation. Save your energy for the job at hand. Opt for a toolbox that will not inhibit your movements or organization. What's more, make sure that your toolbox has a space-saving design. Bulky toolboxes can limit your access to constricted areas.
Durability
Steel and structural foam are our top choices when it comes to toolbox materials. That's because these materials do not warp or damage easily. When you're looking for a storage solution for sharp, blunt objects, durability is key.
Interesting Video: Comparing A New Lowe's Craftsman Tool Box
Wrapping Things Up
After a long and grueling search, we've decided that the DeWalt Portable Toolbox is our top selection.
This box will help the most disorganized people get organized. It has ample storage space and a reliable exterior. You can lug this structural foam box to a work site without having to worry about dust and water seeping into your tool chest. Of course, any of the above picks will give you adequate access to your tools and parts. All of the picks are excellent options for remote work sites.
Being on the road for 2 weeks of almost every month, I just like most colleagues require a reliable portable tool case. That is why I made a bold decision on creating the full-fledged review of the best mobile cases good for transportation. Just like always, I use my criteria when picking up a portative box for my instruments. I've launched the project ToolBoxWiki to help other mechanics and craftsmen, both professionals and enthusiasts, who need to keep their working instruments organized. But portability is another important factor that I couldn't skip.
At first, I want to debunk a few myths:
A good box in this category doesn't have to be too expensive. In fact, I managed to find and test a few portative cases that are under $100. Though, the price wasn't the main factor I looked for during this particular review;
Famous doesn't mean quality. False – at least, as I see it. Popular brands still kick any new player in this niche. I don't have any personal preferences but still, my guide once again includes the transportable boxes made by Excel, RIDGID, Jags, Keter, and other well-known U.S. brands;
Plastic cases won't last than 2 months. Another common myth – there are plastic portable toolcases that can easily last for a few years. Besides, when it comes to the main parameter – portability – plastic products are still the best pick. Though, I've included to my review steel kits as well – so you could compare the durability features on your own;
Taking into account all these outcomes of the experiments, I managed to figure out one thing – portative cases must be lightweight (obviously), they can cost under $100 (not necessarily) and they ought to be made by reputable brands (personal unbiased opinion).
By the way, I've added a video tutorial to this review. Check it out. Thanks for reading my guides – I put a lot of effort into testing and writing about my honest impressions of the popular and new toolboxes in the market.
---