---
UnderCover SC400D
75lb Weight Capacity
Swings Out for Easy Access
Lockable Storage Solution
Dee Zee DZ91717P
Double Wall Lid
Steel Hasp Latch
Lightweight Poly Plastic
UnderCover SC201D
Holds up to 75 pounds
Moisture seal
Lockable lid
Yaheetech
30 inch
Lightweight box
Seal ring design
UWS ATV Tool Box
MicroSeal gasket
Provides good security
Stainless steel handles
Buyers Products
Lightweight construction
Rugged body
Double-Wall Hinged Lid
Lund 288272
Weight 24.2 pounds
Rugged body
Aluminum
STKUSA
Drop Down Door
Weather-Resistant Seal
Built-in lock
Brait BR302
30 inch
Stainless steel t bar lock
Rubber weather seal
Weather Guard 674501
Storage Capacity 10. 0 cu. ft
Extreme Protection Lock
Aluminum
---
Choose the Best Truck Tool Box
Customer's Choice: the Best Rated Truck Tool Boxes
20 users answered this survey. Please help us improve this review!

60% of users selected UnderCover SC400D, 15% selected Dee Zee DZ91717P, 5% selected UnderCover SC201D, 5% selected Yaheetech and 15% selected UWS ATV Tool Box. Every month we analyze your answers and change our rating.
---
When you own a pickup truck and sometimes do repairs, it can be a helpful upgrade to put a tool box on your truck bed. Your job may include assembling furniture at houses, repairing, installing or carrying out tasks at various workplaces. Despite your reason, a certain tool organization, during the working process, may relieve stress and deter disruptions.
Why buy a truck tool box?
One thing you should take into account is how to place your stack of tools in the truck or car. Truck beds can be too small to fit a wide range of tools. Furthermore, placing some tools in the bed can make them fragile and more likely to be misplaced during transportation.
Whether you are continually misplacing your screwdrivers or searching for a single clamp in the thousands of small boxes in your truck, you may need a reliable truck tool box to organize all small and large instruments in one place.
At this point, the use of truck tool boxes is unrivaled and offers security, protection and easy access to your instruments. Nonetheless, it can be challenging and time-consuming to pick the right tool box because of the great number of various models on the market. This helpful buying guide was arranged to ensure that you make the right buying decision for your budget and your needs.
Also, check the comparison table to see the differences of each tool box and read the tips for buyers at the end.
Undercover SC400D SwingCase Truck – the best for portability!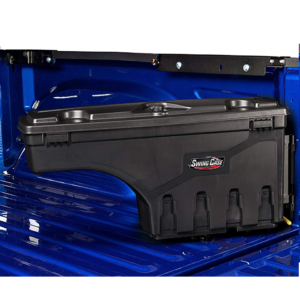 This is the tool box to select when you intend to save money and get a unique storage unit that works for most truck beds and tonneau covers. For example, it will fit 07-20 Toyota Tundra Drivers Side.
When UnderCover released the conventional tool box SwingCase to accommodate truck owners who want to have their beds safe and at the same time functional.
This case sits beneath the bed rail and it is free from a tonneau cover and opens up the main bed space between the truck's wheels. The model provides a great deal of support for experienced and regular drivers as well as decent value for a budget-friendly cost.
The best feature in the design of the box is the hinge that allows it to swing over the rear door. The hinge provides quick entry to the crate without the cover pulled onto the tailgate.
Dee Zee Trailer Box – the best for capacity!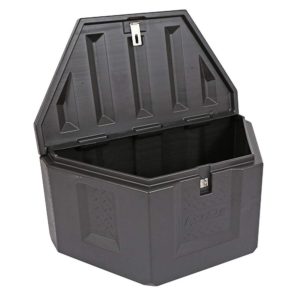 The box Dee Zee DZ91717P has a lockable lock, which improves security. This is suitable for trailer tongues and has a sturdy build. It is also extremely lightweight and with its double-wall lid provides great protection. It also has a rigid plastic container.
In fact, this flexible tool helps you to mount it easily. It comes from a famous brand and is available in a regular size. It can be a great addition to your garage/truck and it provides plenty of space for storing various products. A great wide box stops leakage and brings a robust build.
Undercover SC201D SwingCase Box – the best for organizing your tools!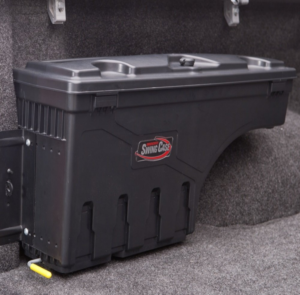 The Undercover SwingCase box can suit Ford F-150 Drivers Side (99-14 1999-4). The UnderCover Swing Case can be the ideal product for you if you're searching for a way to carry your tools in your truck bed without compromising any bed space.
This single storage unit can carry up to 75 lbs of cargo and stays well tucked up within the bed against the frame, with no precious cargo space being taken away.
The SwingCase is the only moving, reusable, and compact storage unit on the market for trucks. Its quick-release latch mechanism causes the SwingCase to swing almost 180 ° towards the tailgate and to swing back over the wheel well into a locking position for optimum access to the bed.
The SwingCase does have inside a flexible sliding tool tray and includes cup holders on its lid, making it a good companion for the tailgating season!
Yaheetech Truck Tool Box – the best for outside use!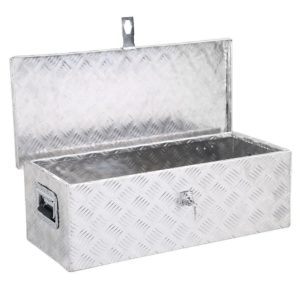 Choose the Yaheetech model for a sturdy tool box to bring with you. The unit has a 1.3 mm aluminum frame and the exterior is made of chrome. The storage room is massive and blends in well with the majority of trucks. The lid and walls have a weather-resistant build. And it has a 5-bar design for longer shelf life.
The aspect that really surprises is that this box for tools comes with no mounting hardware, and you have to buy the mounting brackets separately.
Being one of a few U.S. truck tool boxes that are both well-made and not overpriced at the same time, the Yaheetech Truck tool box organizer can be a good choice. It's relatively light but solid.
UWS ATV Tool Box – the best for durability!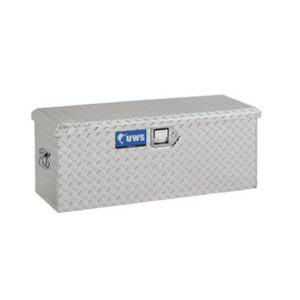 Rugged but compact, this tool box will keep all of your important things safe and secure wherever you go. This is the overall ATV tool box, constructed of corrosion-resistant aluminum with patented RigidCore foam-filled lid and stainless steel lock handles.
Being fully lockable, the storage unit should hold all of your tools and gear safe, with its MicroSeal gasket providing protection from bad weather.
It is also packed with the side handle that makes it very handy when it comes to transporting this tool box. During the rainy season, the lid will completely protect the instruments inside from excessive moisture.
The Best Truck Tool Boxes – Buyer's Guide
Just like most craftsmen and workshop employees, I go to the places where the duty calls. And my Ford F-150 truck is an irreplaceable assistant during these "duty" trips. However, I never leave the workshop without a special truck toolkit installed in the back. A few friends of mine asked to write a review about the best kits for pickups and I just couldn't say no.
ToolBoxWiki is the project I am really proud of because it allows me to share a truly unbiased experienced about the use of certain kits for manual/electric instruments. It was a real challenge to write the unbiased guide because I've been using the UnderCover SC201D for a few months and couldn't be happier. However, I think I've managed to find a few reliable alternative boxes that are the best match for most U.S. heavy pickups.
Types of truck boxes for tools
Saddle or crossover boxes preserve the space underneath the truck bed because they seem to float above it;
Chests resemble typical garage boxes for tools. You may just transport them safely in a pickup bed. The unique detail of the design is a low-profile frame;
Side-mount cases often follow the truck's length while making the center empty. It will suit camper shells and tonneau covers. Most side-mounted boxes come with 2 separate compartments for every side of the truck's bed;
Weatherproof seals
The major task of any movable tool box, besides the organization of instruments, is protection from the negative environmental factors like bad weather. The greatest protection a tool box can have is from the bad environment, besides the burglary protection. Weatherproof security comes in the form of high-quality external components and a strong weather seal across the box's sides.
The main options can keep the rain out of the water and survive several pulls from thunder or rust. Seek the seals for corrosion-resistant safety on stainless steel boxes and heavy-duty metal tool boxes with a strong powder coating.
The locking system
Theft protection is an essential feature of truck beds in particular since they miss the intrinsic safety of enclosed storage spaces such as trunks. The tool box with the high quality, smooth-running locking mechanism is easier to unlock but, at the same time, it is protected from stealing the contents.
Material
Truck tool boxes try to imitate their garage counterparts in their design and construction. For instance, just like standard tool boxes, truck cases are typically made of aluminum, steel, and plastic. Pick the material, according to your reliability and portability preferences. Aluminum and plastic tool boxes are lightweight, but steel is the perfect option for anti-theft and weather protection.
Size
The correct size of a truck tool box is about having sufficient space for the gear and fitting inside the truck bed itself. Some boxes are restricted in width to fit between the bed rails of various truck types, but when it refers to length and depth, you can find a certain range to choose from. Most full-size pickups can fit the standard truck tool boxes.
Tips for choosing truck tool boxes
To add more tool structure to your system, invest in a tool box with several internal dividers or compartments;
Chests can be a nice kind of tool box if you want one that will be compatible with a tonneau cover. Not all styles for the chest are shortened enough to function properly in the truck beds, but many fall below the rail line;
Camper shells are an inevitable part of all the tool boxes until they mess with the positioning of the shell on the bed rails. Measure the overhang of the box to see if it causes trouble.
For deployment of certain tool boxes, you may need to dig into the side of the truck bed. This is where you could choose the professional installation if you're not happy changing the truck;
Add some elegance with a powder-coating cover of the tool box matching the paint of your truck. Whether you choose something that goes perfectly with various colors and designs, you can even select a black powdered unit or a stylish diamond-plate steel coating;
FAQ Best Truck Tool Boxes
Truck owners often carry tools for car maintenance and various other jobs. Thanks to the convenient and reliable tool boxes available on the modern market, it guarantees the safety of tools — additionally, specialized truck boxes are pre-configured for fixing in the body. This contributes to the comfort of the owners — the necessary tools can always be taken out of the box and used as intended.
On today's equipment market, special truck crates are not uncommon — they are sold in the same stores as other warehouse equipment and tools. Nevertheless, it is required to focus on certain aspects of the correct choice of a toolbox — they can differ significantly in the type of installation, shape, and capacity.
Are truck toolboxes worth it?
Storing tools require special conditions, in particular — complete tightness and reliability of fastening in the car body. Shaking while riding can loosen bindings and no one wants to lose their tools on the way to work. Taking it into account, the key aspect of choosing a box is the reliability of the fasteners and the type of installation.
In the event that you are looking for where you can store your work tools, then specialized truck crates are exactly what you need. Thanks to their ergonomics, reliability, and spaciousness, these boxes are an excellent place for storing instruments of various sizes and purposes.
Note that metal toolboxes cost more than plastic ones, as they provide more options for long-term storage of tools for many years.
Are truck toolboxes safe?
Most truck-mounted toolboxes have a robust anti-intrusion system. Numerous drawer models are equipped with state-of-the-art combination locks — four and six-digit self-locking locks guarantee a high level of content security.
During production, steel alloys or high-quality plastic are used, which allows you not to worry about the safety of tools at all — such boxes perfectly withstand shock loads. By applying additional coatings, the effects of corrosion and corrosive chemicals are minimized. Even if you live in latitudes that aren't characterized by good weather, then such boxes will be a great help for storing tools — most of them have the appropriate protection class, and the sealed design prevents moisture.
Modern tool boxes are equipped with robust locking mechanisms that completely exclude the possibility of burglary. By using the highest quality materials and advanced technologies at the heart of protecting your tools and fasteners.
Are truck bed toolboxes universal?
Most truck-mounted toolboxes are designed to be spacious and ergonomic. This is what makes them so popular among buyers. Due to the optimal dimensions for storing a numerous tools, they easily accommodate the basic set of locksmith tools that are used everywhere — both during various installation work and in the household.
The purchase of such a box greatly facilitates the transportation of tools for almost any purpose and size — given the wide range, you can find models of various sizes for your own purposes. Their versatility guarantees ease of use and allow you to keep your tools intact and safe for many years.
In addition to storing tools, these boxes are perfect for storing other personal items – many people store weapons or valuables inside. In this case, the main thing is to choose boxes made of quality materials and with reliable locking mechanisms. Thanks to the presence of combination locks on many models of boxes, it is possible to reliably protect the personal belongings of the owners from the encroachments of intruders.
How do I measure my truck toolbox?
At first, precisely measure your pickup's body dimensions accurately. Frequently, pickup platforms supplied in three sizes — short, standard, and full-fledged. Right after, you need to precisely measure the distance between the rails. For most models of crossover toolboxes, you must be sure to measure them from the outside of one rail to the outside of the other. If you aren't sure how to do this correctly, then contact the tool kit manufacturer for help.
Then measure the distance between the bulkhead and the front edge of the wheel arch. Many short platform carts may not be long enough for large toolboxes.
Also, be sure to pay attention to the internal equipment of the box — it should be minimal because then more space will be provided for storing tools. when measuring the required volume of a toolbox, focus on this by choosing those models of boxes that combine ergonomics and practicality of use and sufficient internal volume.
How do I secure my truck toolbox?
Depending on the type of toolbox and its brand, the box is attached to the truck using a J-shaped bolt or drilled holes in the truck itself. If you don't want to damage the pickup platform during the process, then be sure to choose one that mounts without drilling additional holes.
Medium and large boxes require special emphasis, particularly while choosing medium-sized boxes, compact pickup models such as Colorados, Tacomas, Frontiers, and others will be the best truck option. Full-size toolboxes are designed for large trucks such as Silverados, F-150, Sierras, Tundras, Titans, and Rams.
After measuring and choosing the right model, it's time to think about the materials for your box. Modern manufacturers pay more attention to aluminum — lightweight and versatile, this material can be as strong as steel (with the addition of alloying components) and doesn't corrode over time. Outdated, outdated toolboxes use steel and then apply an anti-corrosion coating to the surface. This will not prevent the appearance of rust, but will significantly expand the scope of use of the box and the duration of its use.
What should I keep in my truck toolbox?
To organize the space in the toolbox, always put the tools in the same place they came from. By following simple rules, you will be able to keep your tools safe and sound, and order will always reign in the place where they are stored.
For the convenience of allocating space, it is recommended to use colored markers — indicate with them the tool and its place in the storage box for later maintaining order.
In modern models of toolboxes, both assembly tools and fasteners are stored. It all depends on the volume of the box. The main thing is to try to keep all things in order, then they will always be available at will.
Industry experts strongly recommend storing other assembly tools in toolboxes. In particular, many happy owners of such boxes keep personal valuables, money, or weapons inside — while such models of boxes have excellent protection characteristics. In particular, coded and biometric locks are widely used, as well as unique locking mechanisms.
How wide is a full-size truck toolbox?
Most of the models of toolboxes are extremely spacious. They can store rather bulky tools — particularly, they are ideal for electric drills, grinders, jigsaws, hammers, saws, and other tools often used in the household.
There are many different toolboxes on the market today that can be used to fit in a truck. Their sizes vary depending on the purpose and the tools that will then be stored inside. In particular, the vast majority of toolbox models have a diameter of 480-650 mm. This is enough for storing large-sized tools, for example — small jackhammers, drills, jigsaws, conventional hammers, and other assembly tools. Larger models of boxes are characterized by dimensions exceeding 700 mm in diameter.
How do I install an undertray toolbox?
To install the toolbox in your truck, you first need to accurately measure the distance between the rails and the fastening holes. Thereafter, it is highly recommended that you purchase all the necessary fasteners and tools in advance. Mounting the box will not take much time — in any case, you will need certain skills in working with locksmith tools. 
Thanks to the availability of high-quality fasteners, you can complete the installation within an hour or two.
First of all, note that metal toolboxes often have pre-drilled holes for installation, while plastic models are loose design, so you may have to drill holes yourself for fixing. In any case, when buying a box, check with the store manager exactly how to install this box.
How do you install a truck toolbox without drilling?
To successfully install the toolbox without any drilling, use assembly glue or special fasteners based on clips. With the variety and wide range of similar parts on the market today, you will definitely find the fasteners that fit your needs.
Video Tutorial: UnderCover SwingCase Truck Box
Final thoughts
The guide covers 5 popular truck tool boxes that will fit the most popular pickups in the United States. Check the expert opinion, pros and cons, user feedback and only then make the final choice. The most important thing – to find the durable tool box the dimensions of which completely fit your truck's bed.
---