---
Craftsman 3
Stainless Steel
Weight 24.95 pounds
Easy to use
WEN 73015
Maximum Storage Capacity
Sixteen Slots
Extra-Absorbent Seat Cushion
Craftsman 6
Heavy Duty Construction
Key Locking System
Ball Bearing Drawer Slides
Goplus 6
Large Storage Capacity
Detachable Box
Lockable Drawers
Montezuma – SM200B
Heavy-Duty Steel Toolbox
Gas Springs For Easy Access
Weather Resistant
---
Choose the Best Mechanic Tool Box
Customer's Choice: the Best Rated Mechanic Tool Boxes
15 users answered this survey. Please help us improve this review!

60% of users selected Craftsman 3, 6.67% selected WEN 73015, 13.33% selected Craftsman 6, 6.67% selected Goplus 6 and 13.33% selected Montezuma – SM200B. Every month we analyze your answers and change our rating.
---
No need to argue than it is more convenient when all your instruments and handheld tools are neatly folded in one place. That is why you need to invest in one of the budget-friendly mechanic toolboxes. Such a box not only saves space but also makes it easy to find the right tool in mere seconds. In addition to everything, the correct storage of the tool in the workplace significantly extends its shelf life.
U.S. manufacturers offer a wide range of containers, cases and boxes tools. You may choose the toolbox considering such factors as its capacity, shape, material and design. For those who cannot decide which toolbox to choose the following comparison table was compiled. You are free to choose among 5 top-notch mechanic toolboxes. Do not forget to check the buying guide.
Craftsman 3-Drawer Chest Toolbox – the best for portability!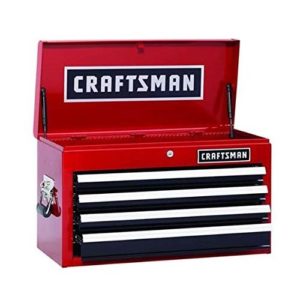 Due to its size and reliability, this Craftsman toolbox is particularly good as a mechanic's toolbox. This Craftsman toolbox has three drawers, although many of its rivals have either fewer drawers or no drawers.
Your tools should remain secure while you're on the road: that's why the drawers won't open unless the top lid is already open. It is a very convenient safety option. The black powder coating prevents damage to the rust and corrosion while the key-based lock makes it simpler to secure from theft your most valuable tool.
This toolbox represents an amazing option for transportation and storage. Combined with its small size, the relatively low weight of the toolbox makes it ideal for carrying different tools, but it is also great as a stationary option for smaller houses and garages without extra space.
WEN 73015 Glider Rolling Tool Chest – the best for moving around!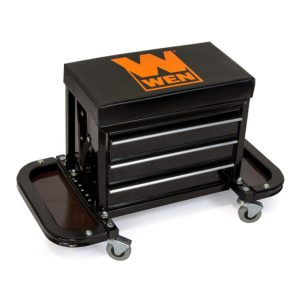 The WEN 4 ball-bearing toolbox lets you glide around your garage effortlessly in either direction. These medium-sized tool chests even have "flaps" that easily turn to the foldable magnetic trays for nuts and screws – to keep them organized and intact.
As for the seat, it may seem too soft for some people. It's finished with durable vinyl that is fairly soft. Customers also note that the tool rack is not suitable for all instruments, and needs extra adjustment at times.
This gliding tool chest can easily become an excellent cost-effective solution for those mechanics who need to move quickly around their garage or have impeded their mobility.
Craftsman 6 Drawer Tool Chest – the best for capacity!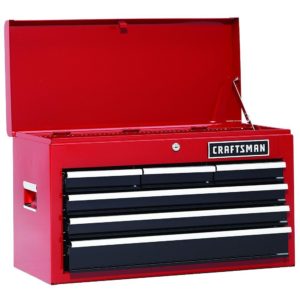 This top tool chest for craftsmen is covered by a red protective coating. This paint increases resistance to scratches and spilled liquids (by accident, of course).
When it comes to the drawers, you begin to understand why this unit is a Craftsman heavy-duty tool chest. All the drawers sit on ball-bearing rails so they can be easily opened and closed. The bottom drawer is the highest, making it ideal for organizing big tools.
For safety concerns, the box has a lock that blocks all the drawers. The good functionality that might prevent unwanted use of your tools keeps everything safe and secure. It has 2 side handles, making the chest easy to grab and push around.
This box is terrific. It offers excellent performance along with multiple features. The pieces are made of materials of high quality. Compact size and large drawers are the best characteristics that you always search for when equipping your garage or workshop.
Goplus 6-Drawer Rolling Tool Chest – the best for outside use!
This steel-based cabinet acts as a durable and easy-to-access storage space for all your tools, using rust-and-corrosion-resistant paints to ensure that it can survive common wear and tear from long-term use.
The chest has 6 drawers – 4 small and 3 massive compartments. Also, the box has a couple of sliding trays and a large cabinet section at the bottom.
The top drawers can be locked with a separate lock and key. The bottom of the tool chest has 4 casters that make it easy to move around on flat surfaces, with the brakes to keep it still.
This lockable rolling tool chest is suitable for indoor and outdoor use, offering exceptional security and health at virtually any time.
Montezuma SM200B TRIANGLE Toolbox – the best for design!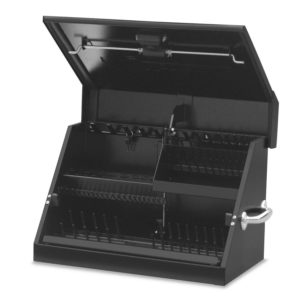 Montezuma SM200B offers users a durable and reliable all-steel design. This toolbox may keep the tools protected at maximum. Besides the sturdy lid and walls, this box features a few drawers for better organization of the instruments inside.
In such a way, you can easily fish out any tool. The lid is secured with gas springs.
You may easily add any tools to this box and use them whenever you need them, without worries about their safety. Check the small drawer at the bottom of the box. One of the best features is a fully responsive lid that may automatically lock after you shut it.
The Buyer's Guide
What is the greatest gift idea for a simple mechanic guy? Surely, one of the special mechanic toolboxes will do! My wife was the one who gave me the Montezuma SM200B case for my electrical instruments on my birthday. Such an awesome gift also inspired the theme for another review you read at this moment. I've already covered the most popular categories of cases for craftsmen, but the review of mechanic boxes for instruments was a new thing to me.
Materials
Wooden boxes are often used for storing woodworking tools. It is easy to stain the wooden material with oil or damage it with a sharp object. Wooden boxes are not very convenient to carry, and often they do not have a lid. A wooden box is suitable for storing tools at home or in the workshop, without transportation.
If you are looking for wear-resistant material for a drawer, it is better to choose metal. The metal box will last for a long time and protect the tools inside from high or low temperatures. Steel is durable, but such models are quite heavy. Aluminum units are much lighter and also resistant to damage.
The most affordable toolboxes are made of sturdy plastic. They are lightweight and practical because they are not afraid of moisture. Typically, such chests and boxes have capacious containers for large tools and trays for smaller bolts. The inner walls and the bottom of the plastic crates can be strengthened with fiberglass. In winter, you should be careful with plastic boxes: a strong blow after dropout can cause a crack.
The problem of the vulnerability of plastic is perfectly solved by a toolbox of combined material. In some models, there are both plastic and metal parts. A plastic box can only have the latches with metal brackets. A box made of plastic and metal can become an ideal combination of convenience and durability.
Locks
The major vulnerability of any drawer is the locking system. Frequent use or movement may result in damage. The locks can be metal and plastic. The metal locks are more reliable. When choosing a storage unit for instruments, it is important to pay attention to the material of each component. The basic material affects the shelf life and your personal convenience.
Size
The sizes of toolboxes vary greatly. For example, a box with dimensions less than 20 inches is perfect for the most necessary household tools, and a box with larger dimensions can fit a complete set of construction tools.
How to choose a mechanic toolbox?
When choosing a box for storing tools, you need to pay attention to its design. In toolboxes, the bottom drawer takes over the main load, so you need to carefully examine thickness, adhesions with the edges of the walls;
The walls of a high-quality toolbox should retain their original shape when fully loaded. Do not overload the toolboxes;
The coating should have two functions. Firstly, it protects from moisture, dust and other debris. Secondly, it provides ease of transportation;
Check the hinges and locking mechanisms (latches);
There should be no gaps or crevices at the joints of the lid and walls;
If the toolbox has removable trays or organizers, check their strength, functionality and ease of access;
If your power tools are sensitive to extremes of temperature and humidity, you need to choose a durable plastic or wooden box;
If the tools have a significant weight, then your choice is a metal toolbox;
At the moment there are special case-organizers on the market with transparent plastic walls that not only allow you to store a large number of small parts and fasteners but also immediately see what you have stored in a particular section;
Why did the Craftsman 4, WEN 73015 and Craftsman 6 cases make my top 3?
I have to say that the Montezuma SM200B (check its video tutorial, by the way) is also a great pick, just as Goplus 6 or any other item I've included to this list. After all, the guide's title is 5 best mechanic boxes for instruments. I just have a few expert features that matter to me more than the design or capacity when I check a new kit before buying.
All models from my personal top 3 share the same features I really appreciate in such gear for mechanics:
Made of metal (plastic is good only when you need a portable box), preferably stainless steel;
The storage capacity is awesome (16 inner compartments is my required minimum for the kits that I don't usually transport);
The simple but reliable locking system;
The classic red design (I simply can't resist it, though the look is not the most important thing to look for);
Video Tutorial: Montezuma toolbox
Final thoughts
Therefore, this guide fully covers the major pros and cons of some U.S. best-selling mechanic toolboxes for keeping your instruments organized and safe from rust. Such affordable toolboxes may surely save your time when you need to transport all tools intact and safe in a car.
---