---
Viper V218MCBL
Tubular Key Cam Lock
Powder Coated Finish
Durable and Reliable
WEN 73015
Maximum Storage Capacity
Extra-Absorbent Seat Cushion
Sixteen Slots
Keter
Organize the little things
Handles for easy mobility
Wheels for extra portability
Giantex 2pc
Detachable Top Chest
Flexible Casters
2-Tier Cabinet with Hooks
JEGS 81400
Full Extension Drawers
Ball Bearing Glides
Durable
---
Choose the Best Garage Tool Box
Customer's Choice: the Best Rated Garage Tool Boxes
15 users answered this survey. Please help us improve this review!

60% of users selected Viper V218MCBL, 13.33% selected WEN 73015, 13.33% selected Keter, 6.67% selected Giantex 2pc and 6.67% selected JEGS 81400. Every month we analyze your answers and change our rating.
---
A garage toolbox is a typical storage unit that is used mainly for storing, transporting and securing different instruments. The tools might be used for trading, car repair, hobbies, or DIY jobs. And a toolbox for keeping these tools should be picked, according to the owner's daily tasks.
Imagine having all the instruments in one place without the difficulty of finding them when it is necessary. A top-notch toolbox allows you to organize all the gear needed in one place, enhancing your storage capacity and maintaining the garage clean.
Why use garage tool boxes:
An option to transfer all tools to any distance;
Storage of all gear and instruments in one place;
Quick and easy access to tools during jobs in a garage;
Most toolboxes are made of high-quality durable materials. Thanks to this peculiarity, you wouldn't have to worry that the box will break. With such an item, you can easily store and transport all your tools without any worries that something will be lost.
The following guide gives tips and insights for toolbox buyers. Check the detailed reviews with pros and cons for different toolboxes and their major features. The comparison table was compiled so you could choose the toolbox that suits your daily needs.
Viper Tool Mini Storage Chest – the best for design!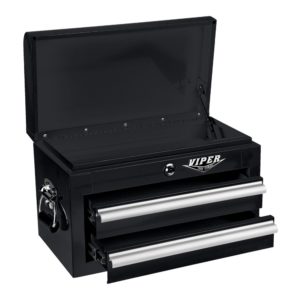 This 18-Inch toolbox by Viper V218MCBL is very convenient to bring around. The small size, reliable drawers, and handles would likely make the usage and portability factor suitable for experts, making it the perfect mechanical tool chest.
Two drawers with aluminum holders and handles have a ball bearing design for better movability.
A cam lock system that allows you to lock the cabinets individually, which contains corresponding label keys. The side latches may not be as convenient to carry a wheeled stroller but it is still a surprisingly decent method to transport these tools around.
WEN 73015 Garage Tool Chest – the best for capacity!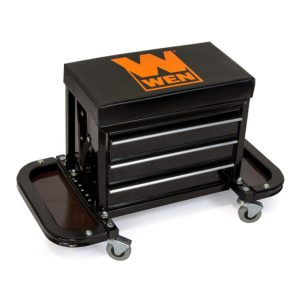 With the bench, the Wen Glider rolling tool chest contains all the versatility of a mechanic's stool mixed with the functional advantages of a tool cabinet. The multi-layered padding is extra-absorbent and maximizes safety and support.
It has 4 2.5-inch swivel casters around the garage for fast and simple travel. Placed on each side of the frame, the two magnetic wings offer the easy storage method for loose bolts and screws.
The WEN Garage Glider offers 3 drawers, 2 magnetic trays and 16 storage compartments for keeping your screwdrivers, wrenches and other tools organized.
This gliding box comes more innovative in its construction compared to the other toolboxes on the list. The WEN's gliding tool chest is an ideal cost-effective option for those who want to travel easily around their workshop or need to take the tools along when driving a car.
Keter Rolling Tool Chest – the best for mobility!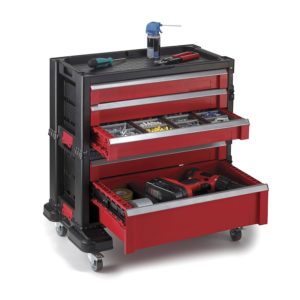 Look at this wheeled tool chest. It can be an outstanding value for money. While not as big as our previous models, it is still an excellent alternative and provides casual as well as technical flexible storage choices.
As for convenience, this Keter case's central locking mechanism gives you peace of mind, and the drawer stays safe before, after, and after use. The expanded storage (including a wide under drawer) is terrific, depending on your needs for equipment, crafts or general household items.
Giantex 2pc Mini Tool Chest – the best for the price!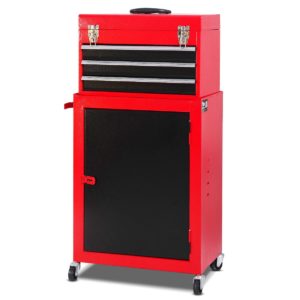 The detachable Giantex box allows for quick handling of big objects. You will find it very useful in your everyday activities with the big rolling toolbox! Simple to move drawers allow storing or removal of instruments convenient.
You should use it in your regular applications with the two-tier cabinet hands, and that will serve you very well. It comes with a stunning design to guarantee the best look you have ever had. The toolbox comes with an amazing build to guarantee the best experience ever.
This 4-wheeled chest saves time and money while you are transporting it. The casters are also versatile and have locks. So, you can easily do that if you need to keep it safe. The chest lid has 6 hooks to hang off each of the essential tools separately for easy search. When you don't take it everywhere you can store it in a workshop, in a garage or a shed.
GEARWRENCH Steel Tool Box – the best for portability!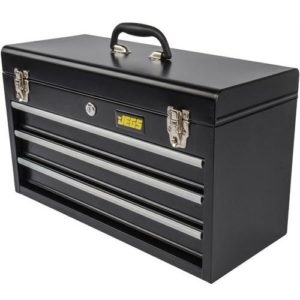 Are you searching for a versatile toolbox that brings lasting design? This Gearwrench toolbox is made of top-notch steel and includes drawer slides with ball bearings. It also ensures security is improved as this has a center lock.
It comes with a rugged build as well and is not prone to corrosion and rust.
This toolbox will be the perfect option for correctly arranging your equipment and has many other benefits. The toolbox comes in a compact package and can be used as a storage box as well.
The Buyer's Guide
ToolBoxWiki is an unbiased source of review for the greatest toolboxes in the U.S. market right now. And I make sure this concept remains true to all my existing and future guides. This review is dedicated to the most convenient and affordable boxes for your garage is not an exception. Just like always, I took into account such essential features as weight, capacity, locking system, weather/corrosion resistance, safety, and cost.
A few words about the price of garage cases for instruments – I still choose between affordable models that don't overdo the limit of $150 per product.
Why did I pick Viper V218MCBL as my top 1:
Top-notch powder coating case;
It's hard to overwhelm because the capacity is really impressive;
Individual compartments for different types of appliances and accessories – to prevent nuts, nails, and screws from mixing;
The sturdy construction is important;
Rubber metal handles that make this kit easier to pick up, even when it is completely filled with the instruments;
Uncomplicated and quick stowage;
The brand is recognized by a few colleagues who use the Viper kits daily;
By the way, not many reviewers take into account who is going to use a recommended toolkit. From my professional experience, garage toolcases are good when you need a non-portable box but they can't be compared to HVAC cases. That is why check my other reviews and video tutorials before making a buying choice on any box for instruments. Make sure that it will perfectly suit your daily requirements and budget.
Material
A tool chest made of solid wood is a classic storage option that fits the majority of the needs of garage owners. In fact, such cases for tools usually look elegant and competent. However, wooden tool boxes come without handles and such cases are not lightweight, so you'll need to carry your tools manually, even when you're working in the workshop. Such a model will do only if you plan to keep your tools in a garage all the time. Wooden cases for tools are reliable and affordable.
For many DIYers the box made of stainless steel is a very common alternative. The long-lasting frame, rust-resistant specifications and relatively small weight make this type of material a good addition to many homes. They often come in a range of styles, forms, and colors.
Another alternative is a metal toolbox. If you want your chest toolbox to last, you should go with high-quality material like aluminum or iron. The lighter the metal is the less it can be robust. It is recommended to double-check the frame and choose the durability of the box walls.
When properly made, top-notch plastic can be great for a budget-friendly tool chest. This is an inexpensive, lightweight and long-lasting option for the tool storage. Plastic tool boxes surpass real wood or stainless steel cases. Yet plastic is a better choice for a workshop if you don't plan to transport the tools often.
Capacity
To store many large tools, you need to pick a heavy toolbox with an increased capacity option. Keep in mind that if the weight of the tools would be too heavy, a cheap plastic toolbox can easily crack. Consider the capacity factor before buying a garage toolbox.
You should use a toolbox with many individual compartments if you want to store a lot of tools and accessories. However, such a box should be well suited for an average number of instruments, since the storage should be simple and quick. Also, some versions have extra slots for small pieces, and any time you look for a small piece you have to unpack the toolbox.
Weight and size
Typically, an average toolbox isn't that large and thanks to the handle at the back you can comfortably hold it in one hand. Bear in mind even the weight of the instruments inside that you want to bring in your box. If you want to take bulky stuff with you, make sure your gear isn't too large for you to carry it in a toolbox.
The material of garage tool boxes affects their weight. When you buy a metal tool case, typically it weighs heavier but such a case is also firmer. That is why it can ideally fit your tool storage needs. Plastic toolboxes are typically more lightweight, but if you drop a plastic case it may crack quickly.
Video Tutorial: Keter Tool Box
Final thoughts
The described garage toolboxes are durable, affordable and effective when it comes to the storage and organization of household utensils or professional instruments. Pick the one that suits your needs. Do not be afraid to ask the questions and read the user feedback before investing in a toolbox for your garage.
---