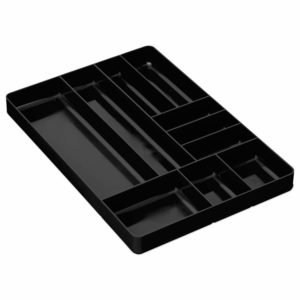 10-compartment organizer tray
Fuel and solvent resistant
Dimensions: 16"x11"x1.5"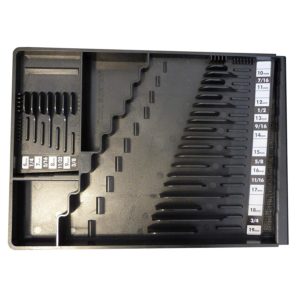 Up to 28 wrenches
Made of Sturdy ABS
Dimensions: 13.5x10"x1.5"
Up to 28 wrenches
Made of Sturdy ABS
Dimensions: 13.5x10"x1.5"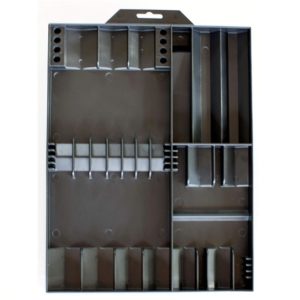 Compact and Portable
Space for 16 screwdrivers
Dimensions: 14x10"x1"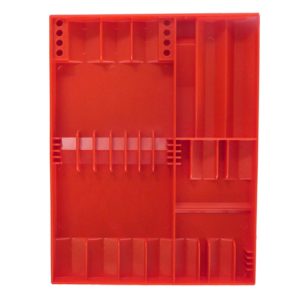 Compact and Portable
Space for 16 screwdrivers
Dimensions: 14x10"x1"
---
Choose the Best Tool Box Organizer
Customer's Choice: the Best Rated Tool Box Organizers
15 users answered this survey. Please help us improve this review!

73.33% of users selected Ernst Manufacturing, 6.67% selected Wrench Organizer Black, 6.67% selected Wrench Organizer Red, 0% selected Tool Sorter Black and 13.33% selected Tool Sorter Red. Every month we analyze your answers and change our rating.
---
When you deal with many instruments and tools, you know they can get messy easily. This applies to technicians and carpenters at work, companies where workers share gear, drivers who have a toolbox in the back of their cars, and homeowners who have garage or garden supplies for household jobs.
Tools can also be stolen at certain big workplaces. The best way to keep everything where it's needed is to figure out how to logically organize the tools that you have. That is why you may need a toolbox organizer. These are trays or smaller drawers that you may place inside your tool cabinet, box or chest.
This guide includes the list of 5 popular and top-notch toolbox organizers. Check the suggestions for toolbox organizers. The comparison table will help to choose the best from the best organizers for your daily tasks. In addition, the buying guide includes the list of factors to consider when choosing the organizer for your instrument.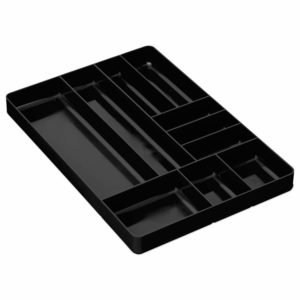 Do you require more space to get your toolbox organized? Need more space to get your toolbox organized? This convenient and effective toolbox organizer features 10 compartments for you. Through this, all the equipment can be conveniently organized.
The box organizer is available in a variety of colors, making it ideal for simple selection. Organizing is easier because it contains more containers to hold all the items easy to choose. Additionally, the trays are easily stackable, making it ideal for any user.
Pros
Pros
10 compartments
Each compartment has a different color
Easy access to all the tools
The trays are durable
Made in the United States
Resistant to solvent and fuel
It can be great for screwdrivers
Can fit standard boxes and drawers
Cons
Cons
Made of plastic
Not very deep
Won't hold heavy tools
The organizer is great for a variety of instruments, including; bolts, washers, hinges, and pieces. It fits even the shadow drawers. The workbenches, kitchen, and bathrooms may be a good option. The organizer will also match the normal tool cases and the shallow drawers within.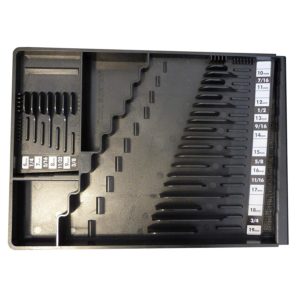 Just slide, then flip and store any wrenches that you want in this peculiar tool sorter. Don't want to mix standard and metric wrenches? Then, this organizer for wrenches can be a good option for you.
In addition, the size is ideal for fitting in most standard chests and drawers. This storage unit is an updated copy of the original Sortatool tray and fits any shorter wrenches.
Pros
Pros
Convenient
It can fit metric and SAE wrenches
Lightweight and portable
Made in the United States
Composed of durable ABS
Cons
Cons
Wrenches won't stay in their respective places
The size of the holders do not always match the wrench size next to it
Feedback from users addressed the product's quality and its storage space. This container is great for anyone with wrenches spread in tool chests or boxes. Note – it comes with no wrenches within it.
This model is almost identical to the previous tool wrench organizer – it is read and glossy. The sorter can easily accommodate any torque and impact wrenches from 1/4-inch and 3/4-inch tools.
It may fit up to 20 wrenches, but 8 of them should be quite small and narrow. But keep in mind that the organizer won't hold heavy tools.
Pros
Pros
It is a bit bigger than the black version of this model
Stylish red color
Great portability factor
Made of sturdy ABS material
Can accommodate any impact and torque wrenches from 3/4 to 1/4 inches
The tray is easy to slide and flip
Cons
Cons
Sometimes wrenches won't stay in their respective places
The size of the holders do not always match the wrench size next to it
Users claim that this tray is quite durable and spacious. You may easily put this tray into a toolbox drawer to keep small and medium-sized wrenches organized. Unfortunately, it doesn't include wrenches.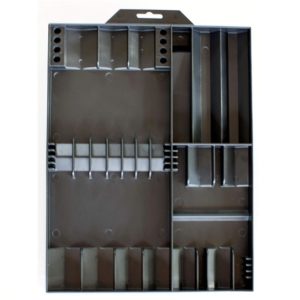 This Tool Sorter screwdriver organizer 's versatility dictates how many items it can handle. This will ensure more space for holding all the instruments.
It works well with 16 slots to hold small and medium-sized screwdrivers; it will keep all the tools protected.
Its solid plastic design guarantees the organizer lasts for as long as necessary. The organizer of the toolbox is additionally compact and nimble in design. This means that when handled it will take up as little room as possible.
Pros
Pros
Budget-friendly
Portable
Lightweight
Made of sturdy ABS material
Can hold any screwdrivers in one place
Efficient molded dividers
Many compartment sizes for screwdrivers and bits
Fits almost all standard toolboxes
Cons
Cons
It is quite narrow to hold the full-fledged sets of screwdrivers
There are no slots for long or bulky screwdrivers
This toolbox organizer is ideal for small as well as large instruments. This allows you to store the smaller and larger screwdrivers safely.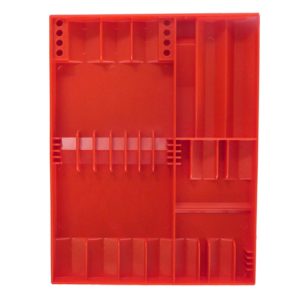 Being similar to the previous model, this red Tool Sorter organizer for screwdrivers can hold up to 16 small, off-set and large screwdrivers and 8 bits. Compared to the black organizer, this red model is more lightweight.
Pros
Pros
Affordable
Portable
Composed of durable ABS material
Sturdy molded dividers
Many compartments are available
Fits almost all standard chests and drawers
Cons
Cons
It is quite narrow to hold the full-fledged sets of screwdrivers
There are no slots for long or bulky screwdrivers
This tray is lightweight, small, and made from durable ABS – you'll feel the value! This tray is a perfect addition to chests & boxes of supplies and a very handy product to have at home. The organizer does not contain tools!
The Buyer's Guide
An organizer is a special container or tray where you can store various tools, fasteners, all kinds of little things and accessories. Typically, a toolbox organizer is locked tightly, which eliminates the scattering of contents. Also such organizers are characterized by a fairly reliable design that provides effective protection of tools from external factors.
Considering the design and size, the organizers may fit different models of toolboxes:
toolboxes for storage of hardware and small parts – are compact boxes with several compartments and a removable/hinged lid;
vertical organizers are single or double-sided roomy containers with a large number of sliding compartments for storing small tools and accessories;
portable cases are convenient boxes equipped with an ergonomic handle for transportation, a durable lid, pull-out compartments, compartments for storing long devices, etc.;
A few factors to consider when choosing a toolbox organizer:
Materials
A top-notch toolbox organizer can be:
wooden;
plastic;
metal;
made of ABS materials;
Depending on the material of manufacture, organizers of aluminum and shockproof plastic are distinguished. Aluminum organizers are characterized by high strength, durability, resistance to temperature extremes. Plastic models are convenient in transportation and operation, low weight, low cost.
Features
All toolbox organizers are stationary and portable. Stationary cases are designed to store large tools and parts, and portable models allow you to carry screwdrivers, wrenches, hardware, etc.
High-quality organizers should have increased resistance, durability, resistance to low and high temperatures, and chemicals. Also, stylish design can be a good advantage.
Dimensions
To store hammers, pliers and nails, you can choose small drawers with a large side length of up to 20 inches, and professional craftsmen may need large containers up to 27 inches.
Number of compartments
In organizers, a different number of shelves, sections and additional cells can be provided. Each of these compartments is designed to store a specific type of tool.
Rubberized perimeter
An organizer for tools can have additional protection against penetration of moisture and other substances into the body, the actions of which can negatively affect the safety of all the instruments inside a toolbox or chest drawer.
Video Tutorial: How To Organize any Tool Box
Final thoughts
Now you have the list of a few toolbox organizers that can fit any interior drawers and tool chests. Just consider what instruments you want to keep organized inside a toolbox and then pick the appropriate organizer. You should definitely skip buying a wrench organizer if you don't use wrenches a lot.
You won't be able to fix a TV, AC or car without great instruments. And as an expert mechanic, I can say for sure that you won't do without an affordable toolbox organizer. These arranging appliances aren't that small but they actually save space in any garage. Small and big instruments will be easy to carry in one of such cases. The main purpose of an organizing system is to provide great support. Keeping the instruments organized is a must thing to do if you want to have quick access to your instruments and accessories during an emergency case.
My guide includes the products made by Ernst Manufacturing, Wrench Organizer (Black and Red), Tool Sorter (Black and Red). There are 3 toolcase organizers in variations. They have common features:
A multi-compartment tray;
Sturdy material that is resistant to solvents/fuel;
High portability;
The dimensions are different, though. Make sure to check them before purchasing toolbox organizers on the website. Cost and warranty do also matter – it's useless to pay more than $150 per box.
If you are looking for a cool product in this niche, I think you are in the right place. This website gives a chance to choose among the best brands and designs that are currently available for sale online. To assist you with finding the best organizer box for your appliances, I picked the most precious cases according to a few simple parameters.
I really hope, this buying guide will help you to pick a durable and affordable toolbox organizer that will serve for many years. This is a user-focusing guide – that is why it contains many practical tips and personal criteria you may apply when buying a new organizing system for your instrument boxes. If you still have doubts, check out the video tutorial with an unbiased review.
---