---
Trusco ST-350-B
With inner tray
Material: metal
4 Removable Steel Dividers
Kennedy Manufacturing
22-Inch
Removable partitions
Vinyl cushioned handles
Homak Industrial
22-Inch
4 individual shelves
Triple buckle
Stalwart 75-3082A
18-Inch
Steel and Plastic Construction
Three Layers of Tool Storage
Tactix 320300
22-Inch
Full length aluminum handle
Steel latches for durability
---
Choose the Best Cantilever Tool Box
Customer's Choice: the Best Rated Cantilever Tool Boxes
38 users answered this survey. Please help us improve this review!

47.37% of users selected Trusco ST-350-B, 18.42% selected Kennedy Manufacturing, 10.53% selected Homak Industrial, 10.53% selected Stalwart 75-3082A and 13.16% selected Tactix 320300. Every month we analyze your answers and change our rating.
---
A cantilever toolbox is used for professional technicians, who at the same time require storage space and portability. These storage units are made of plastic or metal and have a solid structure. Typically, such toolboxes have a sliding lid that opens a few foldable compartments.
This style of toolbox could be suitable for a specialist to arrange his/her gear according to the function and size. There is even a wide handle in the toolbox to hold it conveniently, regardless of weight. Below are some of the typical features in a toolbox with the cantilever design.
When one wants to buy this, you may choose from several choices. Let's look at the top 5 cantilever tool boxes, accessible on the U.S. market at a great price. Each of these models provides decent features and space. The analysis would include a comprehensive overview of the toolbox that has been installed, usable storage space, ways to organize the equipment, etc.
Do not forget to check the comparison table and pick the cantilever toolbox, according to your preferences. The buying guide can be also helpful for people who have never bought a tool case or box before.
Trusco ST-350-B 2-Level Toolbox – the best for security!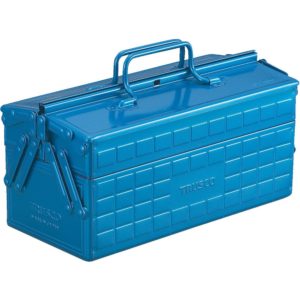 This cantilever toolbox has a slot for the padlock in the center of the top that allows you to keep it at your worksite. You have to enjoy the paint of long-lasting enamel. It has 2 top trays with metal dividers that are removable.
Little spacers allow you to store different small components such as nails, screws, nuts, batteries.
This cantilever toolbox can be good for users who need the case that easily opens and closes. It's always easy to pack and even in the tightest spaces, you can make use of it. Fortunately, it can be perfect for damp environments because of the anti-rust cover.
Goplus 20-Inch Metal Tool Box – the best for design!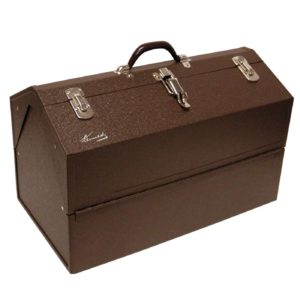 The Goplus cantilever toolbox looks fantastic, and the whole thing is made of the high-quality material. This has a very good look that gives it an outstanding finish with the red powder paint. The upper tray can carry up to 11 lbs and the lower tray can bear up to 22 lbs.
Powder coat can be good for extended use and it prevents the box from corrosion. The organizer's robust structure is almost indestructible.
This Goplus metal toolbox is made entirely of metal and offers plenty of storage space. This has 5 trays, 4 upper small tool trays, and a wide lower bin for bigger items.
Homak Industrial Cantilever Steel Toolbox – the best for durability!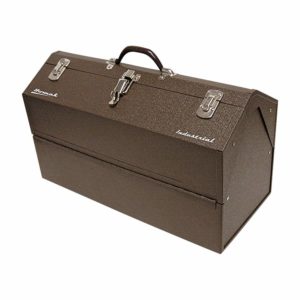 This Homak Industrial toolbox comes in brown color. This storage unit offers a nice retro look. The toolbox is built for heavy-duty jobs. One of the best features, except durability, is many compartments and trays for storing the tools of different size.
If you're searching for a toolbox that has a good amount of storage space and provides that vintage look of old-style, then this is the thing.
Stalwart Cantilever Tool Box – the best for portability!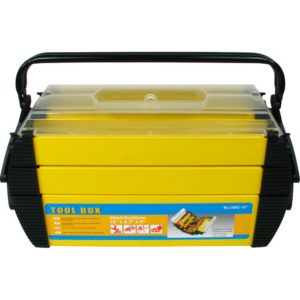 This Stalwart cantilever toolbox is made from a blend of plastic and metal of excellent quality. This main storage compartment is 18 inches long and provides ample storage space for any tool. It has 3 storage layers, and the upper two layers are intended to contain and arrange the smaller instruments.
The kit arrives complete with trays and organizers.
It doesn't seem to be fragile and can withstand the weight of a fully packed toolbox with ease. This also comes equipped with a comfy handle on top to ensure ease of handling. This is one of the finest plastic cantilever tool boxes on the U.S. market.
Tactix 320300 Tool Box – the best for the price!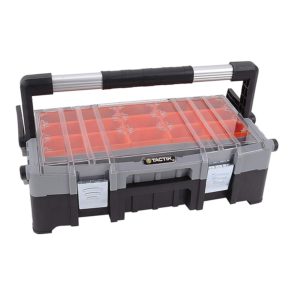 This compact cantilever toolbox is a perfect alternative for the fashionable carrying of your equipment. The architecture allows you to open the whole package and to unleash all the devices at once. It also has spaces built for smaller as well as more detailed equipment.
The smaller containers allow you to store small appliances, nuts, and bolts.
The full-length metal handle makes the equipment easy to bring around. To maintain reliability the latches needed for locking are made of steel.
The Buyer's Guide
ToolBoxWiki is an expert website that people use for buying cases and organizers for different instruments. My friends and occasionally I compare the top products in many categories to offer you the most reliable boxes. My initial goal is to provide solid recommendations for everyone who looks for the best kits for instruments.
Why should you trust my reviews? You don't have to follow my recommendations but my 10-year experience of work with the cases for manual and electric instruments means something. Besides, I usually spend 10 to 20 hours to test all new products from the particular guide. Frequently I use certain toolcases for many months so if you don't have an opportunity to buy a few boxes and test them all for weeks. For example, for this particular review of the best cantilever toolkits I did:
30 different products were tested;
2 weeks of research;
3 colleagues interviewed;
Over 1,000 consumer feedbacks were researched;
After A/B tests of 30 cantilever boxes, I shortlisted the below rating. My final choice was given to reputable brands that manufacture reliable models – Trusco, Tactix, Stalwart, Homak Industrial, Kennedy Manufacturing, etc.
First and foremost, you ought to opt for objective measures like dimensions and specific features. That's why I asked several friends with various experiences and working tasks to establish the most unbiased opinion on cantilever kits for instruments.
Materials
Metal toolboxes are typically more durable and reliable storage units for handheld and electric tools. Various types of metals are used to produce such products. Usually, toolboxes are made of stainless steel, aluminum and different alloys based on iron or steel.
The most popular tool storage units are made of aluminum. This metal is strong and durable. It is most often used in the manufacture of boxes due to lightness.
Iron or steel tool boxes usually have a heavy structure designed to transport large tools or electrical gear. Such a product has sufficient rigidity to protect its contents from various mechanical influences.
Any metal boxes should be coated with anti-corrosion compounds to protect them from premature rusting. It is worth considering that the protective finish erases over time and you need to apply the box with a new protective layer.
Number of compartments
The number of compartments inside the box is a relative criterion. Someone is going to store only small tools inside (the more compartments, the better), and someone only has a few larger tools he or she needs daily.
If you plan to carry not only tools but also fasteners, lug nuts, bolts and screws, check the cantilever tool boxes equipped with removable trays or corresponding compartments mounted onto the lid. In the second case, to get any bolt or nut, you do not even need to open the box. It could be very convenient!
Storage
You can get away with only a little plastic toolbox if you are a homeowner who wants to do the odd DIY home renovation. However, if you're a carpenter or DIY mechanic you'll need a bigger, heavier box to house all your tools. The largest storage units are typically targeted at DIY enthusiasts but the specialists and have a wide range of equipment and hardware.
If you're going to purchase more tools soon, don't hesitate to add those into your calculations of the toolbox storage space. The specs of the toolbox will give you a general understanding of its storage capabilities.
Portability
If you are using your tools to move around a lot, look for a travel-optimized storage box. Smaller models should have flexible handles that are easy to pick up and hold. Find a bigger box with caster wheels for better transportation of the tools inside. Most pro-level boxes have these characteristics. Don't forget to check the wheel weight rating!
Video Tutorial: Trusco ST-350 Cantilever toolbox review
Expert recommendations for picking cantilever tool boxes:
Decide on the purpose of your new cantilever toolbox. If you are going to store a rather heavy electric tool, then you will need a durable container made of metal, thick plastic or wood;
Pay attention to the functionality of a storage unit – the more drawers of removable trays, compartments, and additional compartments are in the box, the more convenient it will be to store various small tools. Otherwise, the tools will be lost and you will get a lot of trouble in the process of finding them;
It will be useful to have a convenient handle for carrying and transporting the toolbox;
If you do not have enough space in your garage or workshop to store a large cantilever toolbox, a folding model may save 70% of the interior space;
If you have little kids, then make sure that the box you choose has the safety locks to prevent emergency cases;
Final thoughts
Now when you got an understanding of the selection and use of cantilever toolboxes, you will be able to pick the model that suits your daily needs. Skip too cheap plastic models and opt for sturdy and all-purpose cantilever boxes for organization and transportation of tools.
The minimum price for every cantilever toolbox in this rating is $25 and the maximum cost is under $100. Usually, the most expensive boxes are made of aluminum or stainless steel, with durable latches and individual compartments. But I also added a plastic case with a low price tag. Check the following review, leave your feedback and watch the video explaining the major features of cantilever toolcases.
---