---
UWS TBS-63-A-LP-MB
Extra-Thick aluminum
Stainless steel handles
Easy to install
Genuine Toyota
Corrosion-Resistant
Sturdy cam lock
Drain hole plug
UnderCover SC401P
75lb Weight Capacity
Swings Out for Easy Access
Lockable Storage Solution
UWS TBSM-36-BLK
Aircraft-grade cables
2 Padded Handles
Extra-thick aluminum
Better Built 79210989
Self-Adjusting Strikers
Weather-Sealed Lid
100% fully welded seams
---
Choose the Best Tool Box for Tacoma
Customer's Choice: the Best Rated Tool Boxes for Tacoma
60 users answered this survey. Please help us improve this review!

55% of users selected UWS TBS-63-A-LP-MB, 28.33% selected Genuine Toyota, 8.33% selected UnderCover SC401P, 1.67% selected UWS TBSM-36-BLK and 6.67% selected Better Built 79210989. Every month we analyze your answers and change our rating.
---
Are looking for reliable toolboxes to transport your instruments in the back of your Toyota Tacoma? The following toolboxes and tool cases can be good for most trucks including this particular vehicle model.
Why invest in a Toyota Tacoma toolbox:
Space-efficient storage of gear, tools and accessories;
Convenient tool organization for quick and easy access;
Simple transportation;
Prevention of unauthorized use of equipment by burglars;
Protection of the tools inside from dust, corrosion, rust;
Thanks to the organized internal space with external compactness, a large set of tools can be placed inside the drawer of a top-notch Tacoma toolbox. Typically, the insides of such toolboxes are reliably protected from moisture, as well as from losing or tossing the tools during transportation, since everything is closed with a tight lid.
If you have no idea where to start looking for a reliable Tacoma toolbox, check 5 reviews of reliable and spacious cases of different types. Besides, you may easily compare the toolboxes side by side thanks to the handy comparison table. At the end of the guide, the buying tips are covered.
UWS Truck Tool Box with Low Profile – the best for portability!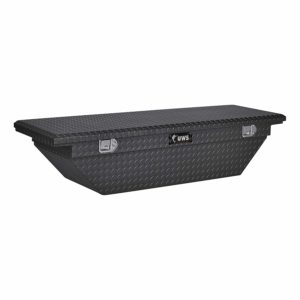 This 63-inch, in-bed UWS low-profile toolbox can boast a crossover style and wedge shape. It means this box may perfectly fit any midsize trucks, including the U.S. popular Toyota Tacoma. The handles are very sturdy and are composed of stainless steel to resist any corrosion.
The brand UWS already sends it out with in-built trays which are great when needed to organize equipment and other small instruments.
This UWS toolbox's low profile is great because the cover does not block the vision out of the back window. This design restricts some storage capacity, but still you may store many small and medium-sized tools inside.
Genuine Toyota Parts Box – the best for compatibility!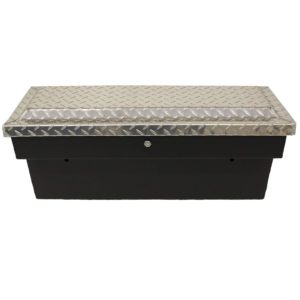 Despite other great toolboxes in this list, what can be better than the original Toyota toolbox designed specifically for their Tacoma truck? This toolbox is good for carrying up to 50 lbs of equipment. The box was made of lightweight aluminum, with a powder-coated finish.
Being good for installing 4 positions, it was planned for lightweight, easy mounting on either side of the truck's deck rail network. This allows for easy washing with a closed drain tube. This storage unit contains side rubber gaskets.
This toolbox is small enough to mount on the side of the truck's bed. The Toyota box offers a safe organization and weather-resistance for tools and other valuables inside. Toyota also offers a matching cover to protect this case.
Undercover SwingCase Truck Bed Box – the best for capacity!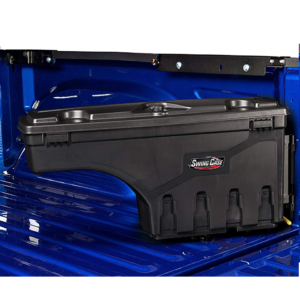 This Undercover SwingCase model can easily fit any 05-20 Toyota Tacoma passenger side. A particular configuration is made exclusively for 2-nd and 3-rd gen beds in Toyota Tacoma trucks. The brackets are built to allow you to still access the storage in the bed cubby.
The case is very easy to slip off the fixed hinges and w / out some hardware. A huge advantage is that it provides more bed space.
It also has a tray that can be replaced to hold smaller products in the tiers. A little layering of rubber/carpet will be sure to reduce the sound. The plastic container often lies flat (and has cup holders) on the ground w/out turning over.
UWS Side Mount Tool Box – the best for durability!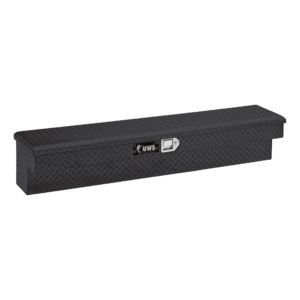 This UWS TBSM-36 toolbox is available in five different lengths to match certain configurations of the toolbox and the sizes of truck beds. This features an aluminum 1-piece tub designed to avoid leaks, to withstand drops and to bear heavy loads.
This is wrapped with a diamond tread made of black powder-coated aluminum. It consists of 2 integrated tool trays that make the box more rigid while managing the tools easy to access.
Tips for users: you should mount this toolbox onto the truck's bed rail right above the wheel.
It suits exceptionally well, besides Toyota Tacoma trucks, in a wide variety of vehicles. It has sealed lids and sturdy leg braces, rendering it an ideal option for extreme maintenance/building work. The box has an incredibly reliable locking mechanism that prevents your things from falling into unwanted hands of burglars.
Better Built 79210989 Tool Box – the best for protection!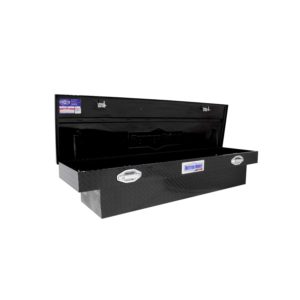 The Better Designed Saddle toolbox provides excellent tool and gear safety while leaving the truck bed floor dry. The saddle truck toolbox features easy-to-use paddle handles that have driver side locking capability, the most common place for locking/unlocking a truck box.
This toolbox will sit on your truck bed rails and bust through the bed gap. This is designed to suit full-size trucks such as Toyota Tacoma, Silverados, Sierras, and Tundras. Much like a Ford Ranger, it won't suit a smaller vehicle. The lid made it a good low profile box. The model gives a clear view of your rig's back window. It contains a 5-pocket plastic tray to support you hold smaller products sorted in the case.
The Buyer's Guide
The review grew from a single request made by my fellow mechanic who drives a Toyota Tacoma. He couldn't find an affordable toolbox for his vehicle and asked for my opinion. I have chosen a few cases for these specific pickups that I owned/own, came to his house in one of the summer weekends and we have tested all of them for durability and installation.
An interesting fact – our initial pick was Genuine Toyota because it's hard to find a more suitable box for Tacoma than the one made by the same manufacturer. But then we've changed our decision and the first place was given to UWS TBS-63-A-LP-MB because it offers the extra-thick aluminum case my friend isn't afraid to use even during heavy rains and snowfalls.
Types of truck toolboxes
Crossover tool boxes provide quick and easy access to both sides of the truck;
All-purposes toolboxes can store the tools and gear of any kind. Typically, it won't occupy much space on the truck's bed;
Hi-side boxes were designed for maximum accessibility. Just open the fling door and grab the required tool when working. Such boxes do not include in-built shelves. But these cases are quite spacious inside;
Pork chop boxes are very spacious because you may mount them right on the wheels near the tailgate. The box uses the so-called "wasted space" for large tools and may be applied as an emergency kit as well;
Saddle boxes look like the combination of crossover and all-purpose cases. They use the bed's frame to increase the storage space;
Materials
When choosing a toolbox, you should pay attention to the quality of its materials. Metal, wood and plastic are almost equally good if they have sufficient rigidity for the selected shape and size of the truck toolbox.
Often the cheap boxes are made of plastic and may fall apart right in the hands even when loading the instrument halfway. The same method applies to metal products. You can often find the large tool boxes that are too thin to fit the loads intended for them.
Locking system
In addition to checking the durability of the materials, you also need to make sure the locks that cover the sliding elements are reliable. If they initially do not work as needed, then it is not difficult to imagine what will happen to them after a month of continuous use of the Tacoma toolbox.
Also, a frequent issue with these locks is the deformation of the toolbox when closing the latch, as a result – it won't be able to stand properly. To avoid such a purchase, you must try to open and close the locks several times, if there are difficulties, then such a toolbox will not last long.
My rating for Tacoma toolboxes: major criteria
The process of installation/uninstallation was our main criterion here. Sometimes you just don't have additional 5 minutes to pull the case out of a truck that is why this must be quick. And UWS TBS-63-A-LP-MB is easier to install. Though, Genuine Toyota has a special drain-hole plug and corrosion-resistant layer for additional protection. I also added UnderCover SC401P, UWS TBSM-36-BLK and Better Built 79210989 models because all of them are easy to set up.
Besides the process of installation and ease of access, a mechanic should follow such criteria when choosing a Tacoma-ready toolbox:
The truck size bed is important. You have to measure all its dimensions before choosing a toolbox. It is one of down-sized small pickups so the case should not be too large;
Cargo capacity is another parameter you should take into account. The average kit for trucks can hold up to 75 lbs or less;
The price can vary from $50 to $600, as far as I could research. All cases presented here are under $200;
Materials for Tacoma-ready kits must be of metal origin – I would recommend aluminum or stainless steel;
Finishes also matter – black won't stand out, while the semi-gloss white cases just look plain awesome. I didn't pick anything fancy and expensive but all of the top 5 boxes just look great;
Video Tutorial: Undercover Swing Case
Final thoughts
Maybe you have already found a reliable Toyota Tacoma toolbox among these versatile and affordable models. Make sure to check the dimensions and the compatibility of each toolbox with your Tacoma model. Do not forget to prevent overloading if you want to keep all the tools inside intact.
The video tutorial shows how the UnderCover swing box for Toyota Tacoma works. A good pick for everyone who requires a Tacoma toolbox under $100. Share your thoughts – do you have the same criteria for choosing a tool case or not?
---