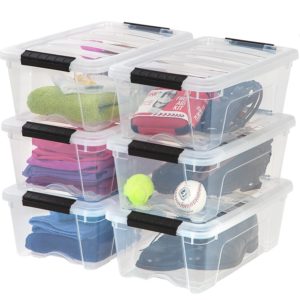 Size: 12 Quart
Style: 6 Pack
Built-in handle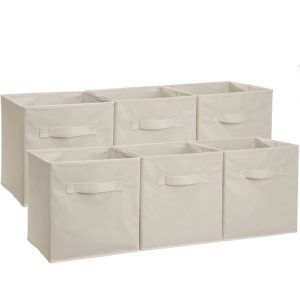 Breathable fabric
Pack of 6
Easy to carry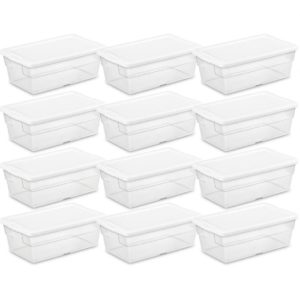 Size: 6 Quart
Pack of 12
Opaque lids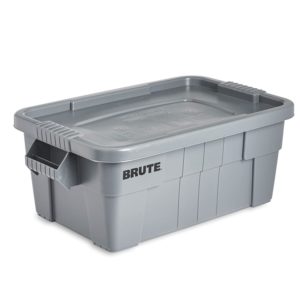 Size: 14 Gallon
Ergonomic handles
Secure lid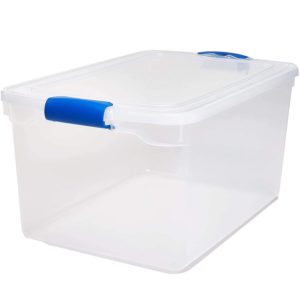 2-Pack
Size: 66 Quart
Made in the USA
---
Choose the Best Storage Bin
Customer's Choice: the Best Rated Storage Bins
12 users answered this survey. Please help us improve this review!

75% of users selected IRIS USA TB-42, 16.67% selected AmazonBasics Cubes, 8.33% selected Sterilite 16428012, 0% selected Brute FG9S3000GRAY and 0% selected Homz 3442CLRDC.02. Every month we analyze your answers and change our rating.
---
Storage bins are plastic or metal containers that help you store your belongings in a more organized manner. There are many different types of storage units to suit any need, from industrial-strength receptacles for the garage to stylish furniture and baskets for living areas.
Storage bins are typically designed to fit the space they're in, from small containers for a dresser or closet shelf to large tubs big enough to hold all of your winter clothes. They have many uses and will help you get organized when you need them most.
Storage bins are a great way to organize any room in your house. They're available in all shapes and sizes, so there's something for everyone! From children's playrooms to the garage, storage bins do it all. There is one problem though: how do you find the best storage bin? This article will walk you through the process of finding what works best for you.
IRIS USA TB Clear Plastic Storage Bin – the Editor's choice!
These plastic bins can be fashioned as one cohesive unit by fastening them together with the buckles and handles on either side. Additionally, they make great contents to stack on top of each other (with enough space), meaning minimal strain put on your muscles in this effortless process.
Pros
Pros
6 storage bins;
Made with durable plastic;
Anti-break;
See-through design;
Sturdy grooves on the lid for better security;
Storage buckles;
The in-built pull handle;
Good for organizing small stuff;
Cons
Cons
Small for large tools;
The handles are easy to rip off;
Lightweight, durable storage solution for all the small things in your house.

Amazon Basics Collapsible Fabric Storage Cubes Organizer – the best for portability!
Amazon Basics Collapsible Fabric Storage Cubes Organizer with Handles, Beige - Pack of 6
The Amazon Basics Collapsible Fabric Storage Cubes Organizers set is a great way to get started on the organizing process. Made of stylish, breathable fabric with sewn-in handles and 10.5 x 10.5 x 11 inches measurements, these items make prepping your home or office space for storage much simpler thanks to their clever collapsible design that promises open-top bins or drawers when used with an additional cube organizer like the AmazonBasics Bins And Lids Set.

These 6 hyper-functional collapsible fabric storage cubes are designed to keep your work, kitchen, bath or closet space tidy and tangle free.
Pros
Pros
Pleasant beige color;
Made with stylish and breathable fabric;
Lightweight and portable;
6 open-top bins;
Great price;
Cons
Cons
No lids or covers;
Strong smell;
Won't hold heavy tools or items;
Not waterproof;
The cube set is made from breathable fabric – you can store sweaters without fear of them getting smelly or damaged over time. Packed with six different colors to suit every space, this product was designed for easy use and mobility!

Sterilite 16428012 6 Quart Storage Box – the best quantity!
Sale
For better in-box, product discovery, and stacking options, the lids are indexed to match the stack until they reach the same size box. With the ¼-gallon storage container, you can easily organize your pantry with these super cute 6-quart boxes.
Pros
Pros
12 packs with white indexed lids;
Clear see-through base;
Good for use indoors;
Easy lifting;
Comfortable grip;
Cons
Cons
Can get cracks;
Slightly misshapen at the edges;
Can't be transported with heavy tools;
This storage bin pack has one white lid that can snap on for a tight grip and 12 boxes. You can use these around your home in any room or office space for organization including small kitchen appliances, clothes, towels, toys, food supplies – all without them getting lost under piles of clutter.

Rubbermaid Commercial BRUTE Tote Storage Bin with Lid – the best for outside use!
Sale
It's also convenient with its stackable design to save space in smaller spaces like homes or garages. The ergonomic grip handles make it easy on your back and fingers so you can do what needs to be done quickly.
Pros
Pros
Great for outside use;
Capacity is 53 litres;
Heavy-duty containers;
Secure lids;
Efficient storage;
Ergonomic handles;
Cons
Cons
Expensive;
Not for breakable items;
Sharp spikes on the lids;
The Rubbermaid Commercial BRUTE Tote Storage Bin is a heavy-duty storage container used for storing and transporting items inside or outside your house. This commercial grade plastic tote offers ergonomic handles that are user-friendly to reduce potential for back injury and finger strain.

Homz Plastic Modular Stackable Storage Bins – the best for load capacity!
Sale
Made from durable clear plastic, these stackable bins show the contents without opening and offer ample space for any size items you need to store. Also, the stackability of these bins makes them ideal for small spaces like apartments or dorm rooms where maximizing storage is necessary.
Pros
Pros
Large load capacity – 66 quarts;
Made with plastic and resin;
Nice blue color;
See-through design;
Large ergonomic latches;
Bins easily nest into each other;
Easy to clean;
Cons
Cons
The handles may be warped;
Thin plastic;
With the Homz Plastic Modular Stackable Storage Bins and their 66-quart storage capacity, you can find just enough room for all your stuff. Also with the large latches that lock onto a sturdy handle, these handy blue bins are easy to carry – whether they're full or not!

Video Tutorial: Storage Bins
---