---
Akro-Mils 10144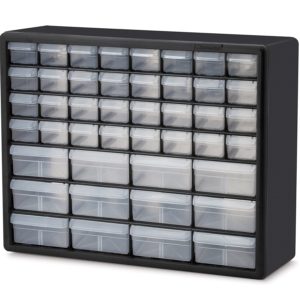 Rugged
Dividers Included
44 Drawers
Akro-Mils 10164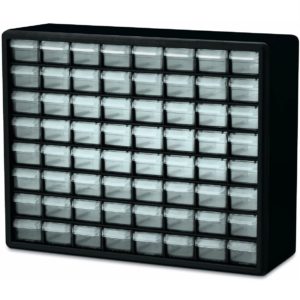 Plastic
Rugged
64 Drawers
Akro-Mils 10124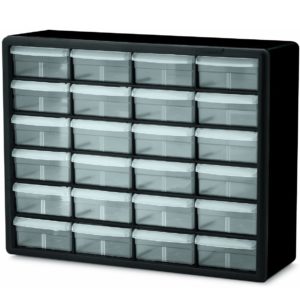 Plastic
Rugged
24 Drawers
Akro-Mils 10126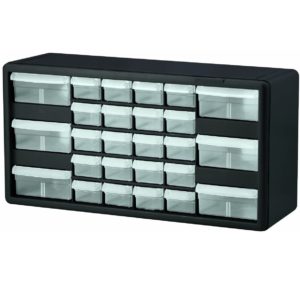 Plastic
Rugged
26 Drawers
Greenpro 3309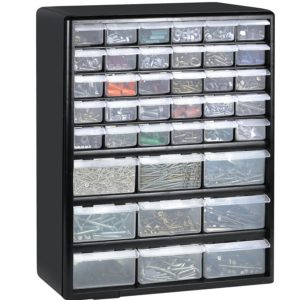 Can be wall mounted
Easy opening
39 Drawers
---
Choose the Best Small Parts Organizer
Customer's Choice: the Best Rated Small Parts Organizers
11 users answered this survey. Please help us improve this review!

81.82% of users selected Akro-Mils 10144, 9.09% selected Akro-Mils 10164, 9.09% selected Akro-Mils 10124, 0% selected Akro-Mils 10126 and 0% selected Greenpro 3309. Every month we analyze your answers and change our rating.
---
Repairmen and other technical specialists have a whole arsenal of assorted small things – screws, nuts, bolts, and other hardware of various sizes. Besides, they all have specialized tool kits. It is difficult to predict what item will be useful at the next facility so they need to have most of them at hand. A portable organizer for small things will be a perfect solution in this case.
A small part organizer will also be a great place to store repair tools and other accessories that are often used in the household. Such a case can significantly extend the life of a set of wrenches, toy parts, and other things, protecting them from moisture, dust, direct sunlight, etc.
The scope of the organizers is wide enough. You can use these compact containers with small drawers to store various small items that always disappear somewhere and are constantly lost. An organizer will become a devoted place for such stuff and save your time. Practical and handy organizers for small items allow you to always keep the required amount of necessary things at hand.
The advantages of organizers are obvious:
optimization of the working or home space;

quick access to the necessary things and tools;

prevention of damage to surfaces by small things;

reliable fixation of objects in a certain position if needed.
Types of Organizers
There is a wide selection of this storage option today. Its type and design entirely depend on the functions it should perform. For example, plastic boxes broken into cells with adjustable sizes are suitable for storing jewelry, cosmetics, needlework supplied. A desktop or wall organizer with vertical and horizontal cells will be the best option for all kinds of smaller items such as makeup brushes, cosmetic pencils, pens, beads, rulers, notebooks.
Storage of handicraft accessories – threads, thimbles, needles, knitting needles, and hooks of different sizes, accessories – can be organized in plastic or cardboard boxes with compartments of different sizes, as well as in boxes, baskets, wardrobe trunks, cases. Repair accessories that include all sorts of screws, bolts, nuts, nails are best arranged in small plastic drawers. All these containers should be made of reliable material that will not allow these little things to crumble. In this article, we will review the most popular plastic drawer cabinets.
Akro-Mils 44 Drawer Cabinet – An ideal option for small household things
This convenient organizer is made from sturdy plastic. It consists of a frame and 44 removable bins. You can use this cabinet to store a variety of important details and trifles that are often used in everyday life.
The organizer can be placed as a cabinet or mounted on the wall. The backside has special key slots. The item comes with a set of dividers for the drawers. The cabinet is equipped with special plastic tabs that prevent the drawers from falling out when tilted.
It is a multipurpose organizer. It will work perfectly for a number of small items like beads, office and fishing supplies, small toys, etc. All the drawers are protected from falling out by stop tabs. The cabinet comes only with 12 drawer dividers additional ones need to be purchased separately. Another thing to take into account is that the inside length of the drawer is only 5.5 inches, so check well what items you are going to keep there. Other than that, customers admit the organizer is a great storing solution.
Akro-Mils 64 Drawer Cabinet – A good storage idea for crafts supplies
This organizer consists of 64 small drawers. The plastic frame designed in a way appropriate for stack or mount wall. There are 8 additional drawer dividers enclosed in the construction.
Each drawer has a special finger grip pull for more convenient use. Tabs protect the small bins from being unintentionally fully removed from the frame.

The organizer will be especially useful for various craft supplies. It also can be used to arrange and store various toy parts, for example, Lego. Note that the containers are very small, check their dimensions on the site before ordering. All drawers are transparent which makes it even easier to identify a needed item. Alternatively, you can use stickers to sight the drawer content. This cabinet will efficiently organize your workshop.
Akro-Mils 24 Drawer Cabinet – a great solution for Lego parts.
This organizer option is designed for 24 drawers. Like other similar goods from this manufacturer, this storage cabinet can be stacked or hung on the wall.
The plastic frame is shockproof. You can use the drawer space even more effectively by inserting a divider. You will get 4 of them enclosed in the set with the ability to purchase additional ones.
As the previous item, this drawer cabinet is meant for toys, crafts, hardware, and other small things. It will well organize small details in your garage or on a working table. It is a good solution for school supplies. The only hint is to think well about what you will use it for and check if the container size will be appropriate for it. You can find all dimensions on the site.
Akro-Mils 26 Drawer Cabinet – perfect storage for small tools
It is another variant of the Akro-Mils organizer for 26 containers. The combination of large and small drawers will allow you to store smaller and bigger details.
The item comes in a compact size and has back keyholes for wall mounting. You can also stack it on the working surface as it does not require much space.
This cabinet is good for all sorts of things, from sewing supplies to fishing gear. Compact design will allow you to arrange many things in one place. The see-through container will not take long to find a necessary detail when needed. Before the purchase, think well about how you are going to use it and check the drawer dimensions. It is not recommended to be used for very heavy parts to prevent the drawers from falling out.
Greenpro Wall Mount Organizer – a versatile storage option for small items
It is a universal cabinet for 39 drawers. The manufacturer suggests it to be wall-mounted, but you can also locate it on a flat surface. All boxes can be easily gripped and pulled out.
And rear tabs control them from sliding out. All drawers are translucent, and you can easily see the content without the need to open each of them. This small item organizer will be appropriate for many purposes.
This cabinet type is a perfect solution for those who work with a large assortment of small details. It will be a finding for seamstresses, school children, fishermen, and many more. All your things will be well arranged and just within the hand reach. Besides, you can remove the containers you need, and easily install them back. With this organizer, the arrangement of little things becomes really fast and efficient.
The Buyer's Guide
In order to choose the right type of organizer, you need to clearly understand why it is being selected, for what needs and tools you will use it. If you plan to carry it with you all the time, then the best solution is a case with optimal dimensions, weight, and a high-quality and convenient handle. If you just need to arrange things at home, then you just need a stationary item. Talking about small parts storage, you will find plenty of options in online stores. Each of them will do a good storing job. But you still need to take into account some hints to make the best choice. Here are some important points to consider.
Dimensions
The dimensions of the organizer should be selected depending on what kind of little things and in what quantity you will store in it. There are compact models, that include several dozen smaller containers and are perfect for things like needs, beads, or fasteners. You can also look for spacious options if you intend to store scissors, hammers, and so on. It is the best approach to buy an organizer with a combination of smaller and larger bins so it can be universal.
Another thing to remember is that the site usually states the outer side of the organizer and its containers. You need to carefully read reviews of other customers to learn the inside dimensions. Sometimes, there is a considerable difference between them. Take into account that the dimensions of the product will not be possible to change, so it is better to select the desired size.
Number of cells or drawers
The number of cells in different products can range from 8 to 50. In accordance with how many types of tools and fasteners you want to store, choose the option that suits you. Note that the more drawers the organizer has, the smaller they are. When choosing a cabinet with many compartments, check if it comes with additional dividers for more efficient storage. Many manufacturers equip the organizers with special dividers, allowing you to easily change a drawer interior by inserting trays for small parts. You can always buy these elements, but it involves further expenses.
Material
Most often the organizers are made from textiles, wood, metal, and plastic. If you are looking for a container for small things, it is advisable to pay attention to plastic models.
Plastic is a sturdy material and does not need special care. It is not afraid of exposure to moisture, detergents, or chemicals. Plastic organizers can be washed or wiped with a sponge with or without detergent. You should avoid exposing plastic organizers to high temperatures, hot air flow, or direct sunlight, otherwise, the container may heat up, melt and deform.
Plastic boxes are convenient to store and carry small parts. Plastic organizers will work well only for the repairmen and other specialists, but also for any homeowner. Unlike metal products, plastic boxes are much lighter. At the same time, the price of plastic products is lower than that of the goods made of other materials.
Modern plastic is reliable and durable. There are many designs of plastic containers across a wide range of colors. Based on the purpose, you can choose the size of the box and the internal structure.
Endnote
Incorrect small things storage leads not only to damage but also to their loss. To avoid this scenario, you may use a special storage solution. Small parts organizers allow you to store a large number of small items in one place. With their help, all your small essentials will be kept in one location and will never be lost. The purchase of an organizer is a guarantee of good space arrangement and order. Luckily, these goods are very affordable and come across many designs and dimensions. We hope this article will help you choose the organizer that best suits your needs.
We have compared small parts organizers and selected the most exciting offers. Choose the most suitable small parts organizer and keep your tools in the right way!
Video Tutorial: Small Parts Organizers Husky 10 Compartment
---