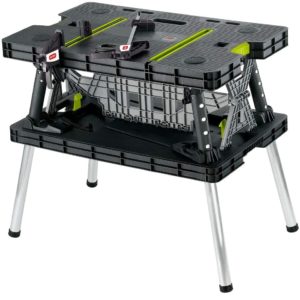 Holds up to 1000 lbs
Includes two 12 inch clamps
Never rusts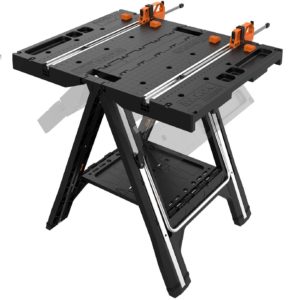 Holds up to 1000 lbs
Includes six clamps
Compact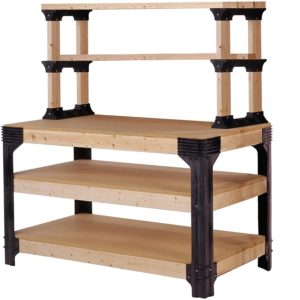 Durable bracket kits
Customizable length
Only 90° cuts needed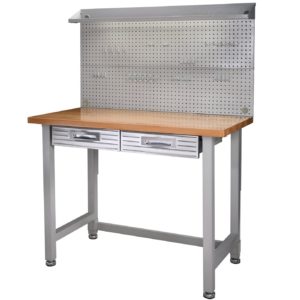 Easy-Slide Drawers
Stainless Steel
Adjustable Leveling Feet
Seville Classics Graphite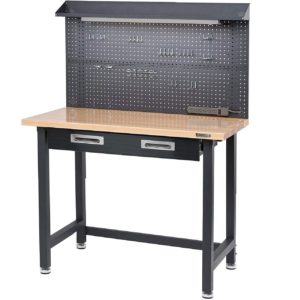 Fluorescent light fixture
Heavy-duty steel
Adjustable Leveling Feet
---
Choose the Best Workbench
Customer's Choice: the Best Rated Workbenches
8 users answered this survey. Please help us improve this review!

87.5% of users selected Keter 197283, 0% selected WORX WX051, 12.5% selected 2x4basics 90164, 0% selected Seville Classics UltraHD and 0% selected Seville Classics Graphite. Every month we analyze your answers and change our rating.
---
This technology does not allow water to pass through, which means that the workbench will not rust or flake off. The workbench is easy to carry, store, fold, and unfold. It features a comfortable and durable handle, making it easy to carry from one place to another and take wherever you go. The set includes two 12 inch clamps. With their help, you can fix any materials on the tabletop for comfortable work with them.
Pros
Pros
Lightweight design;
Weather-resistant polypropylene construction;
Carrying handle;
Easy to use and portable;
Easy clean;
2-year warranty.
Cons
Cons
Workbench legs are not too high;
No drawers for storing tools.
The workbench is stable, withstands heavy loads, is equipped with clamps, with the ability, if necessary, to be transformed to large sizes, and at the same time does not take up too much space. It can be folded up and carried anywhere in your garage. A model of this kind, if necessary, can be folded and put in a closet or even under a bed. This opportunity was realized thanks to a movable base made of steel pipes. The main advantage is first of all the lightness, thanks to which we can transfer it very effectively. Despite this, such a workbench is capable of withstanding a heavy load. Another advantage, of course, is the low price of such tables. The design of such a workbench makes it useful only for hobbyists, the so-called home apprentices. But for serious work, it will not be enough.
---
The legs have rubber pads to prevent slipping. The available setting of vices and stops so that workpieces of different shapes can be attached to the work surface. The tabletop is made of a dependable, molded ABS with steel supports and fittings.
Pros
Pros
Holds up to 300 lbs;
Two quick clamps are available;
Easy to move and store;
Place to hold a power strip or supplies;
3-year Manufacturer's warranty
Cons
Cons
Working height – 32", could be not enough;
The quality of the plastic could have been better;
Time-consuming assembly on first use.
Although the tool is foldable, when unfolded it turns into a full-fledged workplace. The surface supports workpieces or heavy tools. So you can work not only with large wooden beams but also with metal. Some may not like that it is not made of wood. But objectively speaking, plastic is much stronger than even bamboo plywood or MDF. You can also safely put your workbench on the street and not be afraid of the effects of weather conditions.
---
Sale
Also, the workbench does not have attachments for electrical tools. However, it has other benefits as well. Firstly, it is a sliding tabletop for processing large parts; secondly, it Includes 4 workbench legs, 6 shelf links and has a compact size, so it can be stored even in small workshops; and third, this workbench is made of heavy gauge structural resin.
Pros
Pros
Huge work area;
Made of heavy gauge structural resin;
For types of construction.
Cons
Cons
Only straight 90 degree cuts;
Shelves not included.
The design of such a workbench varies primarily depending on the types of materials being processed. For working with wood, a wooden joinery workbench, the design of which resembles a high bench, is most suitable.
But it is better not to process metal parts on such equipment: the shavings are clogged in the slots and it becomes almost impossible to clean them out of there. Locksmith work is best done on a wide table with sturdy tabletop and stable legs. In this case, you can choose one of 4 workbench options.
---
Sale
However, this also affected the weight, which reaches 69 pounds. Although the maximum load is standard here. The workbench elements are securely connected with fasteners. The tabletop is fixed not in three classical positions, but four. The clamping system is sliding. This allows you to work with different types of workpieces. There are also two drawers built into the workbench for storing tools.
Pros
Pros
Made of steel and wood;
Easy-to-reach power strip;
Powder-coated finish;
23 hooks included.
Cons
Cons
Heavy workbench weight, difficult to move;
Workbench height is not adjustable.
This is a quality piece of workbench. This is convenient to have in your home workshop. This is the most successful model of locksmith's workbenches for home and summer cottages, which will be a good addition to organizing the space in your garage.
---
Sale
UltraHD Lighted Workcenter - Satin Graphite
Among the best workbenches, this model stands out. It is stationary, intended primarily for locksmith work. But when equipped with clamps, beds, and other attributes, it can be used as a universal table. The furniture set is assembled from a heavy-duty steel frame with leveling feet.

The workbench has two integrated drawers. They are on telescopic guides, so they easily walk back and forth for easy access to the tool. The tabletop is made of two layers. Coating – powder paint, resistant to corrosion. If necessary, you can add a perforated screen for fastening tools and quick access, lighting, and other accessories necessary for working on a workbench.
Pros
Pros
Power strip;
Easy assembly and spacious drawers;
Fluorescent light fixture.
Cons
Cons
No information on workbench warranty period;
Too heavy.
If you are looking for a stationary compact model of a workbench to sometimes do something in the country or keep it in a home workshop, then we recommend taking a closer look.
Buyer`s Guide
Dimensions
Overall dimensions are the most important parameter of the workbench. The purchased workbench must correspond to the area and layout of the room where it will be used. It's good if you have a spacious workshop. Then you can purchase a convenient workbench with a wide tabletop and various accessories if you need them. On such a table, you can work with bulky workpieces and heavy tools.
If the work area is small, you will have to choose a compact model with a shortened tabletop. In such cases, convertible workbenches with sliding tabletops and folding legs are also convenient.
Height
Almost all models of workbenches provide the ability to adjust the height of the legs. A table that is too high or too low is completely uncomfortable to work with. And it is harmful to health since the back and arms will be overstrained and get tired quickly.
There are no uniform recommendations regarding the optimal height – each master chooses and sets a comfortable height for him. The height adjustment function is especially important if different craftsmen work at the workbench at different times.
Permissible load
Unlike conventional workbenches, workbenches are originally designed for high loads. Their design is as strong and reliable as possible. Even a household workbench for a summer cottage or garage can handle 600-800 pounds of loads. Industrial workbenches require work with heavy and bulky parts and are designed for even higher loads.
Additional equipment
Only the simplest models are simply a reinforced table. Improved workbenches are equipped with various accessories for more productive and comfortable work. These can be clamps, equipment stands, and hooks. Also, the workbench can be equipped with drawers, drawers, or shelves for the orderly storage of tools. Many models have wheels that allow the heavy workbench to be easily and quickly moved around the work area.
Video Tutorial: How to Build a 2×4 Workbench with Levelling Feet
Final Words
Choosing the right desktop will determine the quality of your work for years to come, and this applies to almost any activity. To do this, you need to provide the required amount of space and comfortable working conditions – so you can focus on the work you are interested in and achieve the desired success without being distracted by discomfort.
Buying a workbench will allow you to have a convenient table in your garage, where you can handle lumber, carry out minor repairs to furniture and garden accessories, and conveniently fold and sort the parts and tools used.
Workbench Bestsellers
We have tested the most popular workbenches (the table is updated daily). We show the result in the bestseller list. Here you will find the best available products for you sorted by the customer reviews.
---