---
Keter 197283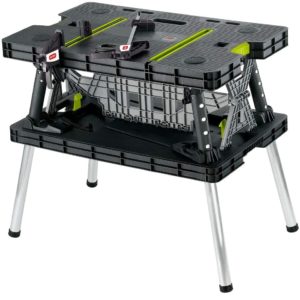 Holds up to 1000 lbs
Includes two 12 inch clamps
Never rusts
WORX WX051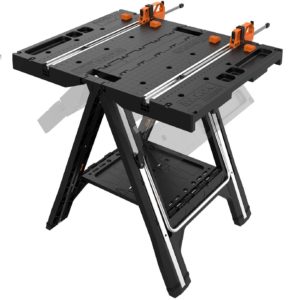 Holds up to 1000 lbs
Includes six clamps
Compact
2x4basics 90164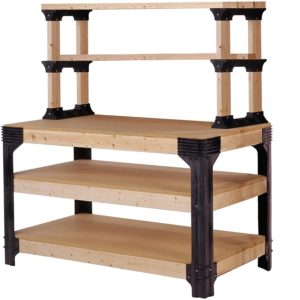 Durable bracket kits
Customizable length
Only 90° cuts needed
Seville Classics UltraHD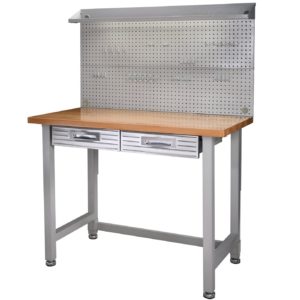 Easy-Slide Drawers
Stainless Steel
Adjustable Leveling Feet
Seville Classics Graphite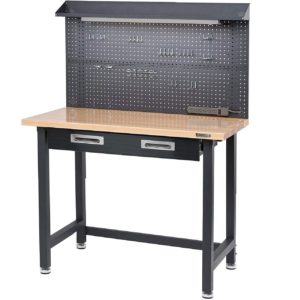 Fluorescent light fixture
Heavy-duty steel
Adjustable Leveling Feet
---
Choose the Best Workbench
Customer's Choice: the Best Rated Workbenches
10 users answered this survey. Please help us improve this review!

80% of users selected Keter 197283, 0% selected WORX WX051, 10% selected 2x4basics 90164, 10% selected Seville Classics UltraHD and 0% selected Seville Classics Graphite. Every month we analyze your answers and change our rating.
---
What will result from the work depends on your workplace? Locksmiths, carpenters, and just workers should have their own office – a workplace where all the tools are collected. This place should be functional, ergonomic, comfortable, thoughtful. Only such a workplace can increase the efficiency of the worker. He will be able to quickly and efficiently complete the task and repair everything he needs.
The principal thing that a master needs besides a tool is a desktop. This is where the master does his work. Special tables in workshops are called workbenches. Workbenches have many advantages over conventional tables and stools. First, using a regular table is not professional. They equip the workbench with additional fasteners, drawers, shelves, and hooks. All this will be useful to the master during work.
Do not think that only professional craftworkers and joiners need workbenches. Eventually, any owner picks up a hammer and a drill. Therefore, it is worth taking care before organizing a workplace in a home workshop, in a garage, in a country house.
In large workshops, you have seen such workbenches in person. On they perform various types of work, bending metal, cutting wood, drilling, and so on. It is convenient to store things on such special tables, everything is at hand, even bolts, nuts, and nails.
But buying a workbench is not a simple task. There are many options. Workbenches may differ in their purpose. Therefore, plan what you will do on such a table and why you need it. They divide workbenches into three large groups: carpentry, locksmith, and universal.
Locksmith's workbenches are used by locksmiths when working with large metal parts. These workbenches have a wide affected-resistant tabletop, a reinforced frame. You can do easy welding work on such workbenches. The workbench will remain intact and last for many years.
Joiner's workbenches. They design these workbenches for working with wood. They make the worktop of this workbench of wood. This is very convenient because the wooden blanks will not be scratched or damaged during operation. Unfortunately, you cannot process metal parts on such a workbench, because you can easily damage the tabletop.
Universal workbenches. They invented these workbenches for performing various operations with original materials. Such models are folding or stable. These workbenches can work with any material and are best suited for home use.
In addition to the options mentioned above, you can also find workbenches with wheels and other interesting solutions on the market. Of course, the choice of a specific product will depend on your needs and budget. And we suggest that you study the top 5 best workbenches well.
Keter Folding Table Work Bench for Miter Saw Stand –the best for lightweight design and sturdy carrying handle
Thanks to the workbench and additional equipment, you can securely fix the workpiece and work on it, achieving the desired effect. The table is made of heavy-duty resin with aluminum legs. The workspace can support 1000 lbs.
The polypropylene construction technology is also used to make this verst. This technology does not allow water to pass through, which means that the workbench will not rust or flake off. The workbench is easy to carry, store, fold, and unfold. It features a comfortable and durable handle, making it easy to carry from one place to another and take wherever you go. The set includes two 12 inch clamps. With their help, you can fix any materials on the tabletop for comfortable work with them.

The workbench is stable, withstands heavy loads, is equipped with clamps, with the ability, if necessary, to be transformed to large sizes, and at the same time does not take up too much space. It can be folded up and carried anywhere in your garage. A model of this kind, if necessary, can be folded and put in a closet or even under a bed. This opportunity was realized thanks to a movable base made of steel pipes. The main advantage is first of all the lightness, thanks to which we can transfer it very effectively. Despite this, such a workbench is capable of withstanding a heavy load. Another advantage, of course, is the low price of such tables. The design of such a workbench makes it useful only for hobbyists, the so-called home apprentices. But for serious work, it will not be enough.
---
WORX Pegasus Multi-Function Work Table – the best for easy transportation
The workbench of this company is versatile in use. It is convenient to store it because the designers have endowed it with a folding function. This means that you can easily unfold it and just as easily fold it after finishing work.
The body of the workbench is made of steel. Additional levers and a vice are installed on the body to compress and fix the material. To keep the table in a stable position, rubber pads were installed on the legs. The table top is made of durable molded ABS plastic with steel supports and fittings. It is also possible to additionally install hooks and vices.
The table-top is very sturdy and can withstand heavy objects. This workbench is versatile and allows you to work with metal, plastic and wood. The workbench is made of plastic, and many would argue that plastic is not as comfortable as metal or wood. But such a mile can be stored on the street. It will not rust from exposure to water like metal, and will not rot over time like wood.
---
Custom Workbench and Shelving Storage System – the best for the ability to make a workbench in any length 
The workbench is suitable for work on wood, metal, and plastic. Even though its design involves the processing of metal products, it will still work with them not as efficiently as a locksmith, especially under high dynamic loads.
Also, the workbench does not have attachments for electrical tools. However, it has other benefits as well. Firstly, it is a sliding tabletop for processing large parts; secondly, it Includes 4 workbench legs, 6 shelf links and has a compact size, so it can be stored even in small workshops; and third, this workbench is made of heavy gauge structural resin.
The design of such a workbench is suitable for working with metal and wood. The metal shavings will not clog in the grooves, as will the sawdust. Cleaning the workbench is easy. Stable legs, massive table top, additional hooks and vices will make the process of work convenient and fast.
---
Seville Classics UltraHD Lighted Workbench – the best for a vast pegboard
This model is also worth noting among the leaders. The design is much stronger, the legs are more massive, the tabletop is sturdy and comfortable to use.
All components are made of steel, except for the tabletop, which is made of durable wood. However, this also affected the weight, which reaches 69 pounds. Although the maximum load is standard here. The workbench elements are securely connected with fasteners. 
The table top is equipped with a sliding clip system. In previous versions, the worktop had three modes, here you can use 4. This is one of the advantages of this workbench. This allows you to work with different types of workpieces. There are also two drawers built into the workbench for storing tools.
This is a quality piece of workbench. You need to have this convenient workbench in your home workshop. This is the most successful model of locksmith's workbenches for home and summer cottages, which will be a good addition to organizing the space in your garage.
---
UltraHD Lighted Workcenter – the best for material from which it is made
It is also worth noting this model of a workbench for home use. It is stationary. On such a workbench, it is convenient to carry out locksmith work, sawing wood, knocking down wooden structures. But when equipped with clamps, beds, and other attributes, it can be used as a universal table.
The furniture set is assembled from a heavy-duty steel frame with leveling feet. The workbench has two integrated drawers. They are on telescopic guides, so they easily walk back and forth for easy access to the tool. 
The two-layer worktop is corrosion resistant. During production, it is coated with a special powder paint. The kit includes a rear panel with additional fasteners. You can pick up hammers, hand saws and other tools here.
If you are looking for a stationary compact model of a workbench to sometimes do something in the country or keep it in a home workshop, then we recommend taking a closer look.
Buyer`s Guide
When choosing a workbench for home or professional use, you should think about its functionality. There are several criteria to look at first.
Height
The table should be comfortable and this criterion is primarily achieved by such a function as table height change. If the table cannot be adjusted in height, then select one so that it fits your waist. The table should not be too low. Working on a low table, your back muscles will be constantly tense. It is harmful to health and only brings discomfort. The height change function is especially important if different craftworkers work at the workbench. Each person has their height, so what is convenient for you can bring discomfort to another person.
Dimensions
Consider the area of ​​the workshop where you buy the workbench. If you have a spacious workshop, then buy a large massive workbench with a lot of drawers, with a massive tabletop. If there is little storage space, then it is better to consider the option of a folding workbench. Such a workbench can be folded and placed in the far corner, and when you need it, you will take it out and do all the necessary work. The folding workbench is convenient to take with you on the road.
Permissible load
If you use a regular table, then you should understand that they do not design such a table for a heavy load. They design the workbenches to withstand 600-800 kilograms of cargo. If you buy an industrial workbench, then the expected load will be ten times greater.
Optional equipment
Simple models only have a reinforced table top and legs. Upgraded models can have additional attachments for machine tools, vices, and holders. These models may have boxes for small tools. Also comfortable models with castors on legs. These tables are easy to move around the workshop.
Video Tutorial: How to Build a 2×4 Workbench with Levelling Feet
Final Words
Choosing the right desktop will determine the quality of your work for years to come, and this applies to almost any activity. To do this, you need to provide the required amount of space and comfortable working conditions – so you can focus on the work you are interested in and achieve the desired success without being distracted by discomfort.
Buying a workbench is not an easy task. You need to take into account so many parameters, understand for what purposes you will use the workbench, and where it will be stored if there is not enough space in the workshop. But if you take into account all our recommendations and take your choice seriously, you can buy a multifunctional, reliable and ergonomic milestone. 
---